The Amazing Benefits of Thai Massage
---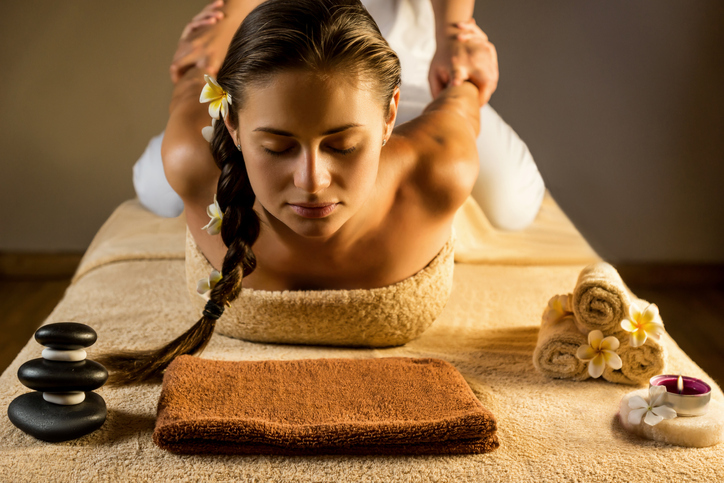 We'll be honest. Thai massage tops our list of favorite massage treatments. And we're not alone: Thai is becoming one of the most popular types of massage at spas across the U.S. That's because stretching feels good and relieves pain– especially when a trained Thai massage therapist who knows what he's doing performs it. Read on to discover the surprising benefits of Thai massage and why you might feel taller, lighter and more energized after enjoying this therapeutic spa treatment that's been around for more than 2,000 years.
What Is Thai Massage?
Considered a medical treatment in Thailand, Thai massage is sometimes referred to as "lazy man's (or woman's) yoga" because it resembles a series of assisted yoga poses. Basically, your therapist guides you through a series of stretches across your entire body.
During your massage, you lie on a comfortable floor mat or on a massage table wide enough to accommodate your therapist and yourself. A traditional Thai massage also incorporates Ayurvedic principals and acupressure said to release blockages along energy lines.
According to Spafinder, your therapist might kneel on the back of your legs and pull your arms to arch your back and open your chest, or she may place her shoulder under your heel to lift your leg and stretch your hamstring. Because Thai massage involves a lot of movement, you wear loose-fitting clothing, often provided by the spa. As you can imagine, lying under a massage sheet just doesn't work.
Benefits of This Centuries-old Treatment
Historians credit an Indian physician, said to be a contemporary of Buddha, with developing Thai massage. Shivago Kumar Bhucca's original idea was to help Buddhist monks and nuns become more flexible so they could meditate for hours. Fast forward to 2019: Thanks to spending hours hunched over screens and smartphones in a fixed position, lack of flexibility and muscle tension are big concerns for just about everyone on the planet. The benefits of Thai massage are numerous and include:[1]
Reduce muscle tension and spasms
Mobilize the joints
Improve blood circulation
Improve balance and increase energy
Treat sciatica, headaches and neck pain
Improve mood and decrease anxiety and tension
Help with osteoarthritis that can cause joint pain in the hands, knees, lower back, and neck
Increase immune function
Why The Uptick In Thai Massage
Thai massage has always been popular with those who had access to this healing treatment. But for thousands of years, that access was limited to those who lived in Thailand or countries in Asia where Thai massage was practiced. In the last decades, several trends are driving its popularity, resulting in an explosion of spas offering this healing modality.
Travel is easy and a lot less expensive and a trip to Thailand is on a lot of bucket lists.
During their trip, most travelers try an authentic Thai massage, which is available just about anywhere for a low price. And just like Pad Thai, once you try it you're hooked and look for this healing therapy at home.
Thai massage requires special training, which is becoming more available in the U.S. and at special training schools in Thailand. An increase in trained therapists means more spas can offer the service.
Some people are uncomfortable with nudity during a massage. (Guys, we're looking at you.) Thai massage is the perfect solution: you wear comfortable clothes and there is no need to shower off massage oil before you head back to work or play.
Know Before You Go
Before you book your Thai massage, ask about the therapist's training. Thai massage requires a lot of expertise and there are schools that specialize in this unique spa therapy. Many Thai massage therapists in the U.S. are serious professionals who received their training in Thailand or spent time in Asia at intensive programs. Others may have just taken a workshop. It's good to know the difference.
Learn more about why Thai massage can be the ultimate feel-good experience–with a wide range of benefits.
Gift a Thai massage with a Spafinder gift card – or treat yourself.

---
[1] SportsInjury.net, "Thai massage for athletes," and CureJoy, "8 Benefits of Thai Massage," May 2018