The Future of Wellness Tech Is Virtual Reality 
---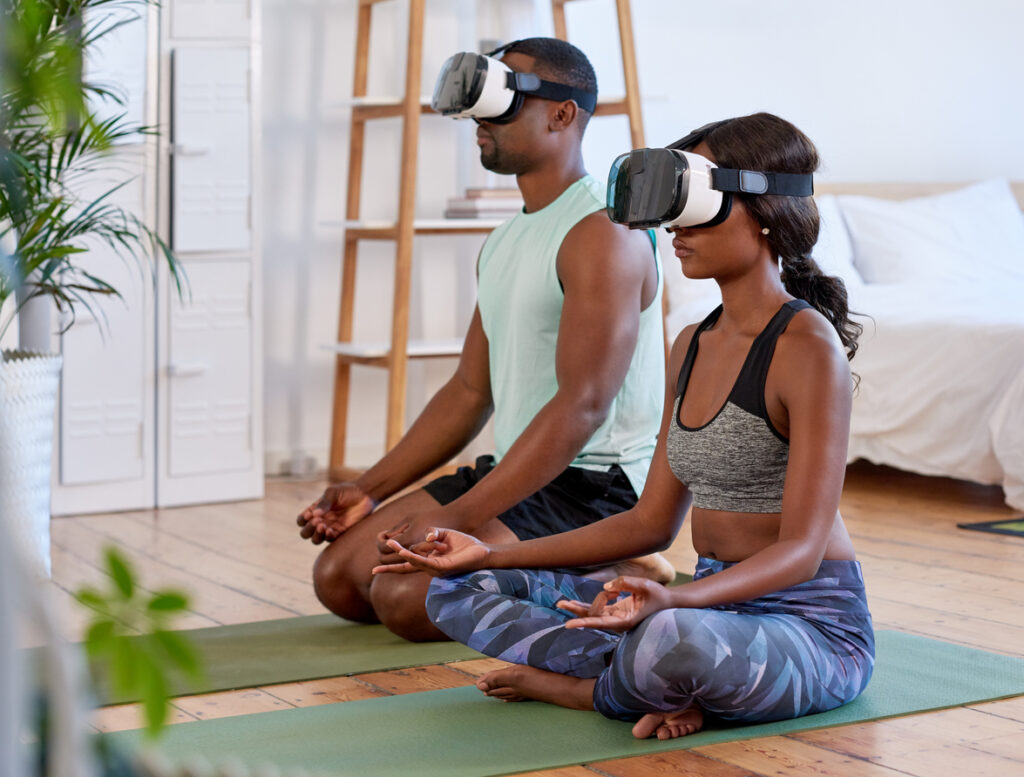 Spas are meant to be an escape, an oasis from your daily life. Therefore, it's not a surprise that spas are teaming up with virtual reality (VR) to up the experience and give you a truly remarkable and relaxing visit. When trying VR technology, people quickly found that in the cold depths of winter a trip to a sunny beach in a VR helmet left them feeling happier and more relaxed. People also responded well to whatever environment was opposite to the one they were currently in. Such as desiring a mental break from their day to day lives. The feelings of calm and relaxation were hard to ignore. And quickly the concept of pairing these VR vacations with a massage chair or a spa experience has spread. Plus, over 65 studies have found that virtual reality can be used to reduce anxiety and increase relaxation. 
Mani, Pedi, and VR Ready at Kohler Spas
Kohler Spas added a Virtual Reality experience to their spa menus and have seen massive popularity. For those who need to check out extra hard, they can enjoy a specialized meditative VR journey while enjoying a mani/pedi. No more awkward conversations or attempts to flip through a magazine! At Kohler, you can take in a starry night sky or sit by the crystal blue waters of the beach. This in addition to a wide menu of CBD inspired treatments demonstrating that Kohler is embracing the modern spa experience and adapting to the times.
As their overview says, Kohler is located in the village of Kohler, one hour from Milwaukee. The American Club has continually won the prestigious AAA Five-Diamond Resort Hotel award. And the hotel, listed as a National Register of Historic Places landmark, was built in 1918 to lodge the corporation's European immigrant employees. We say history and the latest wellness technology are the perfect combo!
Maximize Your Relaxation Time
Spas are wonderful and spa days (or spa weekends!) are a dream come true but sometimes you just can't fit them in to your busy schedule. That's why it's important to maximize your relaxation time. VR, especially paired with a massage chair, can turn a thirty minute experience into what feels like an all-day pamper session. That's definitely the idea behind Escapes Immersive Relaxation. The spa offers 11 immersive experiences plus heat lamps and fans to create the perfect virtual reality oasis.
VR Isn't the Only Reality Entering the Spa Space
Virtual reality offers an all-encompassing chance to leave your reality behind and enter a new, more relaxing one. But there is also augmented reality which allows you to alter your own reality in the comfort of your screen. Snapchat has developed a wide variety of different filters that lets you test out various beauty brands and make up shades using your phone. The AR filters let you try out different lip stick shades, nail colors and more. No more guessing what it might look like or getting duped by misleading pictures online. These are real life, real time, real you experiences. We think they guarantee that you get exactly what you want, when you want it. AR will definitely become the future of shopping. As more brands will let you try on makeup, eye glasses, and full on outfits without ever leaving the comfort of your home. 
Of course once the package arrives, you'll need some place fun to show it off. You still need the real world for that!