What Is A Spa? The Top Four Categories
---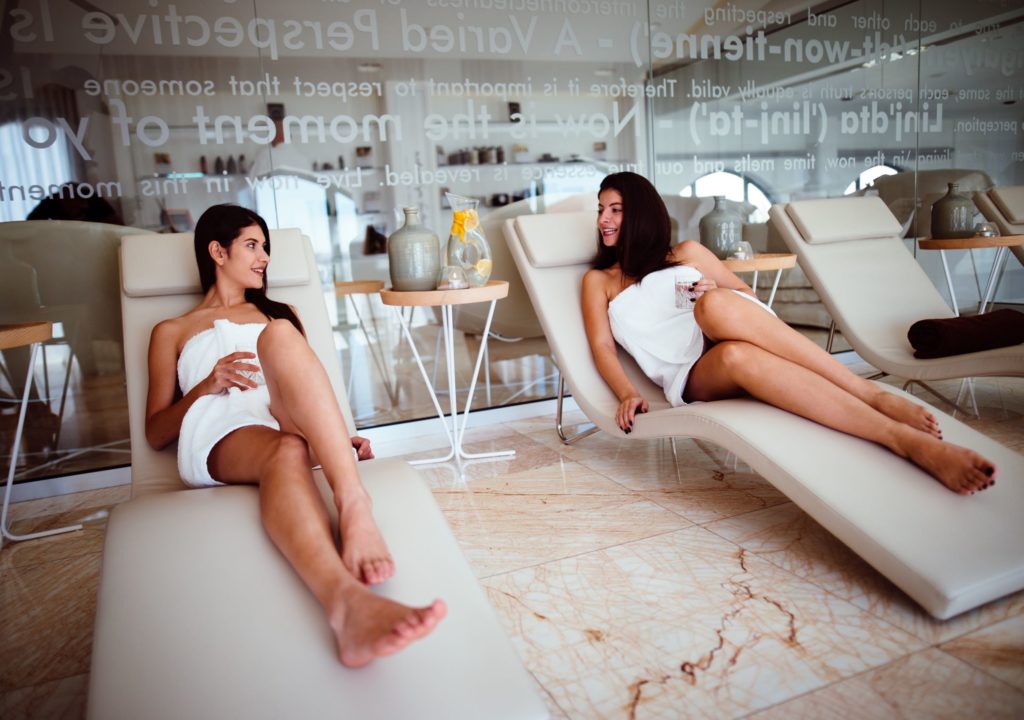 For centuries a spa referred to a location where people enjoyed healing, medicinal baths in mineral-rich spring or seawater. Entire towns grew around these springs, such as World Heritage City of Bath, where Celts and Romans bathed in natural thermal waters over 2,000 years ago.
Historic destinations like the Thermae Bath Spa in England are still very popular, and spas like Kohler Water Spa in Wisconsin create immersive experiences around hydrotherapy healing rituals. However, today spas also focus on a vast range of beauty and wellness treatments designed to help you feel and look your best. And most are not near a thermal mineral spring. We're here to explain the top four categories of spas–and help you choose the types that are best for your wellness and beauty goals.
Day Spas
Day spas are spas that don't offer overnight accommodations but do have a wide range of spa services. They usually have massage, facials, manicures and pedicures and treatments like wraps or scrubs on their menus. The vast majority of spas are day spas but the term covers a range of possibilities, from Thai massage locations to luxurious full service spas, complete with wine service, elegant lounges and an array of treatments, rituals and experiences. Many also offer saunas, steam rooms, hydrotherapy and more.
Medical spas fall under the day spa category. A medical doctor supervises beauty treatments and services, which may include advanced facials, IPL treatments, microdermabrasion, photo facials, chemical peels and more.
Good to know
If you don't want to travel but need a spa escape, day spas are your answer. Many have half or full day packages and can accommodate small groups.
Destination Spas
When you think of a "spa getaway," you're probably imaging a stay at a destination spa. (Or as Spafinder describes it, travel that helps you feel healthier and happier when you check out than when you checked in.) While there aren't many true destination spas, the experience is life changing and their devotion to wellness has a big impact on the industry. Expect to find lots fitness activities, healthy living, nutrition and cooking classes and wellness lectures, hiking along with a world-class spa.
Good to know
Most destination spas offer immersive experiences, meaning healthy meals and snacks, classes and accommodations are included in the daily rate. (Some include spa treatments.) Destination spa getaways are available in all price ranges. Be sure to check the spa's specialties before you book.
Resort and Hotel Spas
As resorts and hotels add exceptional spas and wellness programming to their amenities, the line is blurring–somewhat–between destination spas and spa resorts/hotels. However at a resort, you'll find more alcohol and opportunities to party, along with spas, fitness centers, hiking and outdoor sports, swimming, etc.–even wellness centers. In other words, you will find more wellness options at a healthy hotel but still be able to indulge in a hamburger and fries. Wellness-focused resort spas and hotels may also be a better choice for families and business travelers who need office and meeting facilities.
Good to know
There are all kinds of resorts and hotels that have spas and fitness amenities. Again, do your homework and decide if the location is the best fit for you.
Mineral and Thermal Springs Spas
Spafinder defines a mineral spring as a source of thermal or seawater containing naturally occurring elements from surrounding rocks, sand and soil, used in hydrotherapy or spa treatments. Mineral springs spas use the mineral-rich waters in hydrotherapy or thalassotherapy, which is a range of treatments that use seawater, seaweed and other natural elements from the ocean for therapeutic benefits.
Good to know
Spas, spa treatments and holistic medicine are more popular than ever. However, that means some "woo-woo" treatments that may have little therapeutic or scientific basis can creep into the conversation. If you see a treatment or wellness product that seems questionable, research before you spend your money. At Spafinder, we are committed to giving you the facts–and fallacies– about the latest spa and wellness trends and news.
Learn spa lingo here.
Spafinder gift cards are accepted at thousands of spas.