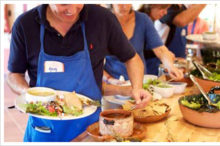 by Spafinder Team | April 21, 2010
In Mexico, fresh corn is roasted or grilled until smoky-sweet and deliciously chewy. For this classic chowder, the corn is pan-roasted, then cooked to a golden velvet with leeks and aromatic vegetables.
Founder Deborah Szekely and Chef Jesus Gonzales like to give food a quick last touch as it is served. It might be as simple as a quick sauté of leeks, corn and peppers for this corn soup, a drizzle of extra-virgin olive oil over tomatoes and basil or a dash of fennel powder on grilled fish. That last touch always lifts each fish a notch, adding freshness and flavor, a hint of texture or temperature contrast and eye appeal.