Ways to Soak in the Sun this Summer
---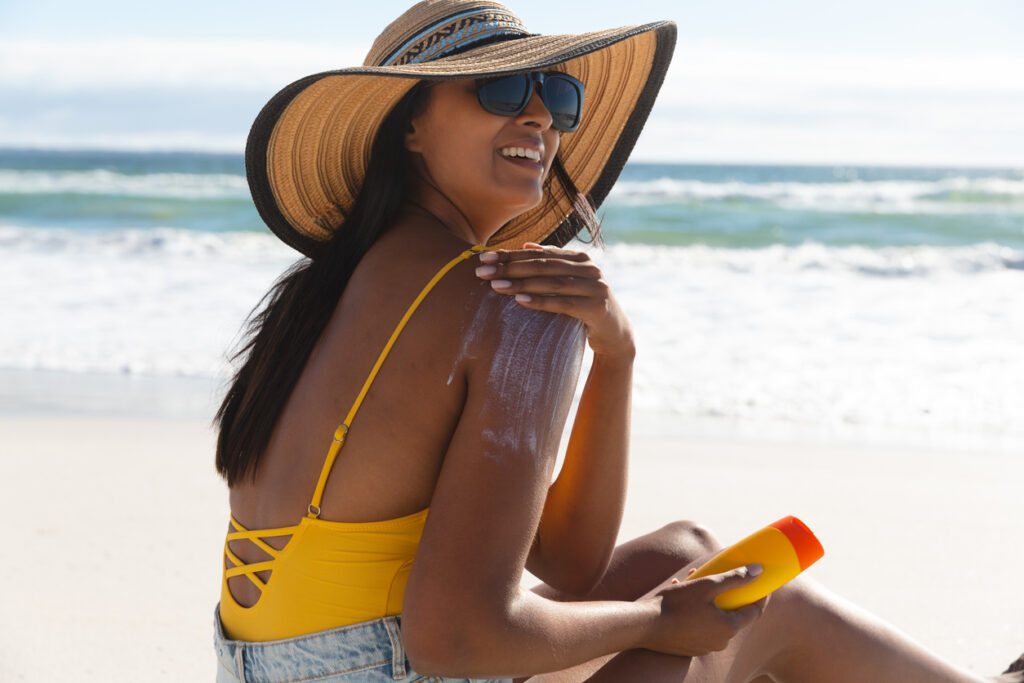 Having a love-hate relationship with the sun is natural, especially during summer. On the one hand, she feels incredible on your skin and provides some much-needed Vitamin D. Isn't that great? But just like everything else, you need to practice moderation in your sun intake…and take the proper measures to ensure that dreamy beach days don't become dangerous. Protecting yourself against the sun's harmful ultraviolet (UV) rays should be a top priority this season, helping to prevent everything from sunburns and wrinkles to more serious conditions. Want to learn more? Here's what you need to say no to sun damage:
Invest in a long-sleeved swimsuit
It's just a fact…some of us need a little extra protection against harmful UV rays. Whether you're a surfer who practically lives on the beach, have cool-toned skin that burns easily, or live in a highly sunny area, you can never be too safe. And that's where a long-sleeved swimsuit comes into play. These accessories are supportive and oh-so-chic, helping you enjoy a bit of stress-free fun in the sun. Not to mention a little more coverage for those who like to play beach volleyball or frolic around in the sand!
Reapply your sunscreen
Casual reminder: Sunscreen is not a "one and done" deal. You need to reapply it regularly each day, especially when you're spending more time with your old friends, UV rays! Even the best formulas wear off over time, especially on particularly sweaty or swim-heavy days. Therefore, you should always have your trusted sunscreen in your summer bag, applying another coat every two hours or so. A bonus tip? Try a tinted moisturizer with built-in SPF, which helps not only blur your pores and keep you looking beautiful but prevents any premature wrinkles! Check out these sun care products in the Spafinder Shop.
Wear a hat
It's not like you need a reason to buy another cute hat, but the value of sun protection is a pretty good one! This accessory can be your new go-to essential for summer days when paired with other shielding tools, like sunscreen and umbrellas. Studies have shown that a hat can reduce the amount of UV radiation reaching your eyes by 50% while covering up your ears, neck, and scalp. AKA, the easy-to-miss areas that you may or may not have skipped with your sunscreen a few times. Oops. You still need to slather all these regions of your body with SPF, but a hat is always a great backup!
Don't forget your eyes and lips
Applying sunscreen over your legs, arms, and stomach makes it easy to miss the smaller areas of your body. But the thing is…these regions are often the most vulnerable to sun damage! Take your lips, for example. Unlike the rest of your body, they don't produce oil-producing glands to keep the skin lubricated. Therefore, your pout is more exposed to natural elements that cause peeling, dryness, and chapping. Ugh. Our suggestion? Keep some trusted lip balm with SPF in your bag at all times, and reapply every hour! One of our favorites is CAUSE+MEDIC's CBD-infused lip balm.
Additionally, your eyes need a little extra boost of protection. The undereye skin is significantly thinner than the rest of your body, making it more prone to premature aging, among other conditions. Did you have any idea that sunbathing could lead to crow's feet? Yikes! UV-fighting sunglasses are the ideal shielding device, and we'd also recommend slathering on the eye cream all summer.
Take shade breaks
Perhaps the most simple tip for avoiding the harmful effects of the sun? Don't stay in it for too long. We're not saying that you can't lounge by the pool or play a friendly outdoor basketball game, of course… just make sure you're seeking shade as much as possible! Maybe this means a halftime break by the food court as you enjoy a frozen drink with your friends. Or simply grab a table with an umbrella instead of a lounge chair as you hang out by the water. These shade breaks give your skin a much-needed dose of protection against harmful UV rays, and maybe even an excuse to grab a frozen Rose!