Zoom Time. Look Your Best on Video
Published: Wednesday, September 15th 2021
by Spafinder
---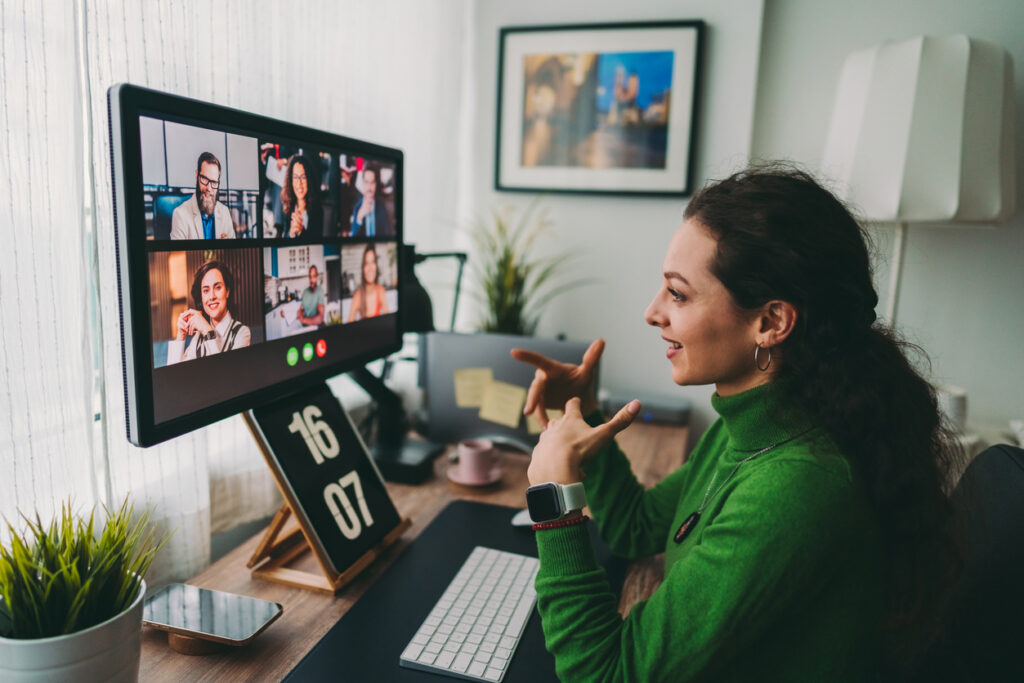 We've heard all the horror stories: kids race through the zoom background, people get caught in their PJs, and even get stuck as a potato for the entire zoom call. Since it's becoming quite clear that zoom and video conferencing are, on some level, here to stay, it's time to up your video game. Here are a four quick tips on how to present your best self on camera.
Pay Attention to Your Backdrop
While Zoom allows you to hide your messy house with a digital background, they can actually be more trouble than they are worth. While digital backgrounds can hide items you might want to keep to yourself, they can distort your face and even glitch out – freezing the call or revealing that messy house anyway. Instead of trusting the green screen, build yourself a cozy, appealing backdrop that tells your coworkers someone has their life together.
Sit in front of a wall or corner of your house instead of having the camera open to the entire house. This way, it minimizes the possibility of someone walking (or crawling) by in the background. It also allows for better sound quality.
Make this spot a permanent zoom corner and be sure to have your power source, water and microphone right there. You never know how long you might be on camera.
If you're on a business meeting, put pets where they can't be seen or heard. This seems obvious but we've seen guests on top news shows embarrassed by their yapping dogs. Awkward, right?
Consider adding some flowers or plants to soften your surroundings.
Check out the backgrounds of Zoom regulars on news or talk shows and you'll learn the tricks of the trade.
Consider the Lighting
Overhead lighting can be harsh and create weird flares in the camera, so instead opt for a ring light to help give you the best possible lighting for your meeting. This will also mean you are never surprised by a video conference without having done your make up or hair, just switch on the light and hop on camera—glowing and beautiful.
For other tips and recommendations, check out Gia Goodrich's video on how to look your best on all video conferencing platforms.
Pay Attention to the Sound
We've all been on the call where someone who should be muted isn't muted. It's annoying and frustrating. Much more than the video, good sound is absolutely required to get anything done on a Zoom so be sure to pay attention to it. (After all, prior to video chat, we were all on endless conference calls!)
Consider getting a USB microphone to give yourself better audio quality and always have a pair of headphones nearby. If you are in doubt about your sound quality, Zoom allows you to test your audio output and input in their preference menu. This can tell you if you are having any issues you might not be aware of prior to your meeting.
Know How to Mute
The mute button is your friend when it comes to a productive zoom meeting. By staying muted for the majority of the meeting, you can ensure that the random rustles you make or a passing car won't interrupt your meeting. And by understanding how to mute and unmute (you should speak after all), you can make any meeting a breeze. Don't forget that in addition to a mute button, you can also "mute" your video. So if you have to get up from your camera and you happen to be wearing your PJ pants still, you can shut off your screen and make some quick adjustments, while no one is the wiser.
Video chatting is here to stay and that's a good thing – it allows us to see distant relatives more often, continue to work remotely efficiently, and connects us in times of struggle. With these simple tips, you can up your game and really show off your new Zoom you!
Need a gift for a special occasion or just to say Thank You? Spafinder is the answer.
Most recent from Tips, How-To's, & DIY Spa