Fall in Love with Greater Palm Springs
---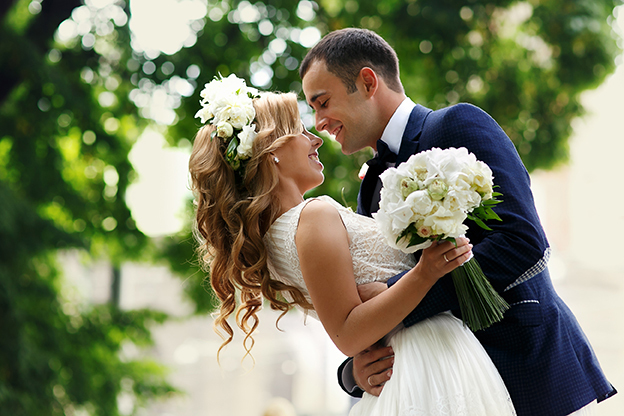 Insiders know Greater Palm Springs is a dream destination for outdoor weddings, fun-in-the-sun bachelorette and bachelor parties, idyllic honeymoons and memorable engagement parties. This So Cal playground has 300 days of sunshine every year and activities and accommodations for every taste. We're here to help you plan your magical destination wedding and celebration in Greater Palm Springs with tips for accommodations, activities and more.
Pick A Venue that Reflects You
Begin planning your wedding in Greater Palm Springs by choosing a location or venue that represents your fantasy celebration— and your hopes and dreams as a couple. The nine cities that make up Greater Palm Springs offer every possibility, from lush resorts like the Ritz-Carlton Spa, Rancho Mirage, to the midcentury glam of downtown Palm Springs, to intimate ceremonies in Greater Palm Spring's natural settings. Here are a few tips from expert wedding planners in Greater Palm Springs:
• Think about your guests. If you're inviting a posh crowd, they will enjoy the elegance of famous resorts in Greater Palm Springs like The JW Marriott Desert Springs Resort & Spa, Palm Desert. Because people love to vacation here, expect more guests to say "I do" to your invitation.
• Check out when the sun sets. Greater Palm Springs is filled with beautiful locations for the perfect wedding picture. If you want that classic wedding shot at sunset, be sure you know exactly when the sun sets on the day of your gathering.
• Work with a wedding planner. Unless you really know Greater Palm Springs, working with a local wedding planner can save you time, money and tears! This Southern California vacation getaway has a vast array of fabulous locations and choosing your ideal venue can be overwhelming. And then there are choices about food, music, flowers, activities…
• Plan your hair, nails and spa treatments in advance. Part of getting married is looking your best. Many top hotels and resorts in Greater Palm Springs have wonderful on-site spas and salons. Plus, the area is known for its wide range of independent wellness spas and beautifying salons. However, don't leave your big day to chance. As soon as you've picked a wedding venue, choose a spa or salon by first trying out their services and then booking appointments for the wedding party.
• Bachelorette/bachelor parties and weekends. Needless to say, the tips above also apply to planning for bachelorette and bachelor parties in Greater Palm Springs. You'll find plenty of places to hold your pre-wedding bash (think spa resorts, home rentals and cozy inns). And be sure to consider the activities your guests will like best, from a night on the town to pampering spa treatments to hiking through a canyon.
Learn more about planning a dream wedding or pre-wedding party and remember: Greater Palm Springs is also a wonderful destination for honeymooners!
A Few of Our Favorite Places to Say I Do in Greater Palm Springs
If your wedding dreams are set in a luxury resort known for its exquisite grounds, world-class amenities, fine California dining and an unparalleled spa, The Ritz-Carlton, Rancho Mirage should be on your list. In addition to its spa oasis, The Ritz-Carlton boasts refreshing plunge pools, a 24-hour fitness center, unique cuisine and endless mountain views. Spacious suites offer separate bedroom and living areas with a sleep sofa and one-and-a-half bath.
This four-star, four diamond-awarded property received Forbes recognition, making it a premier location for your wedding celebration. For pre-and-post-wedding relaxation, The Spa at Desert Springs includes 48 treatment rooms, a bistro, a salon, a fitness center and a private saltwater pool. And the resort features championship golf courses and five swimming pools, all set on 450 manicured acres of verdant English gardens.
Planning a wedding for a party crowd? Look no further than one of the largest — and most popular—spa resorts in Greater Palm Springs. There are non-stop activities and the Somewhere Spa offers a full suite of massage options designed to reduce tension, ease muscles and push wedding stress far, far away. Margaritaville is also a perfect location for your pre-wedding or bachelorette/bachelor party.
Picture your bridal party driving up the gracious palm tree-lined entrance to the 360-acre Westin Mission Hills Golf Resort & Spa, a spectacular desert oasis located in Greater Palm Springs, California. You've planned ahead and already booked your Welcome Honey Massage and Honey Hydration Body Wrap at The Spa at Westin Mission Hills. And you're ready to enjoy the resort's three swimming pools, two championship 18-hole golf courses, seven tennis courts and the wide variety of indoor and outdoor dining options.
Whether you're planning a destination wedding, a honeymoon or bridal-party festivities, you'll love The Renaissance Esmeralda Resort & Spa, Indian Wells. A recent renovation, this romantic getaway boasts natural beauty and renewing, spiritual energy. We confess to loving the spa's indoor treatment rooms, relaxing spa garden and outdoor cabanas.
Planning a wedding or wedding party bash in downtown Palm Springs? The Spa at Andreas is located in the heart of the historic downtown and a short stroll from the city's shopping, dining, gaming, and nightlife. Plus, The Spa at Andreas offers skin care, massages, body treatments and foot treatments. Deluxe couple's treatment suites feature oversized Jacuzzi tubs and fireplaces that add a romantic touch to your Spa experience.
Greater Palm Springs. Where you'll find everything you need for your dream wedding celebration.
Need a gift for a special occasion or just to say Thank You? Spafinder is the answer.