HOT STONE MASSAGE
KNOW BEFORE YOU GO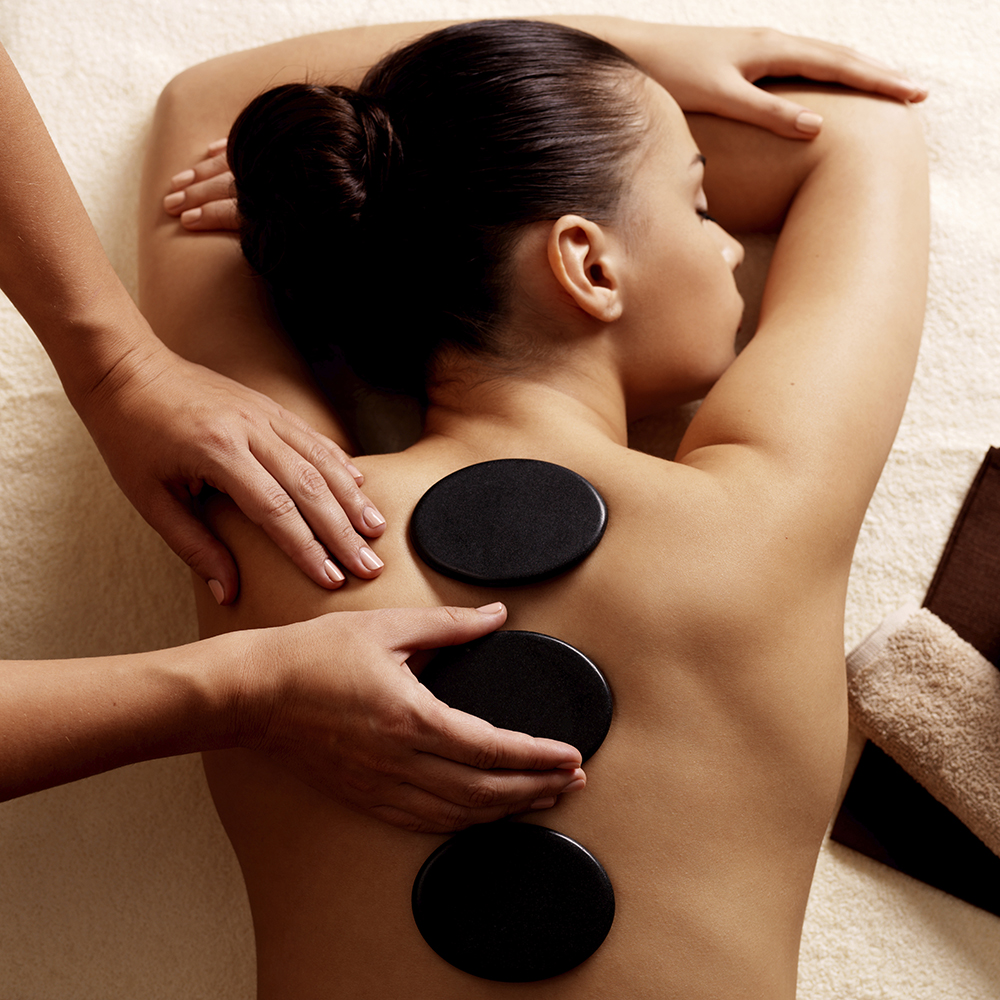 HOT STONE MASSAGE
During a hot stone massage, the therapist heats as many as 50 basalt stones of varying sizes to 120–140 degrees fahrenheit, rubs them over your oiled body, and rests them on top of and beneath you. The therapist places the stones on your stomach, in your palms, and on your back. The stones' warmth enhances the relaxing effects of the pressure. Some people believe the stones have healing, grounding qualities, which makes hot stone massage a more profound experience than your basic massage. The therapist will leave some of the smooth, heated massage stones in contact with your body and use others to massage you. Cold stones are sometimes incorporated, especially on the face, where they have a firming effect. Hot stone is a feel-good treatment found on most spa menus. Hot and cold stone temperatures have said to be like the 'vascular gymnastics' of the circulatory systems, the system that controls self-healing in the body. The heat of the stones has an immediately relaxing effect, and the therapist will glide them along your back and limbs.
They should never be uncomfortably hot or nudge a shoulder blade or the spine. If they do, speak up. You may be asked to lie down on the hot stones, which looks potentially uncomfortable but isn't as long as they've been carefully arranged to make contact with soft tissue. Read more about Hot Stone Massage in Spafinder's post, What is a Hot Stone Massage? To help you find the massage that fits your specific needs, read Spafinder's guide to Which Massage is Right For You?, or select one of the links on this page for a different massage type. Spafinder helps you find spas and services in your local area. Browse our listings and find a hot stone massage near you today.
MORE MASSAGE & WELLNESS IDEAS
LEARN MORE ABOUT MASSAGE AND WELLNESS
Romantic Gift Guide for Your Person

As Valentine's day approaches, check out our Romantic Gift guide and fuel your rendezvous with thoughtful wellness and romance.

(Trick or) Treat your Skin in October

Fall into a new skincare routine and treat your skin this October with a total product refresh. Your skin won't fall prey to winter dryness.

Join our $4,350+ Sweepstakes Little Piece of Luxury Giveaway

Enter to win this great Little Piece of Luxury Sweepstakes and boost your chances to win big! From Louis Vuitton to Birchbox to Spafinder, this is true luxury.
GET 10% OFF SPAFINDER GIFT CARDS
Get 10% off Spafinder Gift Cards! Sign Up Today!