KNOW BEFORE YOU GO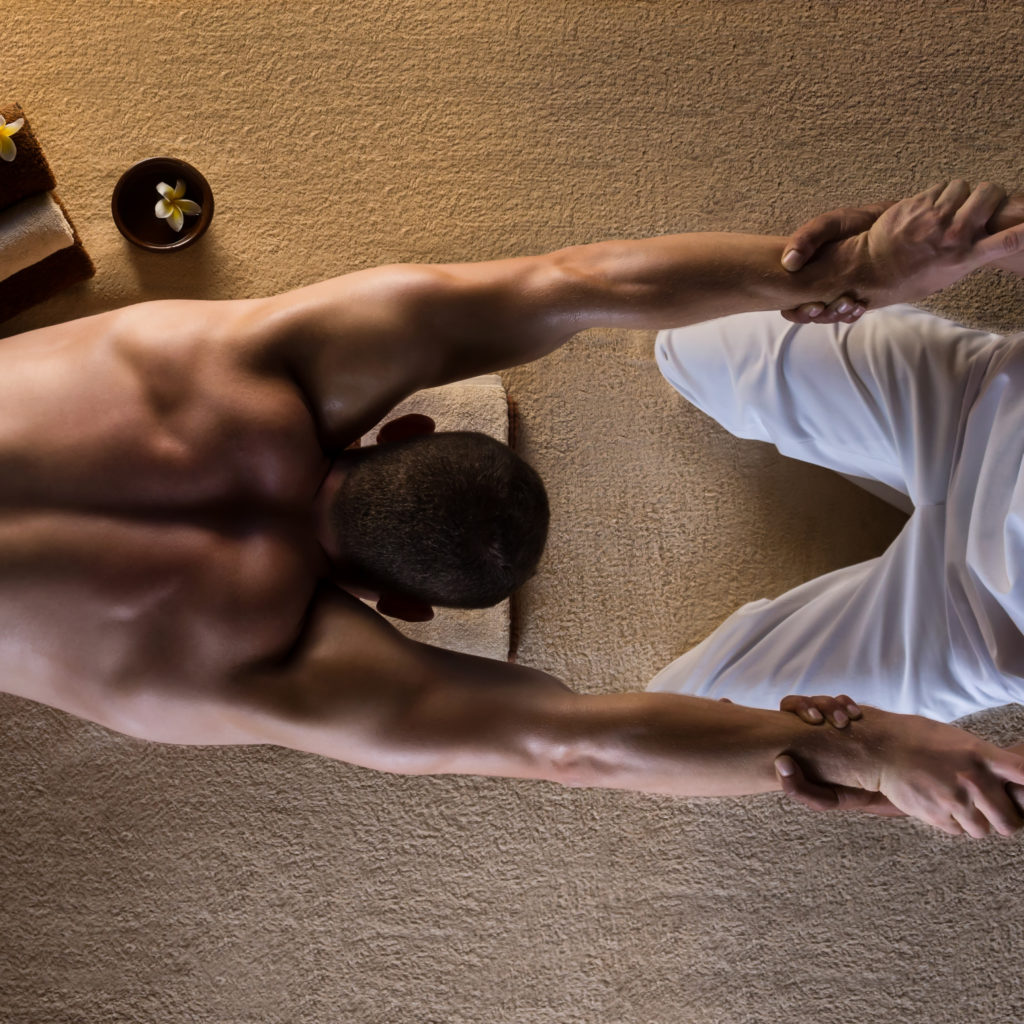 THAI MASSAGE
During Thai massage the therapist puts you through a series of stretches that cover the entire body. You lie on a floor mat or on a table wide enough to accommodate you and the therapist, and you wear loose-fitting clothing, often supplied by the spa, because there's no way a sheet can stay put during these moves! The therapist might kneel on the back of your legs and pull your arms to arch your back and open your chest, or place her shoulder under your heel to lift your leg and stretch your hamstring. Thai massage also includes deep pressure-point work to stimulate the sen, or the body's energy pathways. Thai massage is a little intense at first especially if you're used to Swedish massage and don't normally do much stretching. It reminds you that massage isn't just pressure applied to you by someone else, but a balancing of the body by limbering joints and loosening muscles through movement and strategic pressure. Unlike Swedish massage, there's a lot of interaction here between you and your therapist.
To move you around the mat efficiently, the Thai massage therapist uses his or her body to leverage you into the elongating stretches. He or she also will use your body as a tool for deepening these stretches by sitting on your feet and legs or pushing or pulling you into twists. Read more about Thai Massage with Spafinder's What is Thai Massage? post. To help you find the massage that fits your specific needs, read Spafinder's guide to Which Massage is Right For You?, or select one of the links on this page for a different massage type.
MORE MASSAGE & WELLNESS IDEAS
LEARN MORE ABOUT THAI MASSAGE
Spa Wedding Destinations; Best Day Ever

Wedding days can be stressful until you're in the moment and then the day passes in the blink of an eye and yes, it's the Best Day Ever. So you decided a destination wedding is the answer and you want to use the spa for you and your bridesmaids.

Fall in Love with Greater Palm Springs

Greater Palm Springs is a dream destination for outdoor weddings, fun-in-the-sun bachelorette parties, idyllic honeymoons and engagements.

Grounding Rituals: A New Age-Old Way to Connect

In the past, grounding meant punishment, but now grounding rituals are known as an age-old holistic practice with proven wellbeing impacts.