Chemical Peels
---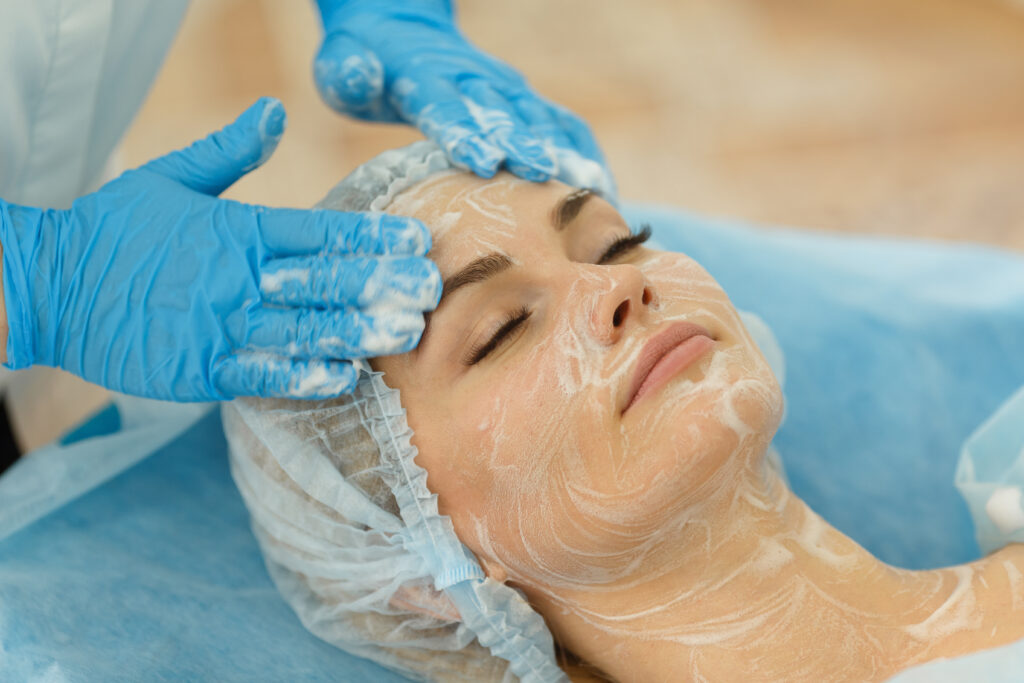 Chemical peels. If you've shied away from them ever since that episode of Sex and the City, we wouldn't blame you. But we'd also encourage you to know the facts before you completely nix scheduling a chemical peel. Read on.
What Is a Chemical Peel?
A chemical peel is a skin-resurfacing treatment that removes outer layers of skin to generate healthy, new (and, yes, younger-looking) skin. These chemical peels can improve or correct a variety of skincare concerns on the face, neck and hands.[1] For example:
fine lines and wrinkles
scars (including those from acne)
certain types of acne
sun spots, freckles, melasma, other pigmentation
uneven skin tone
(Note chemical peels cannot correct deep scars; deep lines and wrinkles; or loose skin.)
What to Expect
There are varying degrees of chemical peels, utilizing different chemical formulations, but the treatment is quite similar*:
Cleansing of skin
Application of a chemical solution brushed on skin
Solution sits on skin for a certain period of time then neutralized
*anesthetic and sedation are used for deep chemical peel
Light peel
What it entails: outer layer of skin lightly exfoliated with mild acids like alpha hydroxy acids and beta hydroxy acids
Treats: dryness, acne, fine lines and wrinkles, uneven skin tone
Downtime: one day to a week
Medium peel
What it entails: outer and middle layers of skin removed via chemicals like glycolic or trichloroacetic acid
Treats: deep wrinkles, uneven skin tone, acne scarring
Downtime: one to two weeks; skin will probably peel two days' out and continue over the course of a week
Deep peel
What it entails: this intense peel uses phenol or trichloroacetic acid to penetrate the lower layer of skin
Treats: deep wrinkles, scarring, sun-damaged skin
Downtime: 14-21 days; pre-treatment plan is likely, as are post-treatment follow-up visits; those with a history of heart disease should disclose this info to their skincare practitioner
Additional Info
Chemical peels don't come without side effects. These can include prolonged redness (up to months at a time), temporary skin discoloration and, in rare cases, scarring or infection. Expect skin to peel, flake, sting and possibly swell.
Also, chemical peels aren't for everyone: Those with a history of abnormal skin scarring or naturally dark complexion and/or skin tone or who have used certain acne treatments within the previous year, among other factors, may not necessarily be great candidates, says the American Society of Plastic Surgeons.
Yes, you can do an at-home chemical peel. Do keep in mind that an at-home peel, though milder than an in-office, professional procedure, is still a peel and can irritate or burn the skin.
Cost: 2018 statistics from the American Society of Plastic Surgeons suggest a chemical peel averages $669.
Keep Reading
For more about skincare services, we recommend:
A Fresh Faced Look at Facials–and How Often You Should Get One
Color Me Beautiful: Shedding Light on LED Facials
Photo Facials: Let There Be Light

---
[1] https://www.asds.net/skin-experts/skin-treatments/chemical-peels