Esthetician 101: A Crash Course on Managing Your Skin
---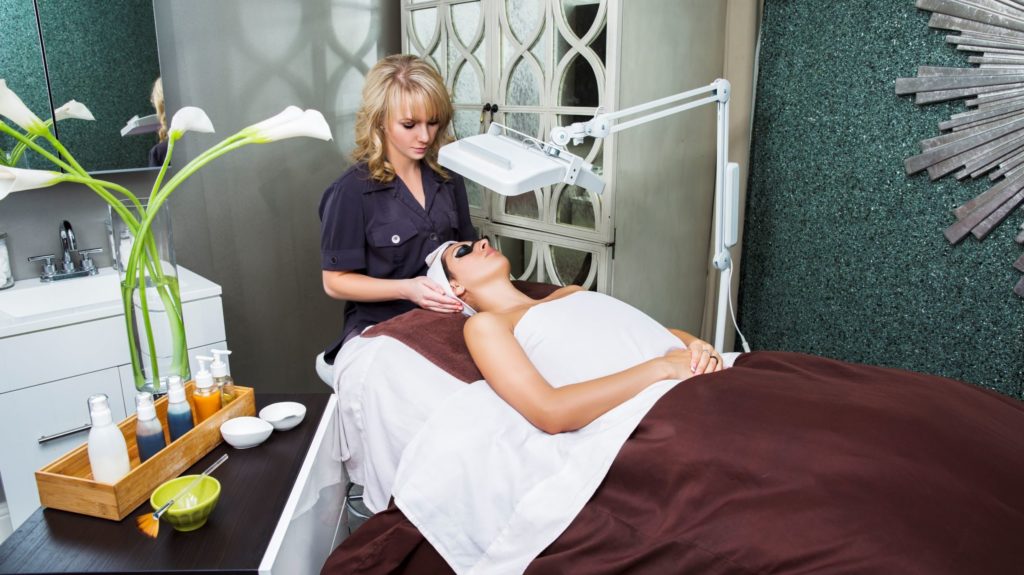 Retinol. Never sleeping with your makeup on. Sunscreen, sunscreen, sunscreen. Here's one more addition to the list of excellent skincare habits to maintain that glowing, healthy, youthful complexion: scheduling time with your esthetician (also known as aesthetician). She knows your skin's deepest secrets, deems just what products and treatments it needs, can anticipate what's to come and recommends the most effective regimen. She's essentially your skin's therapist.
So what exactly does being an esthetician or as we like to say, skin savior entail? Read on for a quick crash course.
Esthetician 101
Estheticians are licensed skin professionals trained to analyze, treat and improve the skin via myriad treatments and practices. The majority has undergone the esthetician licensure process, which includes hours of formal training (600 hours is common) and a state exam with written and practical components.
Fun fact: Forty-nine states currently require an esthetician license via the department of health or the state board of cosmetology [Connecticut being the exception]).  one might initially think an esthetician's trade applies strictly to the face, utilizing techniques to help clients create and maintain a healthy complexion, this person's devotion to the skin—not to mention repertoire, depending upon his or her certification and specialty—also can extend to body treatments, hair removal and makeup applications.
Treatments for your skin's surface–no injectables
It's good to point out that estheticians are strictly licensed to administer treatments on the superficial layers of the skin, i.e., no injectables like Botox or Radiesse. Light chemical peels apply, as does massage.
Don't expect an esthetician to deliver a deep tissue or Swedish massage, but rather a superficial-like massage that targets areas such as the scalp, head, face, neck or shoulders.
Where to find an esthetician
Wellness facilities, gyms and medical settings such as dermatologist or cosmetic surgeon offices welcome estheticians.
However, work in spas, medi-spas and salons are still the most popular option. Why? Well, if you look at hours and pay, these are main drivers. Another is the ability to shine in these establishments. Once someone is known for great service, recommendations start pouring in.
A testament to this trend resides in the numbers. Spa locations jumped from 121,595 in 2015 to over 149,000 in 2017 and employ nearly 2.6 million workers,[1] It's likely we'll see an increased demand in esthetician career opportunities.
In fact, according to estheticianedu.org, between 2016-26, an anticipated 14% growth in esthetician licenses is anticipated in the US alone. Why? Well, to meet the growing demand for specialized skincare services.
Typical treatments an esthetician administers
Facials (which may include extractions, exfoliation, masks and deep pore cleansing)
Superficial chemical peels
Acne treatments
Microdermabrasion
Makeup application
Body scrubs (salt, sugar, etc.)
Body wraps (seaweed, mud, etc.)
Hair removal (waxing, threading, sugaring, etc.)
Eyelash extensions
It's important to ask about additional treatments. Several estheticians receive licenses to perform micro needling etc. Asking for licenses and professional experience in conversation is welcomed as the responsibilities of an esthetician have evolved on a per state basis.
Within spa settings in particular, estheticians often perform procedures and treatments that are just as much about the mind and the spirit as they are about the body. We've witnessed the spin off of half day and full day course options at several wellness facilities, spas and salons. People seek additional guidance from professionals for their upkeep but also to learn daily habits they can incorporate at home.
---