Everything to Know About Clean Beauty Skincare
---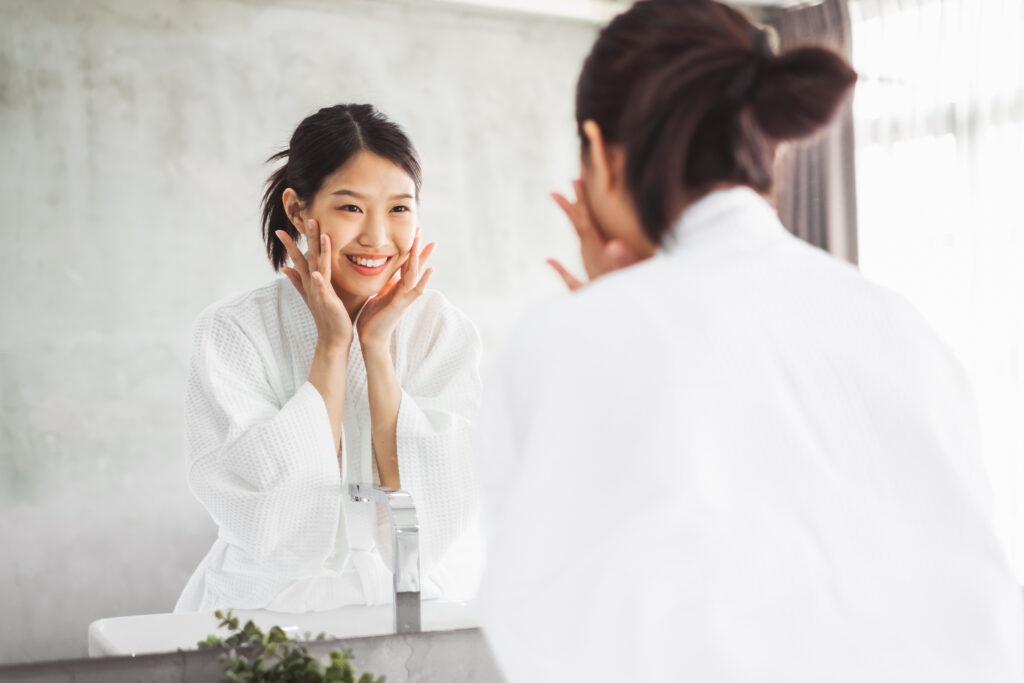 The world of "clean beauty" has rapidly gained momentum over the years. The movement has generated everything from YouTube tutorials and brand partnerships to endless celebrity beauty brands that promise you the most camera-worthy skin. There are lots of ideas surrounding the term, but the concept is actually pretty simple. Clean beauty ensures that only nontoxic, harmless products touch your body… which definitely makes sense. Your skin is the best accessory that you wear every day; why not treat it with kindness? Spafinder is here to help define clean beauty and what it means for your skincare routine.
What is Clean Beauty?
Clean beauty isn't just a trend; it's a lifestyle. It means transparency and using beauty products that are made only with safe, non-toxic, eco-friendly and cruelty-free ingredients. While there has been controversy over the years surrounding the definition of "clean," most skincare experts can agree on one thing. The staple of this revolution is avoiding the harmful ingredients linked to health issues and environmental stress, which grows longer each day. These include parabens, fragrances, sulfates, formaldehyde, phthalates, and more.
Clean beauty is often associated with terms like "organic," "natural," and "hypoallergenic." However, these are not mutually exclusive, particularly when it comes to organic skincare products. Natural beauty refers to products made with "pure" ingredients sourced from nature. This includes plant and mineral oils and fatty acids, like your favorite moisturizer with shea butter or face mask with coconut oil. While the industry is also focused on being eco-friendly and sustainable, these products may contain both natural and synthetic ingredients — relying on a third party to test and confirm the safety to use. While you can easily find products that are also vegan or organic, not all of them are, and it's crucial to understand the distinction and discover what's right for you.
Why Clean Beauty is important?
If you are what you eat, you're also what you put on your face. That means if you're willing to count every nutrient in your morning coffee just to stay keto, you should also know what ingredients are in your favorite eyeshadow. That's where clean beauty comes in.
Have you ever bought a new moisturizer you're excited about, only to break out for the next three days? The struggle is real and expensive. That's why these products are ideal for those with sensitive skin or conditions such as eczema or psoriasis, as the lack of harmful ingredients will give you flawless skin without irritation. For example, those with eczema are urged by dermatologists to avoid products containing sulfate (commonly found in soaps and laundry detergents) and phthalates, as these ingredients can cause dryness and further irritation. Unsurprisingly, you'll never find them in a clean beauty product.
Of course, these benefits extend beyond those with sensitive skin. There's something truly liberating about knowing that only the safest, non-harmful ingredients have a place in your beauty collection. You're helping out the environment and your body; what's not to love?
How do I shop for Clean Beauty products?
The Spafinder Shop has a wide variety of clean beauty skincare products for all skin types. Our favorites include the Foaming Gel Cleanser by AllSkin Naturals, Kale Water Weightless Moisturizer by Farmhouse Fresh, and Vital C Hydrating Anti-Aging Serum by Image Skincare. Of course, there are dozens more to choose from, depending on your goals. Clean beauty is at the center of your wellness, self-care, and skincare routines, and these products are used in spas across the country to help you look and feel your best. Discover your new favorites as you shop for the best clean beauty products from Spafinder!