Medi Spas–Your Ticket to Non-Invasive Beauty
---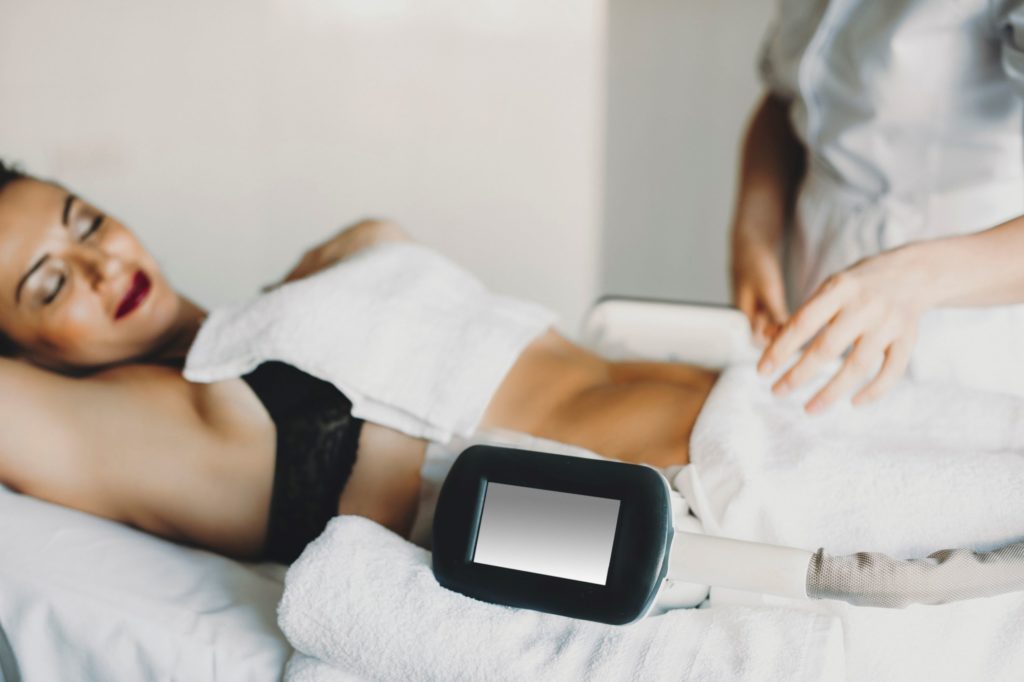 When we think about medical spas, treatments like surgical facelifts and body contouring come to mind. However, medi spas are also your source for effective non-invasive (think no surgery) beauty treatments like CoolSculpting, lipo-cavitation, micro-needling, microdermabrasion, permanent makeup and more. Plus, many medical spas offer popular spa and wellness services like massage and facials–even saunas and steam rooms. Here's the skinny on five of our favorite medi spa treatments.
CoolSculpting
According to the American Med Spa Association, CoolSculpting is a nonsurgical procedure that freezes and destroys fat. Fatty areas are gently pinched between the CoolSculpting applicator, which cools the fat, causing the fat cells to crystallize and disappear.
Good to know: CoolSculpting works on specific problems like love handles and arm fat. It's not a solution for weight loss. No anesthesia is required and there is little down time. It takes 30-60 minutes to treat an area, which is about the size of your hand.
Lipo Cavitation
Unlike liposuction, which is a surgical procedure, Lipo Cavitation targets fat cells using ultrasonic waves that break down fat cell membranes. The cells then release triglycerides and other fatty substances and your body processes the excess fat naturally. [1]
Good to know: The med spa technician will apply a small amount of gel to the area where you want to remove fat and then use the ultrasound device. Lipo Cavitation is an outpatient procedure and takes about 20 to 30-minutes. It is painless and does not usually have negative side effects. You may see some results in a week, although people typically have 10 or more weekly sessions.
Micro-needling
The beauty gurus at Spafinder explain that micro-needling is a treatment that tightens, lifts and rejuvenates the skin by encouraging the production of collagen. Basically, the medical spa clinician uses a Dermapen® to puncture your skin lightly. Hyaluronic acid serum may also be placed on the skin to enhance the treatment. There is some pain and your clinician will apply a numbing cream for 20-30 minutes before your procedure.
Good to know: You may experience some redness after micro-needling and you should avoid the sun. Your dermatologist will help you decide how often you need this treatment. It depends on your age but every three or four months is often recommended.
Microdermabrasion
Microdermabrasion is considered an effective skin treatment that can achieve dramatic results. It softens fine lines, smooths the skin and decreases the appearance of scarring, sun damage and pore size. Treatments involve a mildly abrasive instrument, which gently sands your skin, removing dead skin cells.
Good to know: You may experience some discomfort after microdermabrasion, which can include redness and swelling. This should stop within a few hours. However, your skin may be flaky and dry for a few days and be sure to use sunscreen!
Microdermabrasion is available at many spas, such as the popular Dtox Day Spa in Los Angeles and the famous Red Door Salon Spa in New York City.
Ultherapy®
Ultherapy is a FDA-cleared, non-invasive medical spa procedure using ultrasound energy to lift and tighten the neck, chin and brow. It can also improve lines and wrinkles on the chest. In addition, Ultherapy boosts your collagen and the devices ultrasound imaging lets your aesthetician direct the treatment to areas where it will be the most beneficial.
Good to know: During your treatment, you may feel tiny amounts of energy on your skin. Experts say a face and neck procedure usually takes 60-90 minutes and a chest treatment approximately 30 minutes. There is usually no downtime and any redness disappears after a few hours. However, your dermatologist will tell you what to expect.
Treat yourself to a medi spa service with a Spafinder gift card.
---
[1] Consumer Health Digest, "How Effective Is Lipo Cavitation Treatment?" Ellen Ratliff, MS, RD, Pn1