On Your Counter: Top 3 Daily Beauty Products
---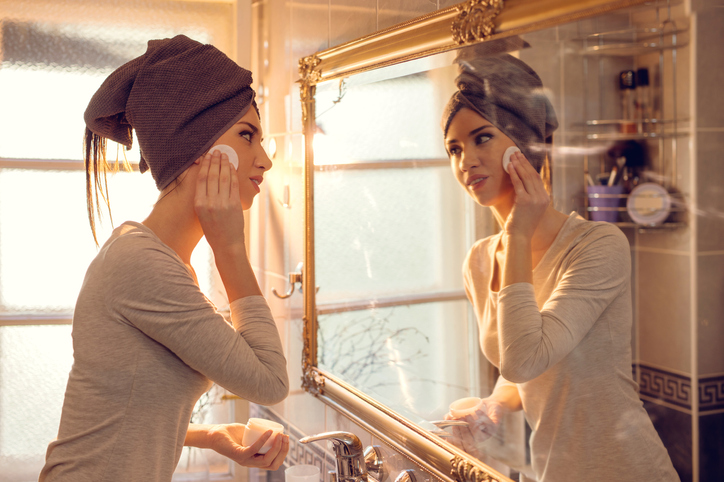 Some people say they do nothing to maintain their flawless complexions. Soap and water, they say. We are not those people—you know, the ones who keep beauty secrets…well, a secret. That's why we're sharing the top 3 daily beauty products that currently cover our bathroom counter.
1. Coconut oil for Cleansing
Ah, the versatile coconut oil. From teeth whitening to cooking to a dry hair savior, this natural (affordable) ingredient deserves all the recognition it's been given in the last several years. And in terms of skin—not only does it improve the quality, but it's an amazingly effective cleanser. But there are some tricks of the trade if you decide to incorporate this ingredient into your regular regimen.
1. Take the coconut oil in its natural solid state, then liquify it in your hands before applying to your skin. Rinse with warm water. Dab on just a bit at first to see how your skin reacts.
2. Yes, you need to be careful. Coconut oil definitely benefits sensitive skin, but it's not always a great option for acne-prone types (the oil has the potential to increase breakouts). A cleanser that cleanses skin? Great. A cleanser that clogs pores? Not so much.
We like Kopari Organic Coconut Melt. (The brand's coconut oil is sustainably sourced and derived from organic coconuts.)
And for a deliciously smooth body, we love Pure Fiji's Coconut Sugar Scrub. Use your Spafinder Gift Card to purchase in the Spafinder Shop.
2. Moisturizer
There's been debate over the benefits of moisturizer, but we still consider it the holy grail of skincare (along with retinol and spa facials, that is). But it can be extremely tricky to find the moisturizer that best suits your skin type and will get you the results you seek. We've had fantastic luck with the following products.
Luxe obsession: Drunk Elephant Lala Retro™ Whipped Cream
We don't know how this cream does it, but it goes on smooth and light yet is very hydrating. (Must be the whipped-like formula?) The cream tackles the appearance of aging and protects skin with ingredients like antioxidant-rich fermented green tea seed extract, ceramides and African oils including marula and baobab. Plus, it's unscented, which we always appreciate.
Drugstore obsession: Olay Regenerist Whip Face Moisturizer SPF 40
Formulated with hydrating hyaluronic acid and niacinamide and smoothing-slash-firming amino peptides, this super-lightweight cream (which turns to a liquid-like consistency upon application) gives us all the feels. Did we mention it offers UVA/UVB protection?
If you're shopping with a Spafinder Gift Card, we're also obsessed by the Ageless Moisturizer from Farmhouse Fresh. And every purchase helps an animal in need.
3. Night Cream
Another beauty secret to share: A day cream is not enough; you need to add a night cream to your skincare routine. Why? Skin's in repair mode while you're in sleep mode. Thus, manufacturers formulate night creams with ample active ingredients so you wake up with brighter and more radiant skin. We rotate these two night creams, but you'll always find one on our counter.
Luxe obsession: Murad Retinol Youth Renewal Night Cream
Get some shuteye and rest assured you're doing the best for your skin. Murad's retinol-based night cream not only attacks the appearance of aging, but it's a moisturizer that hydrates at the same time. (For those whose skin gets dry when using retinol, this is major.) It includes niacinamide and picolinamide, aka, skin protectants.
Not sure which retinol is best for you? Check out Spafinder's guide to retinols and retinoids (there is a difference).
Drugstore obsession: No7 Restore & Renew Face & Neck Multi Action Night Cream
You wouldn't imagine a product so rich in skin-nourishing ingredients—peptides, calcium, ceramides, shea butter—could be so inexpensive in price. The night cream is not only designed to soften fine lines and wrinkles but it also hydrates—and targets the neck, too.
The Spafinder Shop also offers a wide range of night creams from top beauty brands. Use your Spafinder Gift Card to shop.