Quarantine Countdown – Brows Gone Wild
---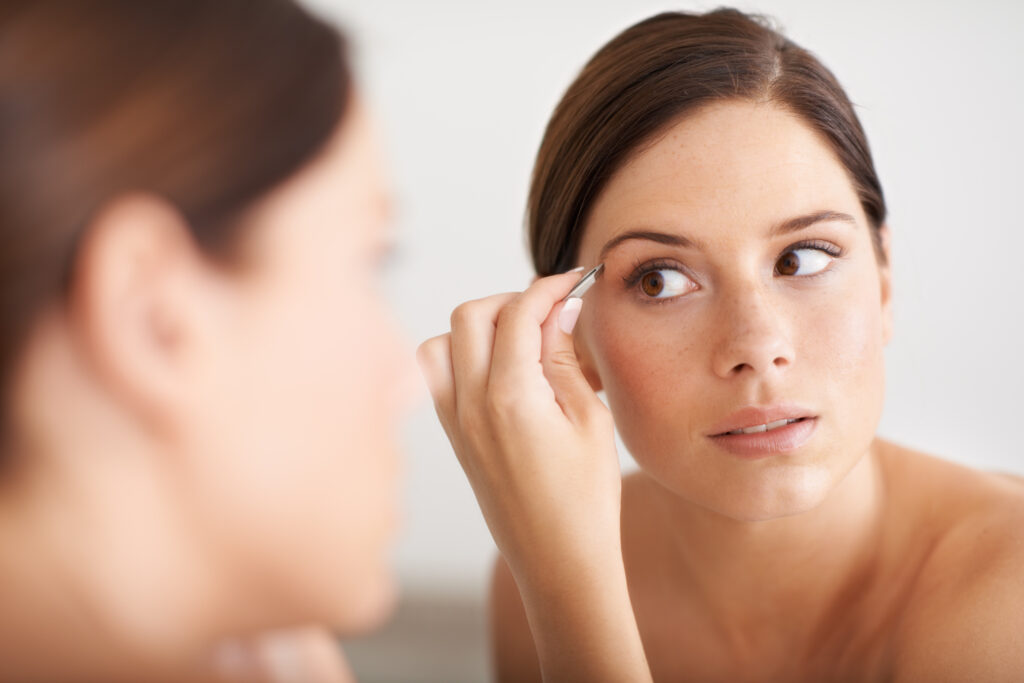 Another week of quarantine, and we've started to notice some things…like our out-of-control eyebrows. So, the inevitable transpired and it involved something along the lines of an overzealous tweeze session in front of a magnifying mirror. Oh, the dangers of over-plucking and sheer boredom. As we navigate wellness and COVID-19, we may be (or already are) required to wear masks in public. That means how our eyebrows look will become significantly more important.
But it is so. easy. to. over-tweeze. (It's also not difficult to go in the opposite direction: letting your eyebrows run amuck without your routine beauty appointments.) Hence, these eyebrow care tips here.
If you've over-tweezed your brows:
Magnifying mirrors are the gateway drug for over-plucking. Best to put that mirror away underneath your bathroom cabinet and lock the door.
Get out of the habit of tweezing every day. This can potentially cause damage, scarring and stopping of hair regrowth, dermatologist Shilpi Khetarpal, MD, says in a Cleveland Clinic article.
Define and fill brows to give your face a more polished appearance immediately. We like Charlotte Tilbury Brow Lift Eyebrow Pencil ($30) because it not only shapes and shades but acts as a highlighter, too.
Or, create natural-looking, full brows with Benefit Cosmetics' gimme brow+ volumizing eyebrow gel ($24). Simply swipe brush along brows and call it a day.
Eat a balanced diet. Wellbeing is a key factor in stimulating hair growth and that goes for your eyebrow hair, too. Check out these foods for hair growth.
A serum like Rapid Lash RapidBrow® EyeBrow Enhancing Serum ($49.95) works wonders. So does Revitalash RevitaBrow® Advanced Eyebrow Conditioner & Serum ($110) and neuBROW® Brow Enhancing Serum ($100). We've even applied our Shiseido lash serum in a pinch.
Some people use Rogaine, but we draw the line at that. More serious options out there include eyebrow hair transplants or platelet-rich plasma injections.
Have patience. Eyebrow hair regrowth takes time—up to a few months, in fact.
This video from Glamour has great tips on how to shape your brows.
If it's a brows-gone-wild situation:
Use Parissa Eyebrow Wax Strips (Brow Shapers) ($10). The mini strip size is ideal for the brow area. Simply warm the strips by rubbing them between your hands, apply to the skin in the direction of hair growth and pull rapidly in opposite direction of hair growth.
Invest in a good set of tweezers with an angled end, not flat. We like Tweezerman's Classic Slant Tweezer. $23
If you do tweeze, do so post-shower. Softer skin allows hair to slide out more easily. (Don't tweeze after applying your moisturizer or serum, as hairs are more likely to cling to skin.)
Special occasions call for Spafinder. Gift today, spa tomorrow.