Spa is a Man's World… Too!
Published: Friday, June 4th 2010
in Beauty
---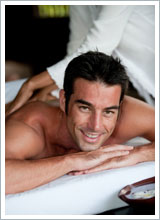 Sending your dad on his way to the spa may not be the first thing that pops into your mind when thinking of gifts for pops.  But how many times can you gift a necktie, a new tennis racket, or a DVD?  Celebrate your dad and his fatherly selflessness with the stress-free gift of spa.  Wondering what treatments men love?  Here are just a few:

–Deep Tissue Massage
-Golf Massage
-Manicures
-Close Shave

Know any other treatments that men love? Share your comments!