Spring Break Around The Corner — Swimsuit Trends for 2022
---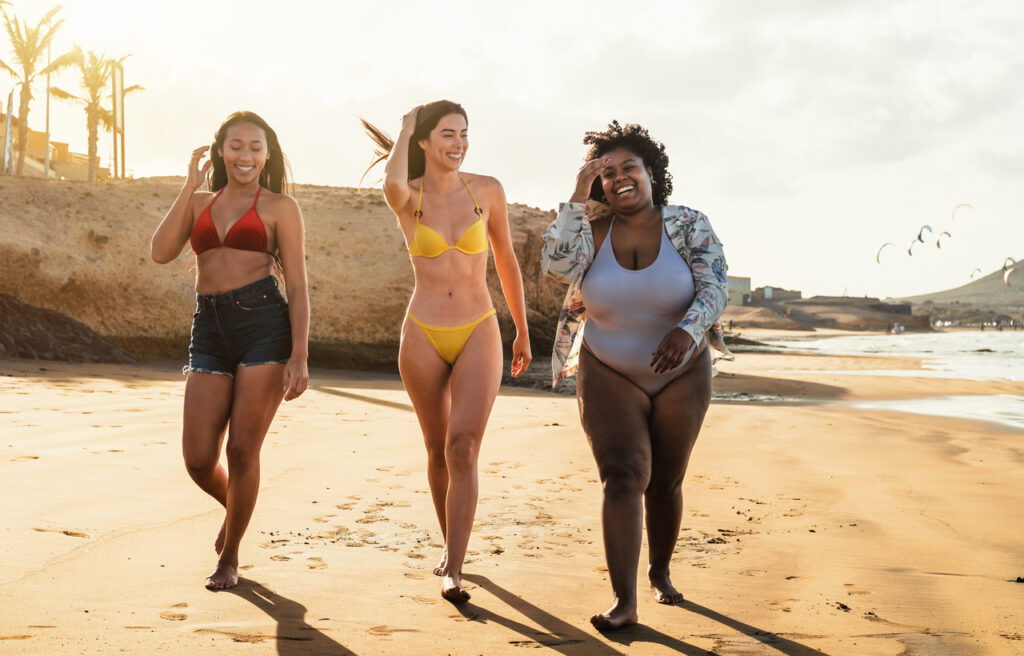 Things are heating up in spring 2022, from the warmer temperatures to the best swimsuit trends that are guaranteed to make a statement at the beach. And pool parties. And casual hangouts with friends. Even if you're well past the "partying during spring break" portion of your life, you can still invest in the best swimsuits that generate confidence and cooldowns. From bikinis, tankinis, the best one-pieces and beyond, you're in for gorgeous looks and good times during swimsuit season. Here are a few go-to's you need to know about….
Tankini revival
The "tankini," also known as a tank top-styled upper half paired with bikini bottoms, is nothing new. Popular for decades, this style is making a comeback in spring 2022, with a shorter length and luxurious look that makes it ideal for any vacation. Try a tankini with an upper half that's a bit shorter, more like a crop top than a tank. (We love this sexy look that's still shrouded in mystery.) And the best part? The tankini is ideal for beach trips or vacations where you're frequently in and out of the water. As all you need is a pair of shorts to create an easy outfit!
Find elegant but sexy tankinis and surf shirts at Los Angeles-based, boho-chic designer Johnny Was.
Belted suits
Belts aren't just made for your best jeans, but also your bikinis. And your one-pieces as well! The latter style can especially benefit from a belt, as it adds definition to your waist and helps to create a flawless hourglass shape. When you throw in a few ruffles and/or a plunging V-neckline to your one-piece belted swimsuit, you'll be simply unstoppable in spring 2022.
As for bikinis, the belted swimsuit trend adds a bit of edge to your bottoms without sacrificing comfort. It's there purely from a style standpoint. Without the need to adjust or pull it up as you do with your jeans. Our advice? Buy a new bikini with a built-in belt to show off for spring 2022. Or just add a belt to your favorite comfort suit for a familiar-yet-fresh take on swimsuit season.
Metallics
We can't decide what sparkles more, the glittering ocean water or you in the best metallic swimsuits for spring 2022! Metallic is definitely one of the most versatile bathing suit trends for all body types — as you can pick any style you like as long as you're ready to sparkle. High-waisted bottoms, string bikinis, triangle tops… you name it. Celebrities like Kylie Jenner and Hailey Bieber show off their most metallic pieces on social media, and you can feel A-list and exquisite with this ultra-easy swimsuit trend.
Bright Monokinis
Speaking of celebrities, we can't talk about bathing suit trends for spring 2022 without bringing up Kim Kardashian. The influencer frequently posts all types of bathing suits on her Instagram feed, and is especially fond of colorful monokini pieces. A monokini refers to a one-piece with a specially-designed cutout on the sides or along your stomach, showing just enough skin while also providing ample support. This design is ideal for those who can't decide between a one-piece or a bikini, as it gives you a little bit of both. And you'll have all eyes on you at the beach with a sexy cutout and vivid color like orange, purple, or neon green.
Check out Kim's curves at this swimsuit fashion shoot for ENews.
Ruffles
Flirty, feminine, and designed to help you look flawless in any swimsuit for spring 2022? Ruffles add a sexy but demure look to your new swimsuit. We like ruffles along the straps, neckline, or bottoms, creating a decorative design that looks cute as you lay on your towel or splash around in the pool. These frilly favorites have been around for a while, sure, but the ruffles are only getting more ravishing each year. And you can pick your most perfect ruffle-filled bathing suit designs for spring 2022.
Retro looks you'll love
We're unabashed fans of retro swimwear. It's seductive, glamourous and makes every body type–from curvy to slim– sexier. Channel your favorite screen idols from Marilyn Monroe to Audrey Hepburn in this article on retro swim looks from the Spafinder archives.