Seductive Retro Swimwear that Celebrates The Real You
---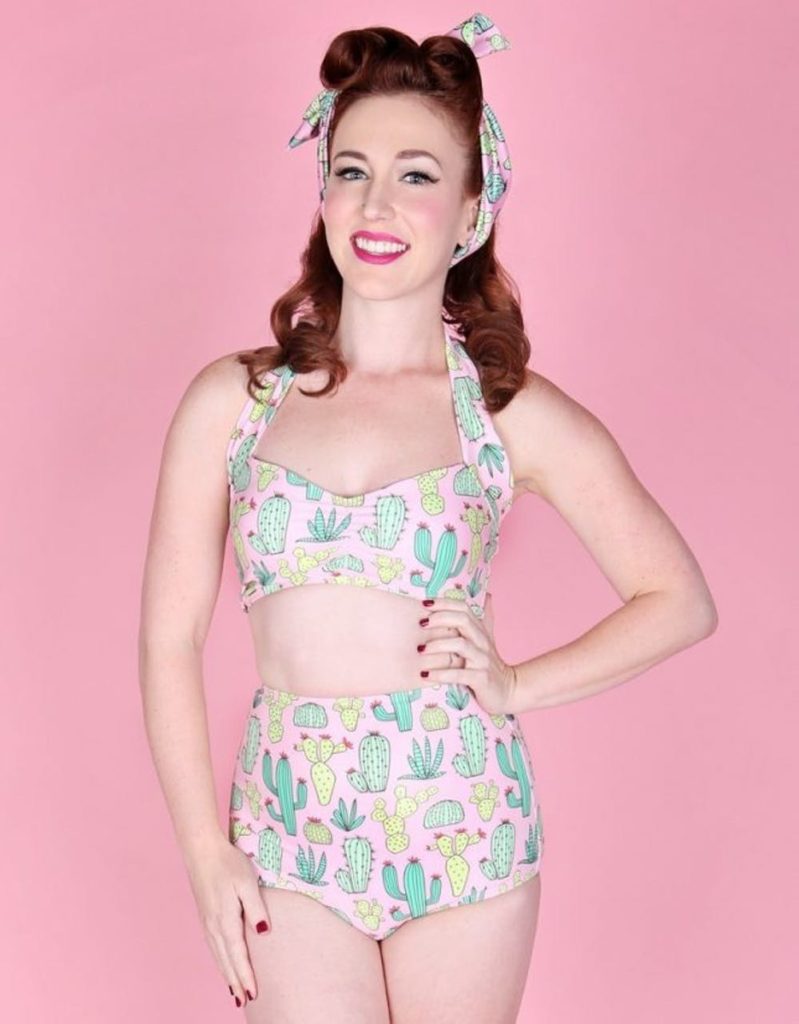 Just in time for summer, retro swimwear from the '50s and '60s is back and pin up girl styles that beckon your inner beach goddess are beyond popular. Whether you want to channel glamorous screen idols like Marilyn Monroe and Rita Hayworth or style icon Audrey Hepburn, these glamorous swimsuits show a little less skin. However, they also make every body type–from curvy to slim– sexier. After all, sometimes less is more and a bathing suit that teases can be more seductive than letting it all hang out – literally. (Thanks to BRIT+CO for presenting these stylish retro options.)
Curves are Your Retro Friend
Stars like Jane Russell ("Gentlemen Prefer Blondes") and Lana Turner ("The Postman Always Rings Twice") were voluptuous and not afraid to show their curves. Along with cinema celebrities like Ava Gardner, they achieved fame as pin up models and as actresses. As Russell said, "Sex appeal is good–but not in bad taste." We think they would approve of these throwback styles that look good on everyone, whether you're looking for a hourglass silhouette or something fun.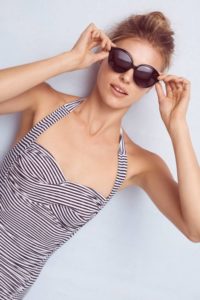 Class Meets Old-Hollywood Style
Audrey Hepburn achieved fame in the 60s ("Breakfast at Tiffany's") and was known for her chic style as well as her exceptional acting ability. This striped, one-piece boy-leg suit by Seafolly Riveria would look as good in the South of France as on the beaches of New Jersey. Like Hepburn, it signals class and old-Hollywood style.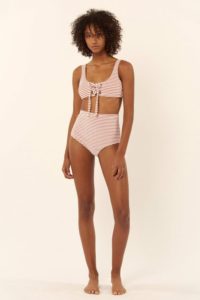 Modest is Sexy
While not quite a bikini, modest, two-piece swimsuits that covered the navel, hips, and derrière became popular during the World War II era. Mara Hoffman's new take on a high-waist style celebrates stars and stripes and has a dose of preppy. In addition, it does double duty when you throw on a skirt and grab your Burberry sunglasses.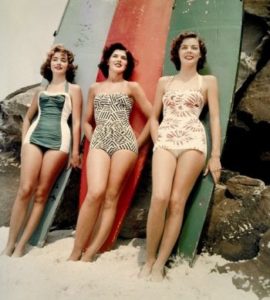 Calling all Beach Goddesses
Beach board chic hit its apex in the late '50s and early '60s when the Beach Boys invited everyone from Del Mar to Doheny Way to start "Surfin USA." Of course, if you're going to surf–or swim seriously–it's crucial to wear a swimsuit that moves with you and doesn't fall off at awkward moments. Movie star and swimming champion Esther Williams made scores of swim-themed movies and went on to found her own swimsuit line, which is still available today.
FEATURED PHOTO CREDIT: Swimsuit by Red Dolly
Sign up to receive insider tips, luxury destinations and more.
Purchase a Spafinder Gift Card–perfect for every occasion!