What Is Cellulite & Why Do I Have It?
---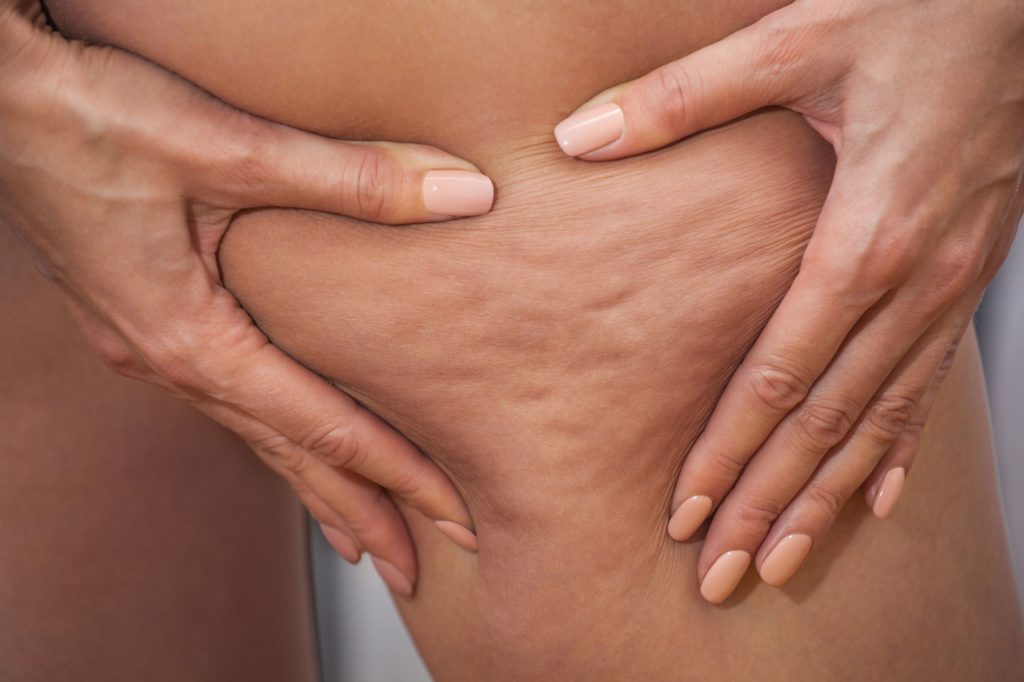 Cellulite. It's an annoying cosmetic issue and it doesn't discriminate. Chances are, you have cellulite—and your girlfriends do, too. In fact, a majority of women experience cellulite (supermodels included). But what exactly is this irritating body hang up many of us seem to sport? We break it down for you below.
What Is Cellulite?
First off, let's make everyone aware that those lumps or dimples you may see on your buttocks, thighs, abdomen and hips are completely normal—and much more common than you probably realize. In fact, estimates suggest 80 to 90 percent of women have cellulite; some experts say that number may be even higher. Notice we said women; we'll explain why men do, but are less prone to, have cellulite (unfair, we know).
Spafinder defines cellulite as "deposits of lumpy fat and fibrous tissue that cause dimpling of the skin in the thighs, hips and buttocks of some women." Cellulite, quite simply, comes into play when fat protrudes through the connective tissue underneath the skin. The result? An uneven, dimpled look that's been described as everything from "cottage cheese" to "orange peel."
Women are more apt than men to get cellulite because a.) females typically possess more body fat (around the hip and thigh areas especially), and b.) their connective tissue is positioned vertically. Men, meanwhile, have thicker connective tissue that is arranged in a crisscrossed pattern that is therefore better able to hold fat.
What Causes Cellulite?
Ok, so now I know what it is—but why do I have it?
A variety of reasons may be the culprit. Genetics, for instance—every body stores fat differently, which is why some people tend to get cellulite while others don't, no matter body type or size. Hormones seem to play a part, as most notice that cellulite occurs post-puberty. Aging is a factor, due to elasticity loss in skin. Plus, a sedentary lifestyle (i.e., sitting at our computers all day) is a culprit. Weight gain makes cellulite appear more visible as well.
What Do I Do about It?
A nutritious diet, maintaining a healthy weight, no smoking and regular exercise (flexibility and strength training to tone and encourage muscle mass are excellent) are a good start to not only aid in eliminating, but preventing, cellulite. As well, there are at-home spa remedies; countless creams to help you say hello to smoother skin; and treatments proven effective to help target cellulite, too. And while not a cure, they all help to fade the dimpled appearance—just in time for summer.
Find spas and wellness programs near you.
Give the gift of relaxation with a Spafinder gift card.