3 Tips for Fitting Exercise into a Busy Schedule
Published: Friday, January 3rd 2014
in Fitness
---
by Scott Danberg, MS, Director of Fitness, Pritikin Longevity Center + Spa, Miami, Florida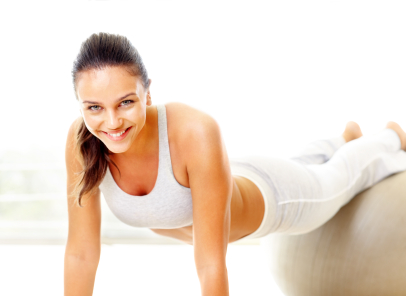 Every day at Pritikin, we work with a clientele made up of some of the busiest people on earth, including Fortune 500 CEOs and world political leaders, so one of our top goals is making sure our guests can successfully fit exercise into their time-strapped lives.
Here are 3 key guidelines our guests appreciate:
1.  Don't focus on time.  Focus on frequency.
There are 3 facets of an effective exercise regime:  Frequency, or how often you exercise (At Pritikin we recommend aerobic activity 6 to 7 times a week); Intensity, which means how vigorously you work out; and Time, or how long you work out.  They are known as the F.I.T. prescription.
The problem is that many people put too much focus on Time, as in:  "I'm here at the gym, and boy oh boy, I'm gonna put in a full hour, maybe longer."
But to boost the amount of body fat we burn, it's much more important to focus on Frequency of bouts over the course of a week, not the length of any single workout.
A daily 30-minute routine can be far more effective than an every-other-day 60-minute workout. That's because shorter (but daily) sessions often add up to more exercise time for the entire week. And when we encourage our guests at Pritikin to go for shorter bouts, all of a sudden they start to feel RELIEF.  Carving out 30 minutes in a busy day seems far more doable than 60 minutes.
Plus, when you're exercising for less time, it's easier to work out harder, sweat more, amp up that treadmill, and go all out. That's really important in terms of your fat-burning potential because the more intense your routine, the more fat you'll burn for several hours after.
Of course, always check with your physician before embarking on an exercise program, and always stay within your training heart range.
2.  Keep a pair of walking shoes under your desk.
It's a great way to slip in more steps (in addition to your exercise workout) during your day.  Between meetings, step out for a quick 10-minute walk outside.  Stuck in one place with phone calls to make?  Stand up and walk around while talking.  Climb stairs. Every step counts.  Getting up and moving around for a few minutes here and there throughout the day can help maintain an elevated metabolism all day long.
Strive for a daily minimum of 5,000 non-exercise-session steps (5,000 steps adds up to about 2½ miles, depending on your stride).  To make it fun and motivating, many of our guests at Pritikin wear bands like Fitbit that help them track and sync their steps to their smartphones and computers. With these extra steps, you'll be rewarded not only with a peppier metabolism but also with improved weight loss. An extra 5,000 steps a day can add up to about a 25-pound weight loss in one year.
3.  Power up with a Pritikin Pajama Workout.
Resistance, or strength training, 2 to 3 times weekly is important for many reasons, including improving muscle strength, maintaining ability and balance, and preventing injuries, but a lot of people think a strength workout means time, lots of it, spent at the gym.
If your life is busy, or you're traveling, cut your strength-training time way down with a very popular workout we teach at Pritikin called the Pajama Workout.  Using elastic bands, and in just 4 movements – chest presses, bicep curls, squats, and crunches –  1-3 sets for 8-15 repetitions! It's important to feel a muscular glow (moderate intensity) but optimal to 'feel the burn' the last few repetitions (high intensity). You get a surprisingly effective all-body workout, and without needing to leave home, or get dressed!