Celebrity Wellness: Rebel Wilson's 'Marathon Hiking" at The Ranch 4.0
Published: Thursday, April 28th 2016
in Fitness
---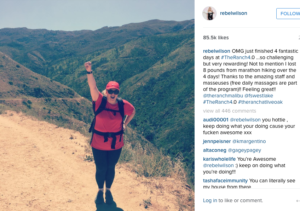 Comedian and actress Rebel Wilson took to the California hills for a "marathon" hiking experience at The Ranch 4.0 at Four Seasons Westlake Village.
The Australian starlet shed 8 pounds during her four-day immersion, which is a shorter version of The Ranch's week-long, Malibu-based wellness and fitness boot camps.
Past celebrity participants include Selma Blair, Lea Michele, Brittany Snow, Minka Kelly, Mandy Moore, Busy Phillips, and Julianne Hough.
Her Instagram caption read: "OMG just finished 4 fantastic days at #TheRanch4.0 …so challenging but very rewarding! Not to mention I lost 8 pounds from marathon hiking over the 4 days! Thanks to the amazing staff and masseuses (free daily massages are part of the program)!! Feeling great!! @theranchmalibu @fswestlake#TheRanch4.0 #theranchatliveoak"
Read more about The Ranch 4.0: Get Beach Ready While You Get Away: Weight Loss & Fitness Destinations