Skin Sensation; Yoga Pants & More
---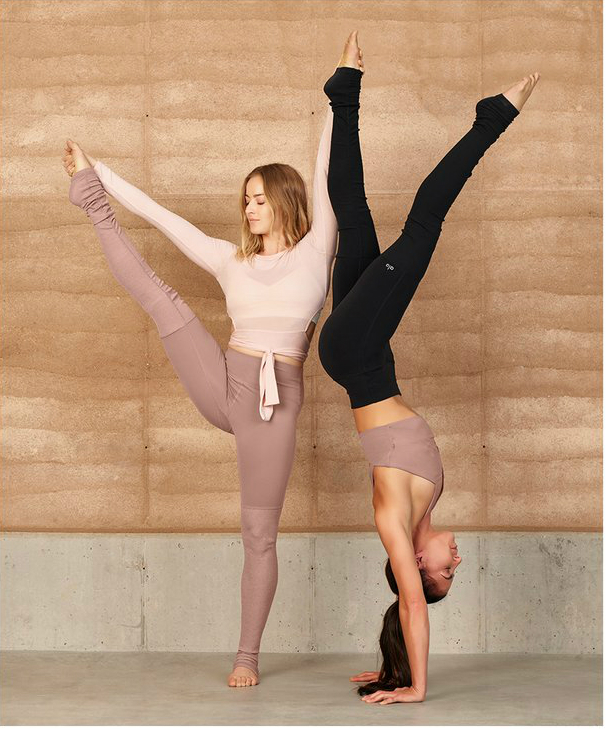 You work out to feel good, but you also work out to look good—and looking good doesn't just extend to being lean and toned; it's rooted in the very fabric of the clothes we wear while we exercise. Put on something ill-fitting and you'll be uncomfortable throughout the entire class. Dress in something dowdy and you'll surely feel less motivated. Wear something amazing and you'll be rocking warrior pose in two seconds flat. Taking that into consideration, here are five yoga apparel lines we love.
Hailey Baldwin, Gigi Hadid, Kendall Jenner and Taylor Swift have been photographed in Alo Yoga clothing and for good reason: The brand offers a modernly elegant line of tops, bottoms and bras but may be best known for its hip studio-to-street jackets, hoodies and pullovers. (Featured Image)
The Outdoor Voices brand has a strong following, thanks to its athleisure line that marries an effortlessly cool vibe with muted hues. Apparel that's stretchy, sculpting and super-soft doesn't hurt, either (we like the TechSweat 7/8 Zoom Leggings).
We're fans of Day/Won because the brand provides an array of sizes (0 – 32) and a varied design look: from basic black to prints and color blocks to attention-grabbing statements like "P.S. You Got This" and "The Future Is Mine" on its leggings and tees. You can even customize leggings with your own motivating words to live by.
Mindful clothing for a mindful practice is their motto and the Made in the USA brand strongly believes in it. Off or on the mat, the colors and fabrics gel well in any environment. From muted colors to rich vibrant fabrics, the clothing is an easy mix and match sensation of organic blends sure to hug your skin.
Leggings that sculpt and lift the bum. Who wouldn't want that, in or out of the gym? They're a bestseller of this London-based brand, along with crop hoodies and a padded yoga bra.
Simple and chic describe Athleta's yoga/studio/dance collection. The tanks, long-sleeved tops, bras and leggings may look delicate—design points include crisscrossed straps, eyelet detailing and clean lines—but they are durably constructed and fashioned with useful technologies, including quick dry, UPF 50+ protection and odor-control capabilities.
Fashionistas will love this workout line for its bold prints (think leopard, floral and camo in all colors); even its "basic" exercise attire is runway-ready with stylish mesh accents.
Find a yoga class near you.
Get exclusive access to deals and more.