The Best Outdoor Exercises for Spring
---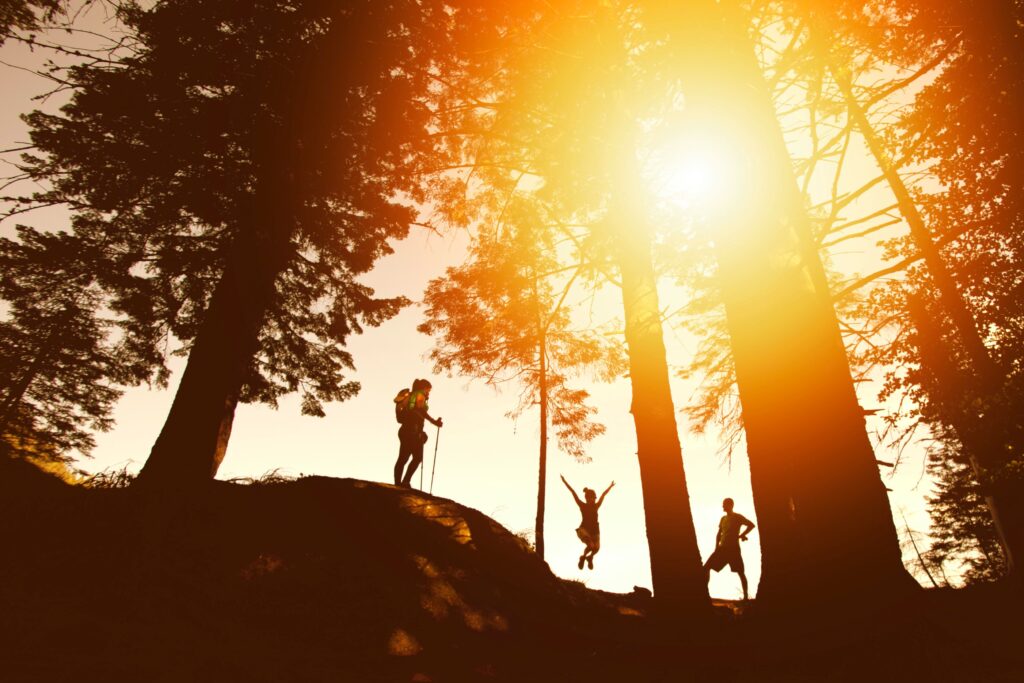 Spring is officially here, and It's nice to feel the sun on our faces again…especially as we're enjoying the best outdoor workouts. It's time to get out into the warmer weather, improving your physical and mental health with yoga, running, cycling and more. The air is fresh, the flowers bloom, and your spirits are lifted as you say goodbye to the chilly winter months. Therefore, we know you'll have a blast with the following spring-friendly workouts.
Hiking
Hiking has always been one of the most popular outdoor exercises for the spring months, and we definitely see why! You can set your own pace as you walk along the best trails, parks, and forests that your city has to offer, taking in the breathtaking scenery with every step. Research has shown that hikers tend to burn more calories than neighborhood joggers, as they typically spend more time outside exercising than they would in a more casual environment. They might stop to take the occasional sunset selfie or examine a plant they've never seen before, but hikers always get back on the trail to fulfill their minds, bodies, and souls! What's not to love?
Tip: enjoy great hikes at spas across the US like Miraval Arizona.
Cycling
Cycling is an ideal outdoor exercise for both beginners and experts, as it's easy on the joints, extra casual, and serves as a form of transportation in addition to an exercise technique. Did you know that riding your bike to work isn't just a favor to your body, but also to the environment? You'll help to reduce dangerous toxins in the air when you opt out of driving, while the health benefits of cycling are undeniable. According to Better Health, these include increased cardiovascular fitness, stronger bones, better joint mobility, less stress and so much more! Get your bike out of the garage and start cycling. We promise that you won't regret it.
Tip: up your cycling game at the Milwaukee Cycling Center.
Yoga
No shade to your favorite yoga studio, but practicing this technique outdoors helps you become one with nature and feel more grounded. Yoga is a blend of mindfulness, meditation and healthy exercise that puts you in the perfect spot for renewal this spring, especially when you're doing it at your local park or at a spa escape. Why is it such a powerhouse wellness treatment? First, it requires concentration, balance and deep breathing exercises that help you relax, contributing to the 360 wellness experience. It also builds strength and increases blood flow on the fitness side. Yoga is an ancient practice that hardly even feels like you're working out, but somehow makes all the difference in the world. Why not get out of your comfort zone and bring your yoga mat outside for a change?
Tip: for the ultimate wellness experience, pack your mat and do yoga on the beach at a tropical spa escape.
Kayaking or Canoeing
If you live near a lake or river— or visiting a spa like Mohonk Mountain House in Upstate New York —we recommend renting a kayak or canoe for a fun-filled exercise with the whole family! Not only can you admire the beauty of the water and trees as you float along, but you'll also get a workout at the same time. How so? Paddling works your upper body, core and back muscles, while the motion of the water can provide a gentle massage for your joints. Plus, it's a memory-making experience that's ideal for beginners and nature lovers.
Parkour
Want to feel like you're in an action movie, and simultaneously get the best spring workout ever? Parkour is calling your name. This technique involves using your body to navigate obstacles in an environment, such as walls, railings, and benches, to get from point A to point B. It's a full-body workout that requires strength, agility and balance. And you can vary the intensity based on your age and fitness levels. Don't worry, you won't be given the most challenging obstacle course your first time! Parkour is known to help younger people build up their athletic endurance while mature adults can help to improve their balance, and you'll have a blast with this unorthodox but oh-so-fun outdoor training.