Wellness Week Workout Tunes!
Published: Monday, March 7th 2011
in Fitness
---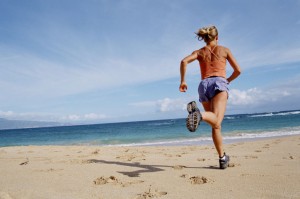 The proliferation of portable MP3 players and iTunes has made everyone a DJ.  Gone are the days of mix-tape cassettes and recording songs off of the radio.   So these days when it comes to putting together a list of tunes to get you super pumped for an intense workout everyone is the master of their own destiny.  Some plan their playlists according to the intensity of their workout, building from warm up songs, to a peak and then slowing things with some cool-off tunes.  Others prefer fast-paced pop songs all the way though.  But whatever your preference there's a little something for everyone on our list of top workout hits to put on your iPod this Wellness Week™.
Here are some of our staff picks:
Shari:
Welcome Back, Mase
Bad Romance, Lady Gaga
Teenage Dream, Katy Perry
Dog Days are Over, Florence and the Machine
Say Hey (I Love You), Michael Franti & Spearhead
Bounce That, Girl Talk
Chaiya, Chaiya, (Dil Se)
Alejandro, Lady Gaga
Beverly Hills, Weezer
Lighters Up, Lil Kim
California Girls, Katy Perry
Stronger, Kanye West
Satisfaction, Eve
Dancehall Style, Luciano
One Day, Matisyahu
Amy:
306 and Cook Street Theme by Mon.key.pod/Madame Psychosis
Bubblegum,  Rasheeda
Sweet Dreams, Beyonce
Psychic City,  Yacht
Pick Up Ya Flow, Dyme Def
Swang on Em, Bun B feat. Lupe Fiasco
Coma,  Papertwin
Kate:
Dynamite, Taio Cruz
More, Usher
Poker Face,  Lady Gaga
Like a G6, Far East Movement
Let's Get It Started, The Black Eyed Peas
Only Girl (in the World), Rihanna
Stronger,  Kanye West
Forget You (Radio Version), Cee Lo Green
Club Can't Handle Me, Flo Rida, featuring David Guetta
Erika:
Start Me Up, The Rolling Stones
Kiss with a Fist, Florence and The Machine
Dancing with Myself, Billy Idol
Dope Show, Marilyn Manson
Love Game, Lady Gaga
Should I Stay or Should I Go, The Clash
It's So Easy, Guns 'N Roses
Man Eater, Nelly Furtado
Controversy, Prince
Mother, Danzig
Toxic, Britney Spears
Let's Dance, David Bowie
What are your favorite tunes to work out to?  Share them with us in the comments!