Why Prenatal Yoga? It's a Lot More Than an Exercise
---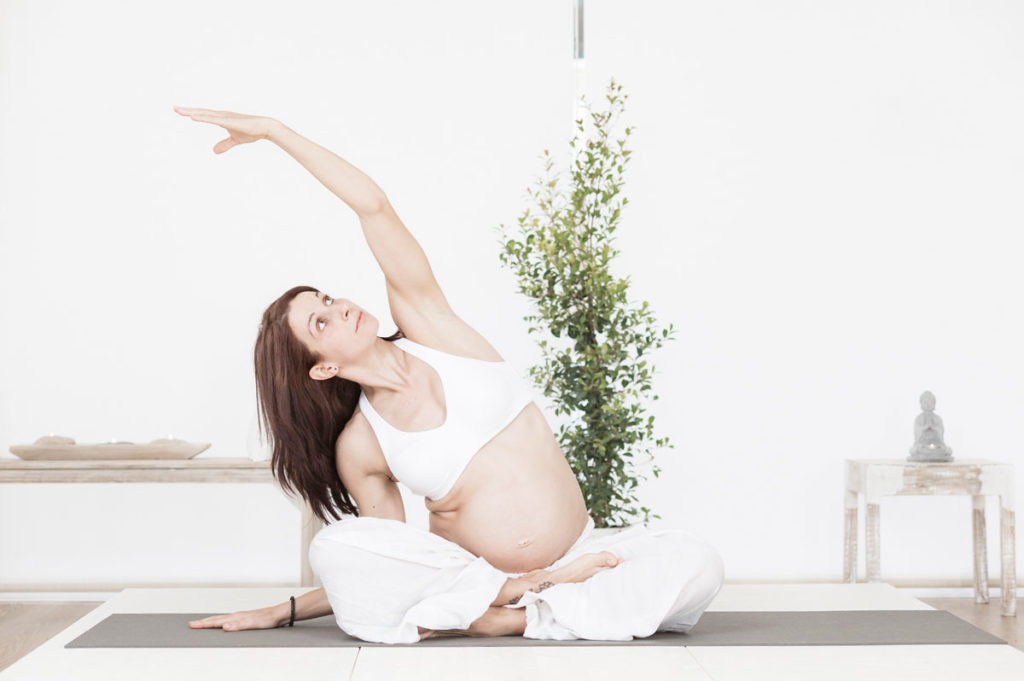 If you are pregnant, and have no complications, your obgyn may suggest you do aerobic and strength-conditioning exercise before and after giving birth. And, according to the American College of Obstetricians and Gynecologists[1], yoga is a safe exercise program–with some modifications.
But exactly why is prenatal yoga recommended–and what are the important dos and don'ts? The medical experts at the Mayo Clinic in Rochester, Minnesota say prenatal yoga can help pregnant women, "… increase the strength, flexibility and endurance of muscles needed for childbirth, promote their baby's health, plus improve sleep, reduce stress and anxiety, decrease lower back pain, nausea, carpal tunnel syndrome symptoms, headaches and shortness of breath."[2]
That's a lot of benefits wrapped up in one exercise!
What Yoga Practices Are OK When?
Even the simplest yoga practices–breathing deeply and consciously relaxing–can help prepare for the demands of labor, birth, and being a mom. But before you begin any exercise program, it is very important to first check with your obgyn or medical doctor. And while there may not be as many restrictions during your first trimester, be sure to stay hydrated and drink plenty of water before, during, and after exercising.
Juliette Kurth, co-owner of LA's Silver Lake Yoga and a certified prenatal yoga trainer and doula, says, "It's important to ask your doctor if yoga is right for you and to take classes from a certified prenatal instructor who understands the birth process and what is going on in your body." She also notes that hot yoga is not recommended and spinal twists or poses that put pressure on your abdomen or uterine area should be avoided. "Trust your instructor and your body, and adjust your poses during your second and third trimesters."
According to the Mayo Clinic, a typical prenatal yoga class might involve:
Yoga breathing techniques to help you manage shortness of breath during pregnancy and work through contractions during labor
Gentle stretching
Postures to develop your strength, flexibility and balance
Cool down and relaxation to relax your muscles and restore your resting heart rate and breathing rhythm
During your second trimester your joints will be looser so experts say to be careful when you move into yoga positions and only hold poses for as long as you're comfortable.
Babycenter.com notes that in the third trimester a pregnant woman should perform standing poses with her heel to the wall, or use a chair for support; use props such as blocks and straps for greater stability; and not hold poses for a long time.[3]
Pregnancy Changes Can be More than Physical
Kurth also thinks moms can become isolated during their pregnancy and after and points out that one in seven women suffer from depression after giving birth.[1] She believes yoga classes can play an important role in maternal mental health.
"Pregnant women need a place where they make new friends and share what they are experiencing–and a place they can come back to and raise their children together. Yoga classes help women build a bridge between their prenatal and postnatal lives."
[1] JAMA Psychiatry, "Postpartum Depression Affects 1 in 7 Women," March 2013.
[1] American College of Obstetricians and Gynecologists, "Committee Opinion," Number 650, December 2015.
[2] Mayo Clinic, "Prenatal yoga: What you need to know," December 2015.
[3] BabyCenter.com, " Great pregnancy exercise: Prenatal yoga," August 2015.
[4] JAMA Psychiatry, "Postpartum Depression Affects 1 in 7 Women," March 2013.