What a Workout! The Bar Method
Published: Thursday, September 9th 2010
in Fitness
---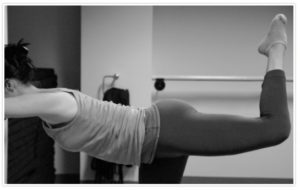 The Bar Method is a workout that incorporates many of the moves that we know from traditional workouts, so expect a few (or a lot) of push-ups and some ab-burning curls. But the similarities to the workouts you might be used to end there. Combining moves from Pilates, yoga, and ballet, The Bar Method creates an energizing and tough-to-say-the-least, routine that you can tell is sculpting your body from the first of reps using a set of weights that will only seem tiny for a couple of seconds.

The Bar Method was founded in 2001 by Burr Leonard who had been practicing and teaching the exercises based on the Lotte Berk Method, named after the German dancer who fled the Nazis for London in the late 1930s, since 1991.  Berk created the Method by combining her ballet bar moves with rehabilitative steps required because of a back injury.  The moves resulted in improved strength and flexibility with minimal impact on the joints.  Berk's method would later help sculpt the bodies of celebrities like Brooke Shields, Joan Collins and most recently, through Burr Leonard's variation, Drew Barrymore!

Sculpt buns, thighs, and triceps during a short but intense session of pushing your body to the limit (accompanied by some great tunes and fabulously fit and energetic instructors), you can lift, tuck, and bend your body into tip-top shape!