10 Simple Equipment-Free Exercises You Can Do Anywhere
 
If you're traveling or have trouble committing, one of the best ways to workout is by revisiting the basics. That's why Cindy Wasilewiski, Fitness Manager at The Lodge at Woodloch, a 57-room luxury destination spa in Hawley, Pennsylvania, has a designed this easy, equipment-free routine just for us. "It's something you can do if you're on the road, or have no time, and it works all your major muscle groups," she says.
Photos on slides 3-11 are courtesy of The Lodge at Woodloch
Warm Up
Benefits: Helps avoid injury and reduce the soreness felt after a workout.
How-To: Do any of the following for 5 minutes: jumping jacks; march or jog in place; walk up and down stairs.
Tip: If you're considering skipping this step, think of a cold steak versus one that's thawed; cool muscles aren't pliable, but warm muscles are better able to stretch and handle stress.
Bicep Curl
Benefits: Biceps
How-To: Stand with your feet shoulder width apart and arms at sides.  Make a fist with your hands and bring your elbows against your body as you lift your arms to a 90-degree angle. Hold and squeeze for 20 seconds and then slowly straighten arms to rest for a count of four. Repeat 10 times.
Tip: The tighter you squeeze your biceps during this move, the more good it will do.
Calf Raise
Benefit: Strengthens the calf muscles and improves balance.
How-To: Stand on the floor and hold on to a wall or chair in front of you for balance. Rise up onto your toes. Lower and repeat for two sets of 15 reps.
Tip: To make this move more difficult, hang your heels off of a step.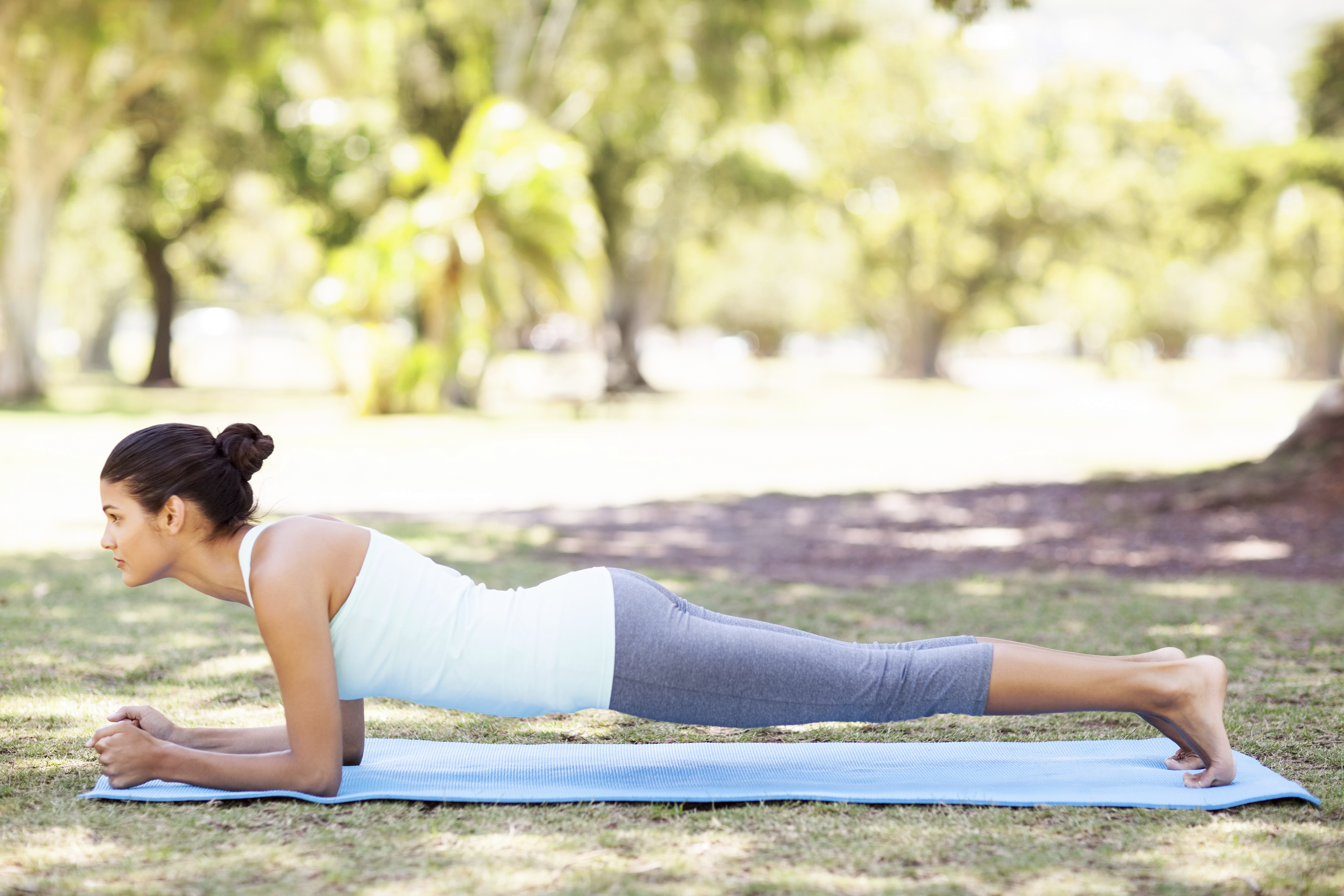 Plank
Benefits: Works all abdominal and back, or core, muscles.
How-To: Start in a pushup position on hands or elbows. Contract your abdominal muscles. Keep your back straight and hold as long as you can. Work up to two sets of 30 seconds.
Tip: To keep your back straight, think of stopping yourself from drooping in the middle.
Wall Sit
Benefits: Strengthens a few major muscle groups: hamstrings, quadriceps, gluteals, and hips.
How-To: Place your back against the wall with your feet about two feet out. Slide down the wall until your knees are at a 90-degree angle. Hold. Work your way up to two sets of 30 seconds.
Tip: Stay stable by pressing your back against the wall and putting weight on your heels, not your toes.
Pushups
Benefits: Tones pectorals, triceps, and shoulders.
How-To: A quick and easy way to work your entire upper body is to follow the plank with one set of pushups. Start on your knees if needed, and remember to keep your abdominals in and your back straight. Try just one in the beginning and work your way up to 12.
Tip: Pushups are tough because you're lifting your own body weight. If the classic position isn't working, do them against a wall, chair or bed and work your way down to the floor.
Superman
Benefits: The entire back: lats, traps and lower back.
How-To: Lie on your stomach with your arms and legs straight out. Raise your arms and legs off the ground a few inches. Hold for three seconds. Lower and repeat 15 times.
Tip: Keep your eyes on the ground, even though you're flying, it's less strain on your neck.
Tricep Dip
Benefits: Triceps
How-To: Sit on a chair, palms down, gripping the edge. Place feet flat on floor with knees bent. Slide forward just enough until you can ease your way down in front of the chair and your elbows are at 90 degrees. Push up until your arms are straight. Work your way up to 8 reps.
Tip: Progress by taking your feet further away from the chair.
Butt Raises
Benefits: Gluteals
How-To: Lie on your back with your knees bent and slightly apart, feet flat, and arms at sides. Raise your hips into the air and squeeze your gluteal muscles. Lower hips and repeat 12 to 15 times.
Tip: The tighter you squeeze your glutes during this move, the more good it will do.
Regular Ab Crunch
Benefits: Upper and middle rectus abdominis muscle (or six-pack muscle)
How-To: Lie on your back with your knees bent and feet flat. Place your hands down by your sides. Push your lower back into floor, flattening the arch. Curl up slowly so both shoulder blades lift off the floor a few inches, bringing your hands to the outside of your knees. Hold for count of two and return back to start. Repeat 12 to 15 times.
Tip: Always look at your knees and not at the ceiling. This keeps your neck in a neutral, unstrained position.
You might also like:
This is one of our favorite articles. It was originally published on October 22, 2012.