Top 10 All-the-Rage Fitness Trends
Published: Monday, June 25th 2012
in Fitness
---
Videogames have gotten a bad rap for being a sedentary pastime and with reports of national obesity on the rise, it just seems like a problematic FAIL. Enter exergaming—the combination of exercise and videogaming—which has proven to be a great way to get people of all ages moving.
One of the first popular videogames to combine body movement and video gaming was Dance Dance Revolution. DDR, as it's commonly called, has also found its place in homes with Xbox, Playstation®, Nintendo and others.
Some of the most popular fitness games are on the Wii Fit console such as yoga, golf, strength-training, boxing and more.
Described as "a Wii on steroids," the interactive sport simulator Trazer2® is being used in high-end gyms, including the one at Fountainebleu Hotel in Miami Beach, Florida. Read more about exergaming.
A combination of yoga, Pilates, Lotte Berk and ballet, Figure Method is an upbeat hour of non-stop movement. Beginning on yoga mats with 2.5 dumbbells and yoga blocks at your side, you go right into the routine with movements ranging from crunches to push-ups to hip trusts. On ballet bars you will stretch, plié and perform repetitive kicks and various other moves. The Method was created in 2001 by classically trained ballerina Cindy Sites as a hybrid workout program designed to tone and lengthen muscles. Changes in your body can be seen after just six classes. Read more for Figure Method tips.
Gyrotonic is a form of exercise that incorporates the principles of dance, yoga, tai chi, gymnastics and swimming, and uses system-specific equipment that focuses on strength, flexibility, coordination and range of motion. Fluid movements and a focus on breathing are a key component in Gyrotonic exercise, which makes it popular with dancers, especially. But even if you're not a classic ballerina, you too can reap the benefits of Gyrotonic. While the exercise focuses on the core, just like Pilates, Gyrotonic also incorporates musculature, as well as skeletal orientation with hands, feet, arms, legs, ribcage and pelvis assisting in the exercise, creating not only stability, but mobility. This makes Gyrotonic not only a fun and productive way to exercise, but an alternative form of physical therapy or rehabilitation for many as well. Read more for the ins and outs and the ups and downs of Gyrotonic.
Yes, you heard right – yoga and food. The brainchild of Yahoo! wellness expert David Romanelli, a.k.a. Yeah Dave, Yoga for Foodies was born after he watched Food, Inc. and as a result, turned to the Slow Food philosophy. Slow Food strives to reconnect people to food, with value placed on cultural culinary traditions and the people involved in growing, raising, and making the food they eat. The goal of Yoga for Foodies is to embrace yoga, great food, and music (with a playlist of songs from bands like Arcade Fire, Edward Sharpe and The Magnetic Zeros, Grateful Dead, Paul Simon, Band of Horses, and more) as gateways to the present moment. Wind down, slow down, live in the present moment and read more about Yoga For Foodies.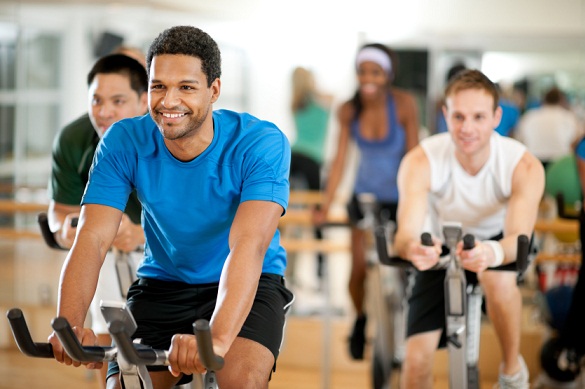 Spinning
For those of us that want a hardcore workout that burns tons of calories with lots of sweat and a side of toned glutes, check out spinning! What started as indoor cycling has turned into the phenomenon that is Flywheel. Flywheel takes the simple concept of indoor cycling and turns it up a few notches, creating a high-intensity, high-endurance, choreographed workout set to music carefully selected by the in-house DJ. Created by legendary indoor cycling instructor Ruth Zukerman along with a team of seasoned experts, this intense workout will have you fit and fabulous in no time!
Named one of the Top Ten Health Trends of 2009 by The Doctors, AntiGravity® Yoga is designed to allow participants to experience a wide range of yoga benefits with the support of a personal hammock hung from the ceiling (it can hold up to 2,000 pounds!). Designed by Christopher Harrison in order to increase overall health and physical agility, AntiGravity® was originally created for athletes and gymnasts but now is a workout all can enjoy. With the assistance of the hammock, you can hold and balance challenging yoga poses, go upside down with ease, indulge in "assisted" stretches and gain better overall kinesthetic awareness. Read more about SpaFinder's experience with AntiGravity® Yoga.
One of the ten trends we identified in the SpaFinder's 2012 Spa Trend Report™ was called Spas Become a Family Affair. Family spa-ing teaches kids the importance of wellness at an early age and, vice versa, reminds adults that it's never too late to jump start or maintain a fit lifestyle. Family wellness also inspires and demonstrates a healthier self-esteem and body image. One spa who is leading the way is Rancho La Puerta, whose "Summer Camp" Family Weeks will "welcome a new generation of families." Life Time Fitness, under the motto "healthy way of life," is another excellent example; the brand provides communities an outlet to reach their wellness goals via large sports, professional fitness, family recreation and spa destinations in North America, many of which operate round-the-clock, seven days a week, so fitness devotees can get their exercise on 24 hours. Read more about Family Fitness.
Image Courtesy of Life Time Fitness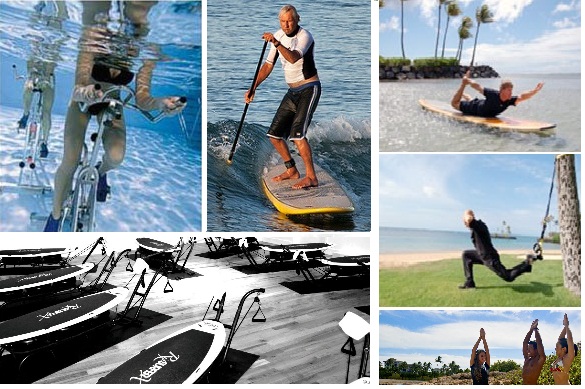 Working out in the water is not only easier on your joints; it's also great for toning and strengthening with the added resistance factor. The Hydrorider at Cal-a-Vie allows for sprinting, climbing and even crunches on a bike in the water. Aquabiking at Hotel Le Christopher lets you pedal in the water tones and strengthens, while strengthening the venous and lymphatic networks. Stand-Up Paddle Yoga classes at Kahala CHI Health & Energy Fitness Center combine the mind-sharpening, body-conditioning, heart-opening joy of yoga with the stability challenge of a stand-up paddleboard. Fin to Fitness at JW Marriot Resort Hotel & Spa at Ko'Olina is a class led by Mermaid Kariel which uses a monofin and dolphin kicks to strengthen the core and the tush. Stand-Up Paddle Boarding is a "Zen-like way to relax" and work out your entire body. SurfSet Fitness brings water workouts indoors, by using RipSurfer X equipment to simulate surf moves on dry land. Read more about Water Workouts.
For the thrill-seeking crowd, there are spa getaways that cater to the adventuresome and fitness devotees alike. Adventure spa getaways offer a new approach for fitness lovers to explore a number of daring endeavors (think extreme mountain biking and abseiling a 120-foot gorge) without ever leaving the resort grounds. These getaways set the stage for you, whether you're a novice or a pro athlete, to get moving, get healthy and reach your fitness goals. Think how easy it will be to achieve the 30 minutes of moderate-intensity daily exercise recommended by the Surgeon General by snorkeling among sting rays or zip lining 300 feet above ground at up to 60 miles per hour! Read more for a list of SpaFinder's top eight Adventure Spas!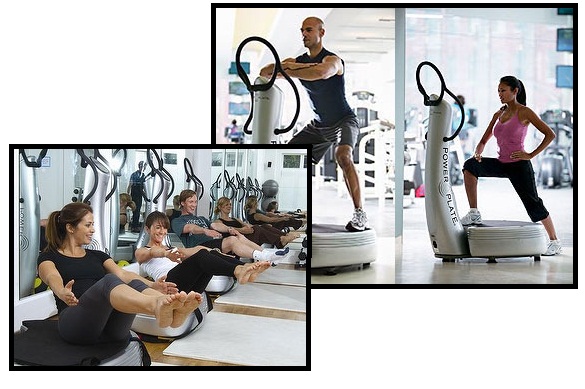 Using vibrating machines to work out or lose inches is by no means a new concept; remember those vibrating belts from the '50s and '60s that claimed to shake the fat off your body? There's now a more modern piece of equipment that has been taking the U.S. by storm, Power Plate. Power Plate can be a great workout enhancement to tone and strengthen in as little as 30 minutes, two to three times a week. Developed 60 years ago as a part of the Russian Space Program and later used by Russian Olympic athletes as well as by therapists for rehabilitation purposes, Power Plate technology offers a low impact yet intensive workout that can increase muscle strength, lean muscle mass, circulation and bone density. The workout is modifiable from the exercises performed to the vibration level and amount of time for each set of reps. Read more about Power Plate.