Drop the Weights: Kettlebell Exercise 101
Published: Monday, August 6th 2012
in Fitness
---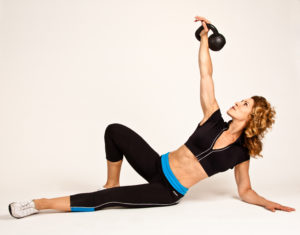 Toned, sexy arms are at the top of everyone's wish list, but monotonous and repetitive free weight lifting at the gym can be boring and un-motivating.  To liven up your workouts and tone up those triceps, drop the weights (and the weight!) by picking up a kettlebell. Three-time international Kettlebell World Champion Lorna Kleidman takes toning to new levels with her KettleX kettlebell exercise class – a high-octane, high energy and high sweat class in NYC!
"I used to work out 14 hours per week," says Lorna. "When I started using kettlebells in 2005, I got my life back! Now I only need a total of four-five hours per week, and I look better than I did 10 years ago." Are you in the NYC area and interested in burning fat and strengthening your core? Check out one of Lorna's Kettlebell classes!
The Class
KettleX, taught at the Fitness Cell and Equinox, is a non-stop, hardcore routine that works out your entire body, all while having a blast in a group setting. Students range from athletes and celebs to new moms and teens looking to get in shape and not spend all of their free time at the gym. You get to pick the weight you feel the most comfortable with and then, following Lorna throughout the workout, get toned, tight and sexy!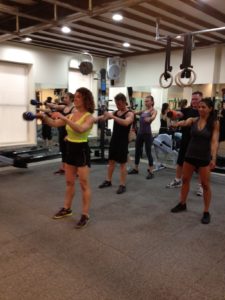 "The kettlebell's weight is displaced beyond the palm of the user's hand, allowing for three-dimensional dynamic movements that can't be created with dumbbells, body bars or medicine balls," Lorna explains. "This large range of motion creates beautiful, slender and agile bodies while stimulating the mind. This is a workout for people who want to feel confident in themselves and try something new and different."
What It Works Out
Kettlebells improve you from the inside out. You get a hot bod and a fine-tuned neuromuscular system all with the same routine. Here are some pros of training with kettlebells:
This full-body workout uses more muscle groups so it leads to an increased metabolism, as well as fat loss, coordination, functional strength and enhanced speed and reaction time.
Because the body is forced to efficiently stabilize itself throughout the movements, it engages the core, which improves posture and decreases your risk of injury.
Compared to the movement of a dumbbell, dynamic movements with a kettlebell are limitless so you get increased flexibility and joint range motion and endurance.
For more information about kettlebell history, benefits, techniques and routines for fat loss, lean muscle, endurance, aerobic capacity and kettlebell strength training, pick up Lorna's kettlebell book – Body Sculpting with Kettlebells for Women.
You might also be interested in:
Muscle Confusion: Avoid Stress Injuries & Keep Workouts Interesting
Gyrotonic Unraveled: Help Your Body Massage Itself
10 Fitness Tips for Women on the Go
Good Vibrations: Work It Out with Power Plate
Top 10 All-the-Rage Fitness Trends
Yoga Style Guide: Find Out Which Practice Suits You
The NEW Fitness: Cool Water Workouts
Shape Your Figure with The Figure Method