Editors' Picks: Our Spa Bucket List
Published: Friday, December 21st 2012
in Beauty
---
As SpaFinder® Wellness editors, we're always saying how lucky we are to visit and have access to some of the best spas in the world…but even we have a list of hotspots we'd love to visit. And now that December 21, 2012, has come and we're still here (so far!), we're starting a spa bucket list. While we don't have enough room to list them all, scroll through to see a few that made our lists—and share your must-visits in the comments section!
P.S. All of us pretty much want to go to all of these!
Images courtesy of Ayana Resort & Spa Bali, Poseidon Resorts and Sparkling Hill
While I'm not sure if I'm hankering for a detox or just a long weekend of relaxation and wellbeing, since starting at SpaFinder® Wellness, I've always been intrigued by going on a wellness retreat. Once I had a meeting with Gwinganna Lifestyle Retreat it was pretty much cemented that I wanted to spend a vacation focusing on my mind, body and spirit in the Australian Outback.
Images courtesy of Gwinganna Lifestyle Retreat

My desire to get my hair cut, colored and styled at Nine Zero One started after seeing photos of so many of my favorite A-listers getting perfectly coiffed at the Hollywood salon. From amazing extensions to a braid bar that quickly styles a red carpet-worthy plait, this is number-one on my spa (and salon!) bucket list.
Image courtesy of Nine Zero One Salon
Two words. Swarovski – Crystals. As a self-acclaimed lover of all things glittery, I know that my life will not be complete until I walk through the doors and witness 3.5 million crystals all around me. From trying out KurSpa's cryotherapy cold sauna to just lounging in luxury, Sparkling Hill is a must visit for me.
Image courtesy of Sparkling Hill
Yes, Borgo Egnazia Resort is the site of the Justin Timberlake-Jessica Biel nuptials, but this Italian resort by the Adriatic coast is a stylish, five-star must-visit regardless if the paparazzi-fave couple hadn't made an appearance. VIP amenities include alluring architecture surrounded by lemon and olive groves, along with entertaining activities evocative of Apulian traditions. And then there's Vair Spa, featuring treatments inspired by the local lifestyle and performed with the help of not only the spa's therapists, doctors and nutritionists, but area psychologists, dancers and musicians. Try the traditional Apulian therapeutic ritual of the Taranta, which incorporates elements such as local dance (pizzica), tambourine (tamburello) playing and traditional alla stisa singing, for an authentic experience.
Images courtesy of Borgo Egnazia Resort

It's not officially open yet, but plans are underway for a resort located 40 feet underwater. Tucked away in the azure waters of a 5,000-acre Fijian lagoon, off the shore of a private island, this whimsical seafloor resort will be accessible by elevator and will showcase 25 underwater suites, an underwater library/lounge and multiple dining venues that include the world's largest undersea restaurant. At this underwater Jacques Cousteau-type playground, fun activities by sea (steering a 1,000-foot-capable personal Triton submarine through the lagoon, exploring the ocean's depths on a submersible or via scuba diving) and land (maritime-inspired spa treatments, a health club and nine-hole golf course) are sure to make a splash—as does the $15,000 per week, per person price tag.
Images courtesy of Poseidon Resorts

Located lagoonside on Kamalaya Koh Samui island's southeastern shores, this award-winning holistic spa is the definition of a mystical sanctuary for emotional and spiritual healing, with ample places to meditate and get lost in your thoughts (an ancient Buddhist monk's cave, steam cavern, swimming pools surrounded by lotus ponds…). The spa boasts 70-plus treatments inspired by Eastern and Western medicine and comprehensive programming, but if you're in the mood for a livelier time, there are weekly music performances, full and new moon Tibetan singing bowl concerts and beachfront "make a wish" floating lantern ceremonies to enjoy.
Images courtesy of Kamalaya Koh Samui

I'll take a luxury cliff-top villa, with spanning views of the sparkling Indian Ocean, please. Ayana Resort & Spa Bali in Indonesia is indeed a luxury resort and spa and features 78 freestanding, cliff-top luxury villas set in traditional Balinese compounds with private pools. They say that here, resort guests will feel like the only people on earth, which for some might be a scary notion, but for me? Sanctuary. Like the luxury villas, the Thermes Marins Bali Spa also sits suspended on the rocks, and offers treatments that span Eastern and Western practices. The spa also boasts one of the world's largest Aquatonic® pools sourced with Indian Ocean seawater. Another plus? Ayana participates in community outreach.
Image courtesy of Ayana Resort & Spa Bali

When I take a beach vacation, you can bet that my shoes never go on unless absolutely necessary. In line with one of our top 10 spa and wellness trends for 2013, earthing, I love that Soneva Fushi in the Maldives is a barefoot luxury resort that believes in the SLOW LIFE: (Sustainable, Local, Organic, Wellness – Learning, Inspiring, Fun, Experiences). Plus, being a huge fan of indigenous experiences, Soneva Fushi's spa offers therapies that draw on the rich cultural heritage of its area. And, the food…Michelin-starred chefs use natural, sustainable ingredients to create contemporary Maldivian cuisine; organic produce is plucked from the garden; fish is line-caught in local waters; and organic and biodynamic wines are offered as well.
Soneva Fushi was also featured in Around the World in 80 Spas | Part 4: Asia.
Image courtesy of Soneva Fushi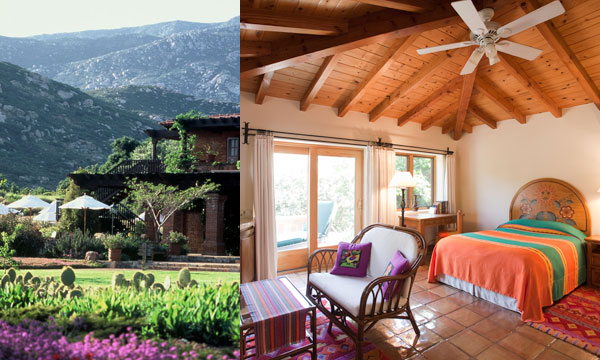 With a longstanding history since 1940, Rancho La Puerta offers so many things that I want to experience. Winning numerous SpaFinder Wellness Readers' Choice Awards, this Baja California retreat provides the best of the best in everything, from wholesome eats and self-reflection to yoga and hiking. And, in the pursuit for mind/body/spirit balance, let's not forget the spa treatments, which range from wraps to watsu.
Read about Rancho La Puerta's interesting history.
Image courtesy of Rancho La Puerta

You Might Also Like: