Galentine's Day Gift Guide
---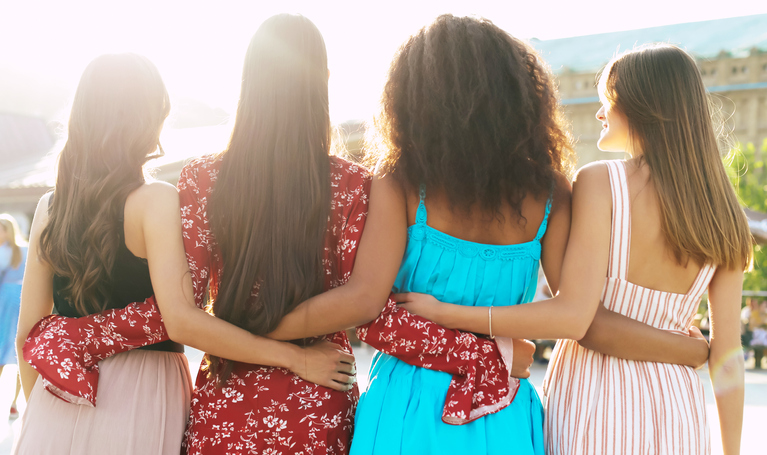 Did somebody say Galentine's Day? What began as a funny, fictional television event on Parks and Recreation over a decade ago has become an annual tradition for women everywhere, and we're obsessed. Taking place on February 13, Galentine's Day has become a symbol of sisterhood, empowerment, self-care, and so much more. This gathering is an easy way to show your squad how much you love them. And it's even better when Spafinder Gift Cards are involved. Some of your Galentines will go for massages and facials while others start shopping for masks, candles and more from the Spafinder Wellness Shop. We may not know your girls as well as you do, but we do know Galentine's gifts when we see them. Here are just a few things to stock up on for your February 13 celebration.
The treat that rivals a manicure and pedicure at the spa with your girls? A Galentine's night at home where you give each other makeovers right from the couch, preferably with this nail lacquer! It's 100% vegan, non-toxic, hassle-free, and dries quickly to a smooth finish for the sweetest nails ever. The rich purple color by YAPA is girly and glamorous enough to fit in with your Galentine's festivities while still being subtle enough to wear year-round.
Reach right into your heart chakra with this Galentine's-approved skincare kit, featuring the best beauty tools made with Rose Quartz for a loving, uplifting experience. This precious pink stone is believed to boost self-love and strengthen your relationships, and isn't that exactly what February 13 is about? The Kneso set includes a hydrogel mask infused with natural ingredients like hyaluronic acid, marine collagen, vitamins C and E, licorice root, and more for a flawless second-skin finish. You and your girls will enjoy peak hydration and healthy skin with this rose quartz mask, especially when you glide over it with the facial roller also in this kit. Get ready to glow this Galentine's with this self-love set, perfect for your at-home spa night with your squad.
Who says that grown-ups can't wear friendship bracelets, especially when they're this cute? This stainless steel jewelry by Lucky Owl is simple and chic. A nostalgic nod to your favorite childhood accessory that also speaks to your love of self-care. Just take a look at the tag, which reads "meet me at the spa" on one side and instantly flips over for a "live, love, spa" mantra to make every day a little more fun. It's the ideal gift for the spa lovers in your Galentine's group, as this affordable bracelet symbolizes not only their love of massages but how lucky they are to have such a caring friend!
Casual reminder that a massage or facial may be perfectly pampering, but your skin still requires maintenance between spa visits. You need to apply your sunscreen and moisturizer every single day to ensure that it stays healthy and hydrated, and you can help your Galentines get their best complexion with this body butter by Comfort Zone. This rich, organic moisturizing body cream contains the antioxidant-rich Scientific Garden Extract™ to shield against environmental stress, plus Shea Butter, Buriti oil, and Vitamin E for deep nourishment. Moisturizer is a must-have beauty product for anybody, but especially a spa lover, and you can't go wrong with this Comfort Zone favorite for a glowing and gorgeous look.