Top Holiday Gifts for Work
---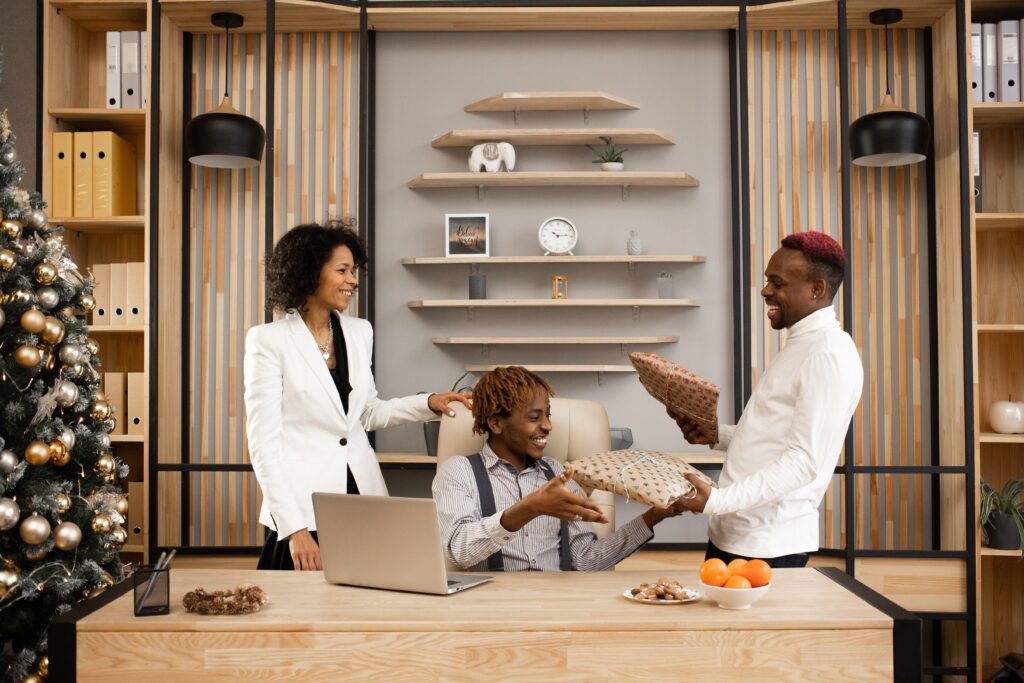 Okay, we know that work is the last thing you're thinking about as you get ready for the holidays. But we have good news and bad news. The not-so-great is that you'll need to return to the office after the festivities. But the upside is that we are making it easy to find the gifts that show you care. You see, our Spafinder Shop has on-the-job essentials made for gifting your coworkers, work friends, or even yourself. And we're not talking about pens or portfolios, but wellness tools to upgrade your work environment and help you stay relaxed. You can finish that budget report or marketing evaluation without getting stress lines! You just need to pick up a few things with your Spafinder Gift Card! Here are our favorite holiday gifts for work:
Tip: If you're lucky enough to have a Spafinder Gift Card, you can use it to purchase items in the Spafinder Shop.
A boost from your massage stick between meetings? Yes, please. Rod Mini is ideal for wellness lovers who never want to take a break from relaxing, even in the middle of a work day! Say goodbye to stress and hello to spa vibes with this pocket-sized tool. It helps to relieve muscle tension, increase mobility, and aid in recovery through self-myofascial release. You can use it on your face or body to help relax the muscles during your lunch break and beyond. And did we mention that the small size makes it the perfect stocking stuffer? Just $35 in the Shop.
If you have that one friend or coworker that waits all week for "Casual Friday," they'll be obsessed with this T-shirt from Lucky Owl. It's an ode to our love of wellness that will surely have a few people laughing in the break room, while those who work from home can be comfy 24/7 with this special one of our holiday gifts. "Meet me at the spa" isn't just the best opening line ever. It's a personal mantra that you can gift to any spa enthusiast to let them wear their heart on their sleeve. Literally! On sale for $19.
Whoever thought that aromatherapy was only meant for the spa has clearly never met the Stress Away roller bottles! These pint-sized tools by Pili Ani fit right in your bag to help you combat stress on the go, helping you keep your composure on intense work days. A soothing and balanced blend of juniper, eucalyptus, and rosemary, these essential oils are made to help you relax and refocus your energy on the positives. Even the worst work days can be turned around with a bit of Stress Away on your pulse points. Which may just make it the best coworker gift ever! Just $18.
Most of us want to make a good impression at work after the holiday break. New year, new you… are we right? While confidence and a smile are your best accessory, a little beauty touch-up from the Positano Palette never hurt! Featuring six buildable shades that can be applied to the eyes, lips, or face, it's the ideal set for any neutral makeup lover. The pink is perfect for a pop of blush, the brown a subtle contour, and the taupe shade an easy eyeshadow for everyday makeup at work. What's not to love? $54 in the Spafinder Shop.
Calling all spa lovers with a private office at work or home…you have to try this therapeutic candle by Scentered. It has an insanely soothing smell that gets you through every last Zoom call or report. And it reminds you that while you may be working and not at the spa… you can still bring relaxation right to you! Home is where your scented candles are! And you'll be in your own world of relaxation with this awesome option from our holiday gifts list for aromatherapy enthusiasts. Deliciously priced at $39.