14 Minutes Daily to a New Life
---
Sign up for the eMindful 1% Challenge and commit 14 minutes of your day toward building powerful skills of mindfulness that have potential to help you achieve lasting positive change. During the 30-day challenge, every minute of mindfulness you practice in a live Mindful Daily session will count toward earning prizes and increasing eMindful's donation to charity.
Getting started
The eMindful 1% Challenge begins January 1.
Sign up anytime through January 31, 2017.
Once you register, you will have 30 days in the Challenge where your Mindful Daily minutes (live classes, not recorded) will count toward the Challenge prizes.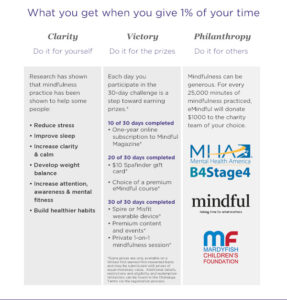 For a complete prize list, terms of the 1% Challenge, and to sign up, click here.
At Spafinder Wellness 365 we believe that wellness comes from within and without. That's why we'll always bring you the best content to inspire you on your way to a happier you! To stay updated and get early access to exclusive offers, sign up to receive Spafinder emails.