4Ocean Bracelets Clean Up Trash & Make a Fashion Statement
---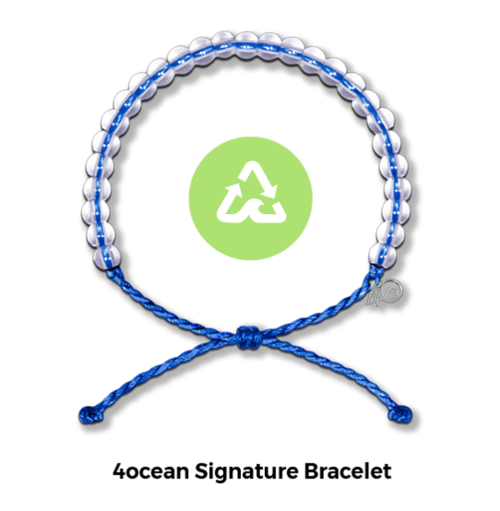 Move over Birkin bags, there's a new status symbol in town and it's more eco-friendly and certainly less expensive. Plus, 4Ocean Bracelets are a fun, cute bracelet. By purchasing it, you cleaned up one pound of trash from our oceans and coastlines.
Recycled is Beautiful

The colorful bracelets are made of recycled glass beads and the adjustable cord is made with recycled water bottles and is 100 percent waterproof. In addition, the bracelet fits any wrist and some chic people are even wearing them as anklets.  4Ocean bracelets are also Green Circle Certified, meaning they are made from ocean plastic recovered by 4ocean employees.
How You Help

By buying these bracelets, you help the 4Ocean team grow. As of now, they are working hard in the Caribbean. It has been especially hard hit by the ocean's plastic crisis. Volunteers pull around 3,000 pounds of plastic and trash from the ocean and coastlines every single day. By purchasing just one bracelet, you are helping to clean up our precious earth. Moreover, you are also helping to stimulate the local economy in place like Haiti, where climate change has hit especially hard. 4Ocean isn't just focused on the Caribbean. They cleaned up 27 countries' oceans and coastlines including the United States.
Protecting Our Wonderful Aquatic Wildlife

Additionally, 4Ocean also offers special bracelets to protect specific aquatic wildlife each month. In March, this dedicated green team helped clean up orca habitats through their partnership with the Orca Conservatory. So if the documentary Blackfish is still giving you nightmares, you can buy this bracelet and help give back.
Find brands like Hilton and Six Senses that are committed to sustainability at Spafinder.
Celebrate Earth Day with a Spafinder eGift Card