6 Warning Signs of Toxic Friends
---
By Dr. Darcy Smith Sterling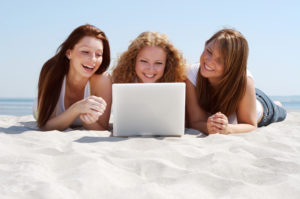 You had this night planned for over a month. It's girls' night out and you're beyond excited to see your BFF who you see less and less frequently.
After the initial hugs, air kisses and small talk you find yourself on the receiving end of questions that leave you feeling, well, a little uneasy. Suddenly you're questioning the motives and the advice you're getting. Is that tension that you're feeling? Are you just being sensitive? And why does she vacillate between interrogative questioning and self-absorbed non-stop chatter about herself?
Have things changed or was she always like this? Is your BFF more like a Frenemy?
We've all had that uncomfortable moment where we begin to question why we're friends with someone. If the warning signs below sound familiar to you, it may be time for an Inter-Friention.
Me, Myself & I: She talks about herself incessantly but never asks about you or your life.
Emotional Vacuum: Every time you end a conversation with her you feel like she sucked the life out of you. It's not even that she's necessarily negative. She simply takes far more than she gives.
Unsolicited Advisor: You can't fill her in on your life without getting an earful of advice when all you wanted to do was vent. It's not even like she's even qualified to give advice – she's an engineer whose personal life is a hot mess.
Ms. Snide: She manages to say seemingly nice things but you find yourself replaying her comments because they always leave you feeling like you were the brunt of a joke. Whenever you question her intent she makes you feel overly sensitive or stupid for not getting the joke.
Ms. Downer: She never has anything positive to say. By the time you hang up the phone you feel guilty for feeling grateful that you have your life and not hers.
Ms. Flake: She manages to cancel 3 out of 4 times you make plans. You only realized there's a problem because last time, without intending to, you double-booked yourself.
Okay, so your closest girlfriend meets 3 out of 6 warning signs. What to do? Re-categorize the BFF and turn her into a friend. No need for a press release. Simply become unavailable. See her twice a year instead of twice a month.
The bottom line is this: Stress, no matter where it comes from, can negatively impact your health and wellbeing. Surround yourself with girlfriends who fill you up with what you want. And when it comes to friends, sometimes less is more.