6 Ways to Stay Connected with Your Girlfriends
---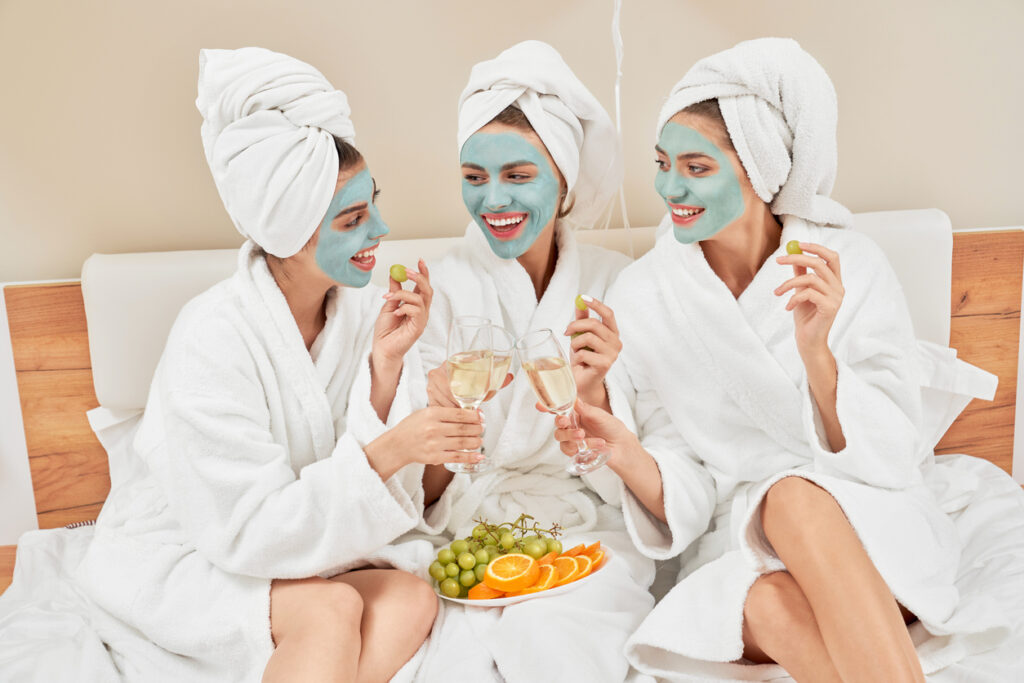 Staying connected with your squad used to be so much simpler, right? All it took was a coffee break between college classes or weekend hangouts to build a friendship-bracelet-worthy bond. But while staying in touch with girlfriends as an adult definitely gets more difficult, don't lose hope just yet! There are plenty of ways to show your friends just how much you care, and keep your promise to stay close for years to come. Are you intrigued? Just check out these six tips for maintaining female friendships.
Facetime is your friend
Remember the year 2020, when we only communicated through Facetime and Zoom? The pandemic may be over, but it's still a great way to connect with friends living farther away. Plan a once-a-week wine night over Facetime to catch up and practice self-care, or throw on a face mask for a virtual spa experience. Trust us, it's practically the key ingredient for female friendship.
And even if you don't have time for a weekly virtual meetup, you can still embrace the power of technology. Use it to send funny memes, encouraging texts and sweet memories to remind your friends that you're thinking about them.
Send them a gift
You don't need to spend a fortune to treat your friends. In fact, even a small token of appreciation during rough spots could brighten their day and strengthen bonds! What should you get them, exactly? We have some ideas, as the Spafinder Shop offers various self-care essentials for under $25. These include the Hyaluronic Acid Translucent Gel Cream Moisturizer by Primal Elements and Mantra Mask's Hemp CBD Anti-Aging Sheet Mask.
And that's just the beginning of these beautiful and budget-friendly selections. Whether they're fond of household accessories like candles, skincare favorites or anything in between, a gift is a great way to reconnect during both the good and bad times.
Share a meal together
When it comes to bonding activities between friends, you can't beat a tasty meal. You won't be sitting silently, like at the movies, or running between stores on a shopping trip. Instead, you'll get a full hour or more to share and support your favorite person as you indulge in delicious eats. Doesn't that sound like the perfect afternoon? We'll always support a standing lunch date with local friends, either weekly or monthly, to stay connected. Additionally, you'll gain a reputation as a great host when you take your out-of-town pals to your favorite restaurants when they visit!
Pick Up the Phone
For millennials and Gen Z, the idea of picking up the phone to call a friend is practically foreign. Isn't that what texting is for? Not exactly. A phone call is a more intimate experience that lets you have a real conversation, allowing you to hear the excitement and emotion in your friend's voice. You know, the feelings that aren't accurately depicted in a text message. Setting aside time to talk on the phone is an act of support that will keep you connected long-term. And we love this for you.
Find a common interest
What if your friend lives nearby, but you've simply been growing apart over the years? There are ways to rekindle this type of relationship and get yourselves to an even better place. And sometimes all it takes is a book club, rock climbing session or a spa day. Finding a common interest and participating in it together is a game-changer for any female friendship. You'll meet weekly at your cooking class, fitness group or volunteer project, nourishing your souls as you talk about the good old days and making new memories together. Seriously, you'll be besties again in no time!
Plan a girlfriends getaway
We are Spafinder so we have to say it. There's nothing like a girlfriends getaway at a divine spa location to bring your girlfriends back together. Check out these special offers and get ready to enjoy your best friends all over again.