Art Basel 2017- Miami Opens its doors again to this Art explosion
---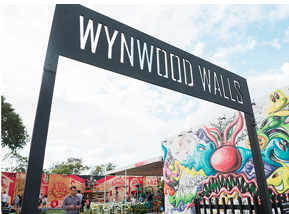 Change is the premier topic at the 2017 Art Basel. Can Art impact the world we live in? December 7-10, Art hijacks our sunny city. From Miami Beach to Miami's Design District and Wynwood, Miamians and their visitors cheer Yes to Art and parties galore.
Talks are held throughout the city as Art Basel academics ponder questions such as how will art and design impact urban planning? How will cities respond to artwork within their streets? Does it impact mood? Does it create bonds? If you're in Miami during Art Basel, chances are the response is, most certainly.
The energy on Miami streets is palpable. From Design Miami to the Miami Beach Convention Center to the time capsules on the beach to Lincoln Road's Soundscape Park, the streets are alive with the sound of Art.
As buses steer tourists and locals through Miami's streets, one can expect exhibits at every street and the unexpected on every corner. Events start in the morning and continue long into the Miami night.
The Exhibits
Visitors be sure to schedule time to visit The Margulies Collection at the Warehouse.  And don't miss the Rubell Family Collection. Both are well known staples of this event with some of the most captivating art work. This year, at the latter, indulge in a wide range of mediums that tackle topics such as artificial intelligence and desire. Large format paintings and sculptures are also part of this exhibit.
Let's remember the Fredric Snitzer gallery in Miami as well as a must visit. Long time Art pioneer, Snitzer has an eye for talent. His collection features contemporary works of various media by emerging & mid-career artists.
Art Basel exhibits vary from public to private collections. Be sure to schedule time to visit each exhibit. 
Spaces and Hidden Treasures
Keep an eye out for the amazing artists within the Miami streets. U.K.'s Bansky always leaves his footprint in the area as does Shepard Fairey , globally famous for his Andre the Giant rendition. Let's not forget Miami's own LEBO. Known for his eclectic style, David LeBatard, otherwise known as LEBO has long decorated Miami landscapes and Global landscapes as well. Look carefully in your surroundings as this artist's talent is everywhere but only if you look carefully.
Get ready for Art Basel 2017 as Art takes over Miami.