Spa 101: Ashiatsu – Walk all over me, please.
---
Ashiatsu, a close cousin to shiatsu, is an ancient East Asian massage technique where the massage therapist utilizes her hands and feet to manipulate pressure points on the body.  Although ashiatsu is not found on most spa menus in the U.S., it has been performed by Buddhist monks for thousands of years.  In Japanese, the word translates as "foot" (ashi) "pressure" (atsu).  Different styles of barefoot massage have origins in China, India, Japan, the Philippines, and Thailand.  Often a balancing prop is utilized such as ceiling bars; other times it is performed on a floor mat.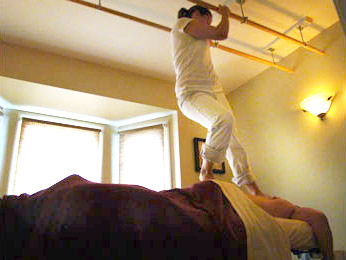 The first time

I experienced my first ashiatsu massage at Aura Wellness Spas in NYC, and I was impressed.  The technique is certainly more invigorating than relaxing.  Aura is best known for the ashiatsu massage (along with their signature Korean Body Scrub), which worked wonders to alleviate stress and tension all over.

Ashiatsu highlights

Find more spas that offer ashiatsu massage.