Where To Celebrate Global Wellness Day 2016
---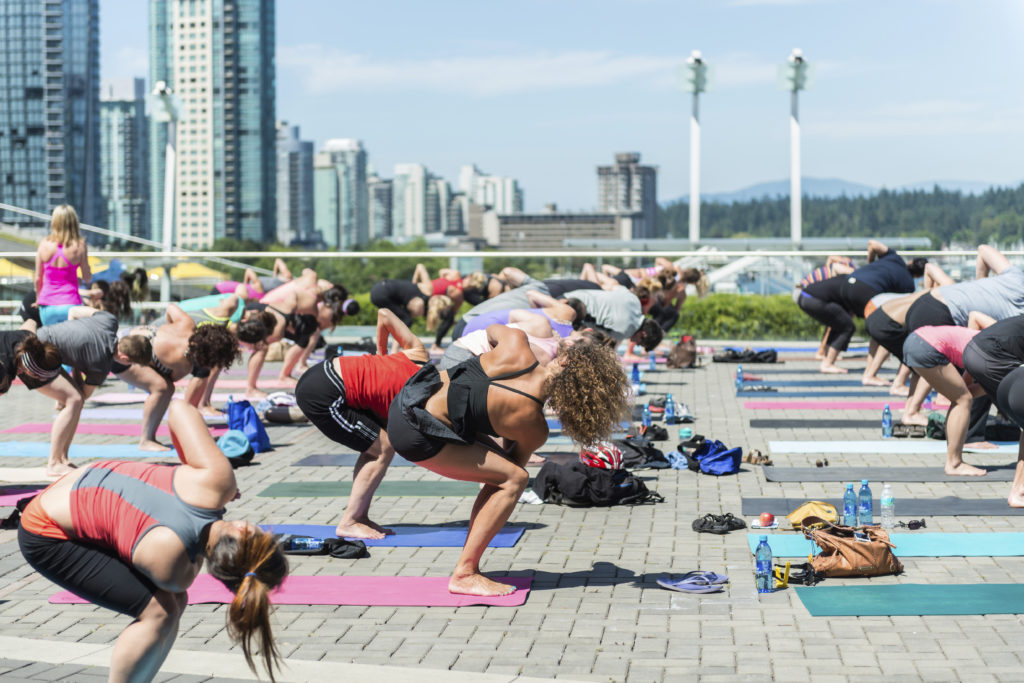 Global Wellness Day (#GWD) is not one of those holidays that are made for grabby headlines (think National Anything Day): It was founded as an international non-profit committed to spreading wellness awareness. To get to know its origins and founding principles better, read up on it here. Then come June 11, grab a friend and visit one of these GWD-specific activations: They're all free and open to the public.
NATIONWIDE
Four Seasons Hotels & Resorts: We had a hard time finding a Four Seasons property that wasn't participating in Global Wellness Day. A quick search on the brand's press room site yields over 70 GWD results. In Austin, Texas, they are partnering with Lululemon; In Santa Barbara, paddleboarding and juice samplings are happening; and in Orlando, a drum circle and yoga are taking place. We also caught listings in Atlanta, Seattle, and Los Angeles.
Mandarin Oriental: Mandarin Oriental's international outposts are all participating in individually programmed GWD events: Stateside, look out for activations at their New York, Boston, Miami, Atlanta, Las Vegas, and Washington DC locations.
EAST COAST
Massachusetts: The HarborView Health Club will celebrate its grand opening on Global Wellness Day. The new spot will be cooking up BBQ, giving out health education books, and offering face painting.
WEST COAST
California: An all-day wellness expo is taking over Imperial Beach for GWD. The activation is overflowing with programming that includes cooking demos, fitness classes, and guided meditations.
Oregon: In Grants Pass, the Club Northwest fitness and recreation center is opening its doors to the public. The family-friendly events include a Grower's Market, morning kids' dash, and more!
MIDWEST
Arizona: Over in Sedona, The Collective Sedona is hosting daytime wellness fair, complete with live music, product demos, and yoga classes.
Illinois: Engage in a strength workout class with Nike® Master Trainer, Jason Raynor and the #JWFitSquad at the JW Marriott Chicago.
SOUTH/SOUTHEAST
Florida: At the Carillon Miami Beach, the day will begin with a sunrise beach meditation, followed by a one-hour beach walk and beach clean-up.
The Ritz-Carlton Key Biscayne and Ritz-Carlton Coconut Grove are both celebrating GWD. On Key Biscayne, The MIAMI Institute and Florida Spa Association are hosting the activities, which include a beach walk, guest speakers, and spa exclusives. Down in Coconut Grove, yoga, Pilates, and aqua aerobics classes are scheduled throughout the day, as are limited time spa deals.
In Downtown Miami, yogis can visit The Langford rooftop for a complimentary yoga session led by Gaby Quintana. Once class concludes, participants will enjoy cold-pressed juices and plant-based bites by Manna Life. RSVP to rsvp@workshopcollective.com is required. BYOM (Bring Your Own Mat)
South Carolina: The Heavenly Spa by Westin is hosting a complimentary morning yoga class or hour-long beach walk, an aromatherapy workshop, and a message tips session.  
Can't make it out? Consider just being mindful of the day and help create global awareness for Global Wellness!