Exotic Holiday Cocktails from the Cuba, Puerto Rico, Jamaica, the Dominican Republic & More
---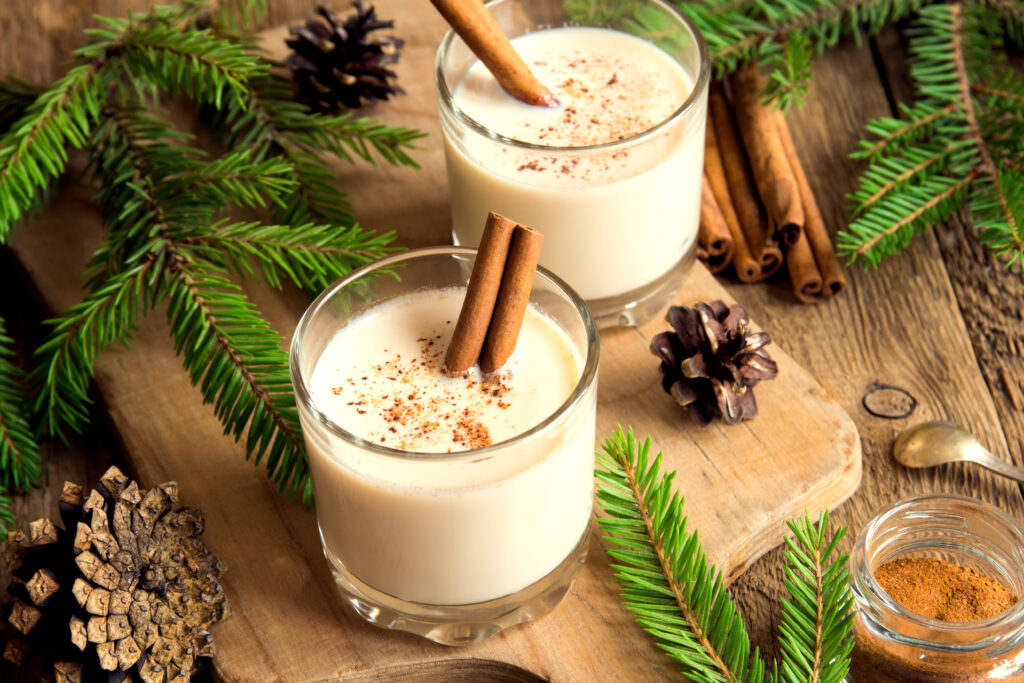 Very merry cheers to the 2019 holiday season! This year, it's time to dress up classic Christmas/Hanukkah/New Year's Eve cocktails with traditional Caribbean holiday drinks from the likes of the Dominican Republic, Jamaica, Puerto Rico and more. Raise your glass, readers, to holiday cocktail blends with a Caribbean twist. Ponche de Rum, anyone?
Cayman Islands
Fun fact to share with fellow party-goers: Legend has it the Mudslide originated from the Rum Point Club's Wreck Bar decades ago when the bartender swapped Bailey's Irish Cream for fresh cream. Equal parts vodka, Irish cream and coffee liqueur, a quick pulse of a blender, topped with cinnamon, and you're good to go with this favorite of our holiday cocktails.
Ingredients
1 oz. vodka
1 oz. Baileys Irish Cream
1 oz. Kahlua
Cherry
Grated cinnamon
Directions
Mix vodka, cream and liqueur in blender or shaker with approximately 1 cup of ice.
Garnish with a cherry and cinnamon.
Dominican Republic
Ponche de Rum or Dominican eggnog is a holiday specialty on this island. This recipe for a large group can be modified depending on how much rum you'd like to add. It gets thicker when you chill it.
Ingredients
5 cups condensed sweetened milk
10 cups evaporated milk
8 egg yolks
2 cinnamon sticks
A pinch of ground nutmeg
3/4 cup of white rum
Directions
Mix the condensed and evaporated milks and the egg yolks. Stir with a spoon until they are well-mixed.
Sieve to get rid of undissolved egg parts. Add cinnamon sticks and nutmeg.
Cook over low heat for 40 minutes. Stir to avoid sticking to the bottom.
Add the rum and remove from the heat. Stir constantly but slowly until it cools down to room temperature. Remove the cinnamon sticks.
Chill before serving.
French West Indies
Ti Punch, known as the national cocktail of Martinique, is a breeze to make, as it consists of just three ingredients. We highly recommend you seek out rhum agricole for this recipe.
Ingredients
2 oz. rum (or rhum agricole)
Lime
Sugar cane syrup
Directions
Mix to taste.
Stir until syrup has dissolved.
Top with ice.
Jamaica
In Jamaica, the Sorrel Cocktail is popular during holidays like Christmas and New Year's. Sorrel, a flower native to Jamaica, is known for additional benefits such as controlling high cholesterol, managing blood pressure and optimizing the function of the liver.
Ingredients
1 lb sorrel
2-4 oz. ginger
2 quarts water
Sugar
Wine
8-12 pimento grains
Directions
Wash sorrel thoroughly, using the fingers to lift it from the water.
Put into stainless steel container.
Scrape and wash ginger. Grate and add to the sorrel. Add pimento grains.
Boil water and pour over sorrel.
Allow to stand 4-6 hours. Strain.
Sweeten to taste and add rum to taste.
Add optional wine.
Serve with ice cubes.
Puerto Rico
Coquito is Puerto Rico's version of eggnog. It's a creamy coconut rum drink that's typically served during the holiday season (12 four ounce servings).
Ingredients
8 oz. evaporated milk
8 oz. condensed milk
8 oz. condensed coconut milk
8 oz. heavy coconut cream
16 oz. coconut milk
1 tbsp vanilla
1/2 tsp cinnamon
1/2 tsp nutmeg
1/2 cup rum
Directions
Mix all the ingredients together—either in a blender or a large bowl with a whisk—and refrigerate before serving.
Serve over ice. Garnish with cinnamon powder/sticks and/or coconut flakes.
If these yummy holiday cocktails make you yearn for a spa vacation, we've got you covered. Check out Spafinder's guide to hotel and resort spas and get ready to relax!
Spafinder Gift Cards are great holiday gifts for everyone on your list.