Fall Means a Clean Start—Here's How
---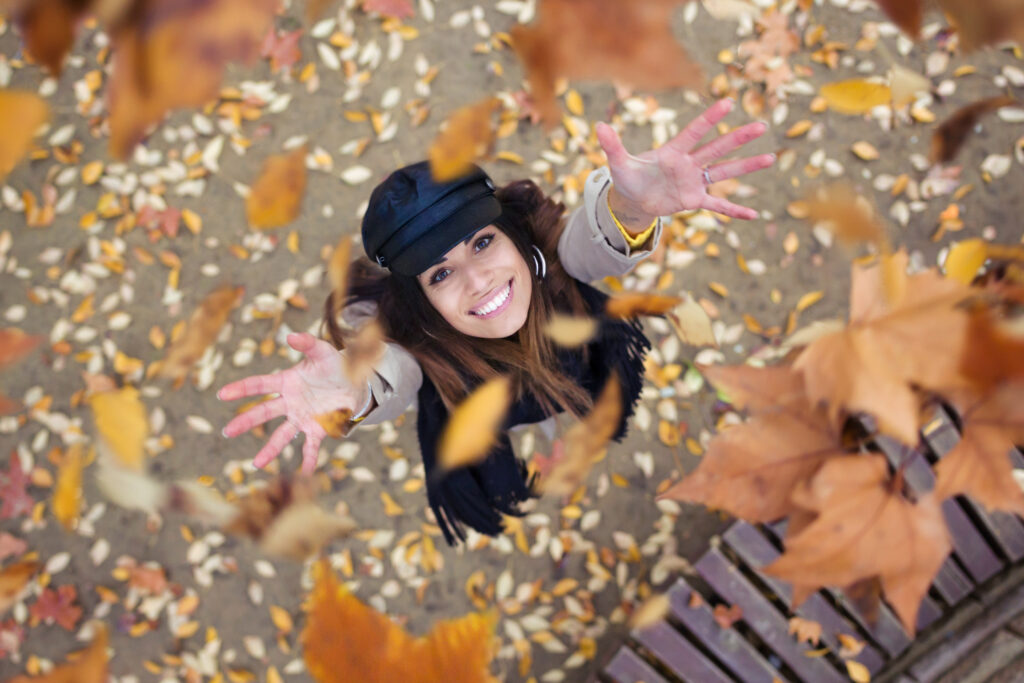 Most of us know that one person who lives for the fall season, stocking up on scarves for the chilly weather and standing in line for a pumpkin spice latte on September 1. If you don't know this individual, there's a good chance that you are the autumn-obsessed one. And that's okay. Fall is about many things, but one of them is new beginnings, a clean start, a reemergence. It's a chance to refresh your mindset, closet, house, and more to make room for what's coming your way. Whether you've been manifesting your goals for months or don't know exactly what your future holds, it's completely fine. All you need to do is take steps towards your fresh start, and the rest will flock your way. Here's how to get a fresh start for fall 2022.
Update your fall 2022 wardrobe
Unless you live in a place with year-round sun, you won't be needing your shorts and tank tops for a while. Store them in your attic for next summer, and start picking out your fall 2022 wardrobe! This can include turtlenecks, scarves, warm-toned dresses, and breathable sweaters to keep you bundled up and beautiful. While you're free to grab last year's favorites that provide comfort and cold weather protection (in true fall fashion,) you may also want to choose a few new outfits. This can be surprisingly affordable and easy. Check out local thrift shops offering burgundy and plum pieces at great prices and greener options for the environment.
Tip: Fall is also a great time to clean your closet and de-clutter your life. Learn how to tackle clutter with mindfulness in this article from de-cluttering expert Tracy McCubbin.
Develop a personal mantra
Meditation, manifestation, and mala beads all have one thing in common… they're connected to your mantras. As the weather drops and you switch out your iced lattes for hazelnut mocha drinks, it's not just your coffee order that changes. You'll enter a new chapter with your goals, achievements and social circle transforming from mere months ago. Some go back to school and are surrounded by new faces, while others outgrow their "I will hit the ball!" personal mantra made for their summer softball team. Assess your current situation and develop a new mantra for clarity, confidence, and self-improvement… it's the first step to a beautiful fall 2022 season.
Tip: There's great importance in knowing how to develop a personal mantra for every stage of your life, and this includes fall 2022.
Clean your surroundings
"Spring cleaning" is a more popular term, but we're personally fond of "fall cleaning" for a fresh start. We're not just talking about raking the leaves that will soon pile on your front porch but also cleaning your skincare shelf, car or home office! Your skincare collection is in need of heavier moisturizers and swapping out the lightweight mists with antioxidant-rich serums, preventing dry skin as the temperature drops. Your car will need an extra lip balm and hoodie for chilly days. While your home office could use a fresh set of pens and notepads. The seasonal transitional affects not only the weather but your life as a whole, and fall cleaning puts you ahead of schedule and makes way for that clean start in fall 2022.
Tip: Learn how to de-clutter your makeup bag and de-stress your beauty routine.
Get outside
The fall 2022 atmosphere is just as beautiful as summer, only in a different way. Instead of watching the sunset at the beach, you'll witness the leaves change color and fall from the trees. Instead of pool days or bike rides, you can go on a brisk walk with your best friends to clear your mind and catch up on your lives. There's a misconception that autumn is only about staying inside watching Halloween movies. And don't get us wrong, there will be plenty of those nights. However, you should also aim to get outside for at least thirty minutes daily for fresh air, mental clarity, and more. This is not just the beginning of your fresh start for fall 2022, but the catalyst for your newfound appreciation for future autumn seasons. We can't wait to bundle up and take brisk walks along the colorful leaves and crispy cold air with you!