Floatation: The Benefits and Joy of Floating for Adults and Babies Too
---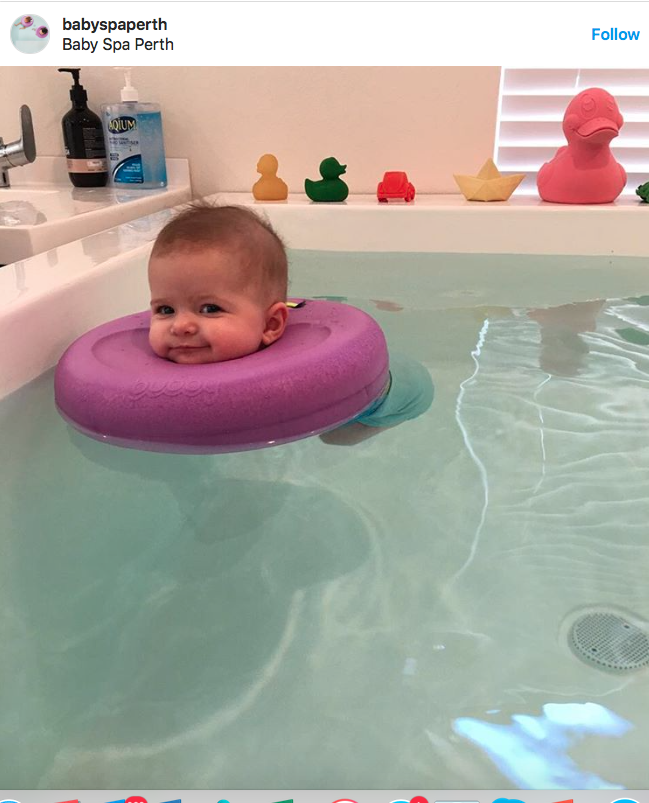 Courtesy of Baby Spa Perth, Australia
Floatation therapy is a luxurious way to soothe and heal the body from the constant stress of life's daily pressure and the quest to experience "floating" is on the rise. At spas around the globe, we're seeing more weightless and mind-soothing float tanks, chambers, and pools, along with "dry floating" for those who want the benefits of traditional floating but don't want to get wet. More spas are also putting new technologies like anti-gravity massage beds and futuristic pods that simulate the experience of floating on a cloud on their menus.
In one popular spa, Baby Spa Perth, in Australia, newborns (from two days to six months) and their caregivers can enjoy a unique experience involving baby massage and postnatal water flotation. The flotation exercise, called hydrotherapy, is apparently beneficial to babies as it can help them with their balance, coordination, strength, and sleep. This therapy for babies lasts 10-30 minutes and is a true bonding experience for parents.
However, floating isn't just for babies. Adults are also adopting this modality as a way to alleviate stress. Many have seen that the regular practice give them an opportunity to simply disconnect. The craze is so popular it's given way to floatation therapy spas around Australia. With all this being said, why float?
What are the benefits?
Flotation therapy has real benefits and can alleviate stress, reduce anxiety and depression, increase energy, improve sleep quality, reduce severe pain and increase focus.[1] Studies[2] show ongoing flotation chamber sessions can "reset" stress response hormones like cortisol, ACTH and epinephrine–and that these positive effects can last months after "floats."
How flotation therapy works
Most flotation therapy sessions are held in tanks, rooms, and pools and last between 60 and 90 minutes. The water and air temperatures are kept at 93.5 degrees and the water/salt ratio is about 75/25, which creates gravity-eliminating buoyancy and erases the line between body and water. Participants can usually select between full immersion in a pod, where it's pitch black and ears are below water to block outside stimulation[3] to experiencing flotation in chambers that offer low lighting and where people can stand. Some flotation devices have speakers so participants can listen to guided meditations or music while they are floating. The overall idea is to relax the body so the mind opens up. Proponents of floating say some of the benefits come from the magnesium in the Epsom salt.
Dry floating involves relaxing on a specially designed bed that creates the feeling of floating in the water while staying dry. Technological advancements make dry floating much more than waterbeds of old.
Floating your way
Today there are flotation experiences for every taste. The famed âme Spa and Wellness Collective at Turnberry Isle in Miami offers floating in a saltwater pod along with dry floating. Their flotation devices permit full or partial immersion depending on the participant. The flotation device also offers meditative music options for full relaxation.
Angelinos looking to escape the stress of LA, flock to Palm Desert where the classic Desert Serenity Float offers a respite from traffic and a go-go lifestyle.
The Float Away spa near Dallas, Texas, is a popular oasis for state of the art flotation. The sound proof and light proof Float Pod® holds 11 inches of water and roughly half a ton of dissolved Epsom salt, which makes floating effortless.
Flotation Philly is a sensory deprivation float center in Philadelphia, with a goal of helping guests…" float away from it all in peace and comfort."
And of course stressed out New Yorkers can find 60 and 90-minute flotation therapy sessions at locations like the Floating Lotus, a perfect antidote for packed subways and 24-hour stimulation.
Switzerland Resort Collina d'Oro Hotel & Spa, Floating Therapy, consists of a one-person pool filled with a high saturation of salts, for effective therapeutic and regenerative effects.
And for dry flotation, try Eastwell Manor, A Champneys Spa Hotel in the United Kingdom.
The therapy is so popular, some manufacturers sell these devices to families that want their own unit at home and even at some chiropractic practices. It seems like submerging yourself and floating in water does bring desired peace and relaxation.
[1] BMC Complement Alternative Medicine, "Beneficial effects of treatment with sensory isolation in flotation-tank as a preventive health-care intervention – a randomized controlled pilot trial," Anette Kjellgren and Jessica Westman, 2014
[2] Profs. J.W. Turner & T.H. Fine studies, 1983, 1991
[3] Spafinder Wellness, 2015 Spa & Wellness Trends Report, "Suspending Gravity," 2014