Get Beach Body Ready—With Your Wellness in Mind
---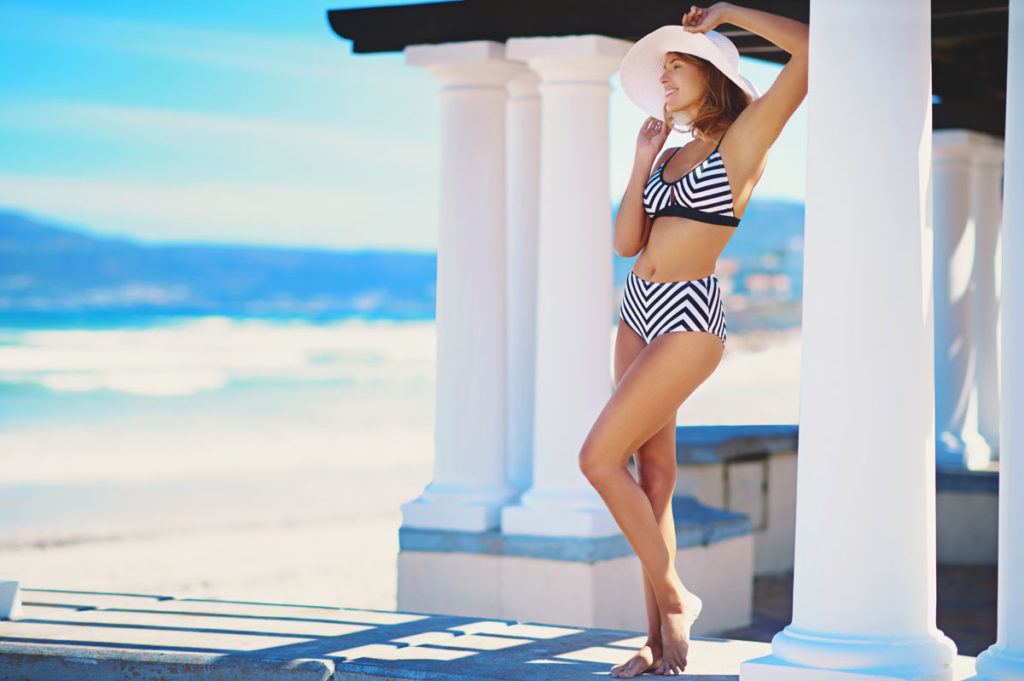 With the magazine aisles, online publications, and even some fitness sites crowded with ways to get "bikini ready in just 7 days," you don't need another article offering you a fast body fix. Still, it's nice to feel good in a swimsuit—especially if your summer plans include a trip to Belize! In that spirit, we designed this collection of wellness-centric fitness tips to help you get in shape for bikini season—with your mind, body, and soul planted firmly at the helm.
Practice Your Float—Without the Bloat
One fast way to feel more secure in your new bralette bikini is to keep a watchful eye out for foods that increase bloating. Meals that are hard on the digestive system include those with beans, broccoli, wheat, and dairy products. Bloating's a common side effect from these well-loved foodstuffs, and while many of them contain necessary nutrients, it won't hurt you to stay away from the bean salad the night before you go poolside. Instead, swap them out for cucumber, asparagus, yogurt, or the perfect summer treat: watermelon. These dieting staples aid the probiotics in your stomach, keeping your digestive tract on the up and up. Another slim body tip? Skip treats that contain alcohol sugars, found in many fat-free offerings like chewing gum, since these can also boost bloat.
Swim in the Water, Don't Retain It
A lot of people confuse bloat with water retention, however. Water retention happens naturally as part of the menstrual cycle, but its effects can definitely become heightened, depending on the foods that you eat. Typically, if you're retaining water, it's a sign that you're eating too much salt, which with the food options nowadays, is easy enough to do. Try to avoid the takeout before your big beach trip—even healthy fare like salads, soups, and sushi has tons of sodium. And swap out your afternoon latte for a cup of dandelion tea or a glass of water with lemon. Not only will it help you hydrate, which often goes overlooked when you feel bloated, it's been used for years to curb inflammation and as a natural diuretic.
Focus on HIIT for a More Effective Workout
Want to give your regular fitness routine a little oomph before you hit the sandy shores? Switch out your time on the treadmill for a little HIIT. Short for high-impact interval training, this powerhouse fitness technique involves bursts of short, intense activity followed by brief periods of rest. So you might, say, sprint for two minutes, and then walk for one. Why might you want to trade out your afternoon jog for a few rounds of HIIT? Initial research shows that it may be more effective than cardio—particularly when you're crunched for time. You can get in a good HIIT workout in less than 30 minutes by rotating intense exercises like jump squats, crunches, pushups, and burpees. It's an all-body workout frenzy that increases your metabolism afterward for a longer burn. Tell me you won't feel better slipping on the bikini after that!
Don't Skimp on Your Yoga Routine
However, if you're working out to stave off the flab, chances are that you've scrapped your morning yoga practice for another round of cardio. Don't do it! When you're working out hard, you need the extra flexibility to prevent injuries (trust me, you do not want your beach body workout sidelined by a strained hamstring). But if you find that it is hard to fit it all in when you're still trying to go to work and lead your ordinary life. Instead, try incorporating some stretches into your daily routine. Do a few shoulder rolls in the shower, for instance, or a couple of quad stretches while you wait for the elevator. And make sure you're still stretching for five to ten minutes after your workout. Slow, focused stretches will improve your overall flexibility, making you less prone to injury next time.
Motivate with Self Love
Showing off a new bikini body may feel like the best reason to work out, but studies show it actually pales in comparison to more personal reasons for fitness, like your own health and happiness. Researchers call this "intrinsic motivation"—the stuff that you do because it feels personally satisfying, not because you're worried about what other people will think or because you expect to get a compliment or two. And it turns out, it can be a pretty compelling reason to hit the gym. Science has found that people tend to stick with the program for longer when they're internally motivated—which means results that will last way past swimsuit season. To change your workout focus, concentrate on the things you enjoy about fitness: the way you feel afterward, for instance. Or find an activity like a dance class or a team sport—something that you can actually have fun with. After all, your fitness and health should really take precedence no matter what time of the year it is.