Global Wellness Day–How One Day Can Change Your Life
---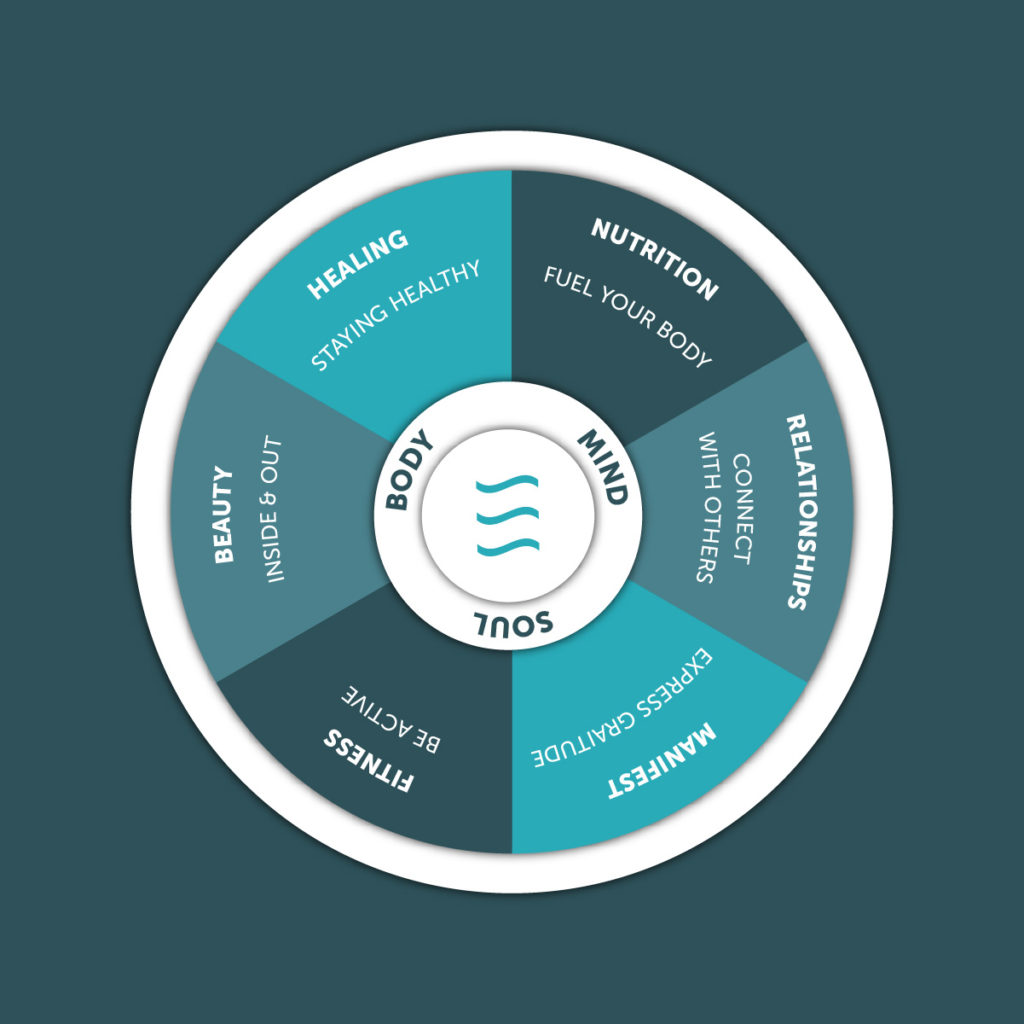 Get ready for the world's biggest wellness party: Global Wellness Day (GWD) on Saturday, June 8. This is the special day when we get together to help people in our communities share the dream of living well. It's a great day to volunteer at your local rec center, organize a free healthy cooking or mediation class or coordinate a cleanup in a neighborhood park.
Spafinder's Wellness Wheel (see above) is an easy way to remember that wellness includes these six areas: healing, nutrition, relationships, gratitude, fitness and beauty. After all, being healthier, looking better and living well both physically and spiritually is what life–and Global Wellness Day –are all about.
Seven Years of Living Well
Global Wellness Day was established in Turkey in 2012 as the first day dedicated to living well. In 2018, it was celebrated simultaneously in 130 countries at 5,000 different locations and event organizers expect the 2019 event to be even bigger.
We think GWD is an excellent day to kick start healthy lifestyle changes by swapping a bad habit with a new habit. In addition, try a new fitness activity or spa treatment with your girlfriends to help you start a wellness practice–and have fun sharing your experience.
Keeping Wellness Simple
The concept of Global Wellness Day is simple. And incorporating GWD's Seven Simple Steps to Wellness makes being happier and healthier easier. In addition, if you incorporate just a few of these practices into your daily routine on a regular basis, you'll soon be living a well life. Moreover, if you help others do the same, you'll spread the wellness dream.
Walk for an hour
Drink more water
Don't use plastic bottles
Eat healthy food
Do a good deed
Have a family dinner with your loved ones
Go to sleep by 10 p.m.
What's New for 2019?
This year, Global Wellness Day organizers remind us that wellness includes mental, and social wellbeing, not just physical health or the absence of disease. GWD points out that according to several studies, the most common health problem in the world is depression. In addition, this serious condition can lead to insomnia, stress, poor nutrition, physical inactivity, obesity and heart disease and other serious diseases.
GWD invites us all to begin our own wellness journey by making time to:
Recognize the value of our lives
Pause and think, even if for just one day of the year
Be free from the stress of everyday city life and bad habits
Make peace with ourselves
Raise awareness about living well and increase motivation, not just for today, but for the remaining 364 days of the year
Make it Fun
We think Global Wellness Day is a perfect time to have some fun. After your wellness day activity, gather BFFs and try new spa, fitness and wellness activities together. Or organize a wellness picnic with healthy food and activities. It's a great way to set a good example and show the kids, friends and family in your life that that you care about their health and happiness.
Share your Global Wellness Day photos @SpaFinder on Facebook and @spafinder on Instagram. We'd love to see how you are celebrating this special day!
Sign up to receive insider tips, luxury destinations and more.
Purchase a Spafinder Gift Card–perfect for every occasion!