Go Green at These Four Mega-Hotel Chains
---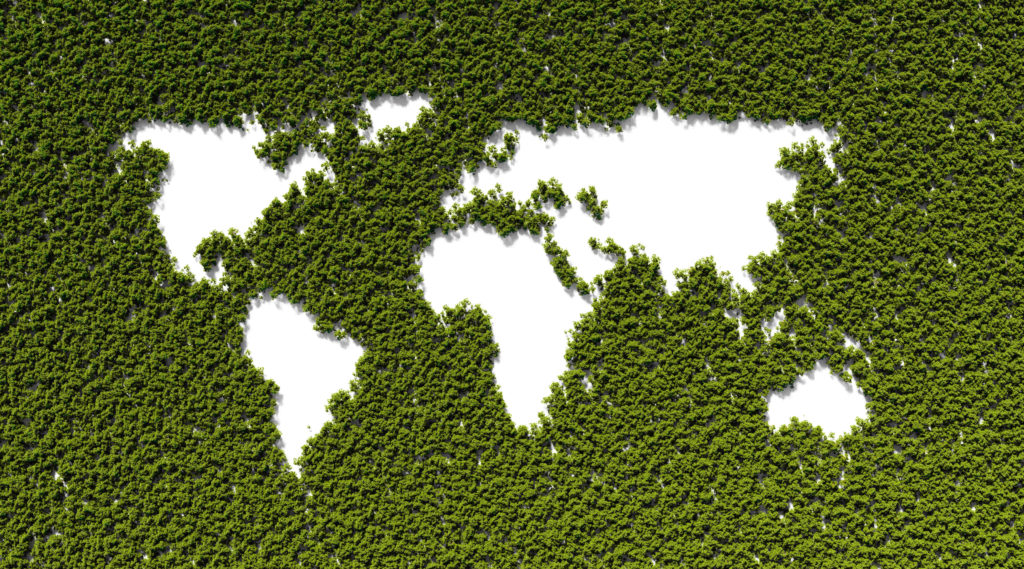 We love to travel–especially to fabulous spa resorts and hotels–but the carbon footprint made by giant hotel chains can take an enormous toll on the environment. However, there's good news for all of us who care about our planet and still want to enjoy the luxury of staying at a first-class hotel. Chains like Hilton, Hyatt, Starwood and Marriott are taking their environmental responsibilities seriously and making major steps to offset their environmental impact. So you can relax and travel green, we've done the research and compiled this list of four eco-friendly hotel chains that are committed to preserving our precious environment.
Hilton: Cut Environmental Footprint in Half 
By 2030, Hilton plans to cut its environmental footprint in half, becoming the first major hotel company to employ science-based targets to reduce carbon emissions and send zero soap to landfill. Hilton operates 5,700 properties with more than 923,000 rooms, in 113 countries and territoriesso their commitment is a big deal. According to a press release, Hilton plans to:
• Reduce carbon emissions by 61 percent
• Reduce water consumption and produced waste by 50 percent
• Remove plastic straws from managed properties
• Sustainably source meat, poultry, produce, seafood and cotton
• Expand existing soap recycling program to all hotels and send zero soap to landfill
Hyatt: Reduce Water Use by 25%, Sustainable Seafood
Hyatt is dedicated to reducing energy and water use, with a plan to reduce water use per guest night by 25 percent (from 2006) and 30 percent in water-stressed areas. The global brand also participates in Clean the World, the hotel recycling program, and supports LEED certification (Leadership in Energy and Environmental Design) and new sustainable construction. In addition, Hyatt partners with the World Wildlife Federation to be sure seafood served in its restaurants comes from sustainable waters. The company has 750 properties worldwide.
Starwood Hotels (Westin, Sheraton, W): Reduce Waste, Water & Energy
Starwood Hotels and Resorts is committed to reducing waste, water and energy reduction in its 339,000 hotel rooms worldwide (January 1, 2014). Will this make a difference? According to published reports, five million guests participated in green initiatives saving 223 million gallons of water and 961,000 kilowatts of electricity overall. [1]Starwood's Westin brand also operates Element, hotels dedicated to sustainability from eco-friendly textiles to energy-reducing roofs. And Starwood's W Hotels partner with will.i.am and Coca-Cola to recycle plastic bottles into hotel bedding.
Marriott: Recycled Fabrics, Reduced Water and Energy
In 2017, Marriott announced a new, Marriott's new Sustainability and Social Impact Platform, Serve 360: Doing Good in Every Direction. The initiative, "… seeks to continue the company's 90-year commitment to the communities it serves, the planet and people worldwide."
What does this mean to environmentally aware travelers? Marriott has pledged to reduce water by 15 percent, carbon by 30 percent, overall waste by 45 percent and food waste by 50 percent. In addition, the fabric in company uniforms is now made from recycled plastic bottles and do not need to be dry-cleaned. Marriott operates 6,200 properties in 125 countries and territories.
To find your perfect wellness vacation, check out Spafinder's "Wellness Travel" guide.
And read this insightful article to find our how the environment affects your skin.

---
[1] Groundswell, "5 of the Very Best Hotel Chains to Support if You Love the Planet," Emily Rabbit, May 2015