I'm a Barbie Girl, In a Barbie World
---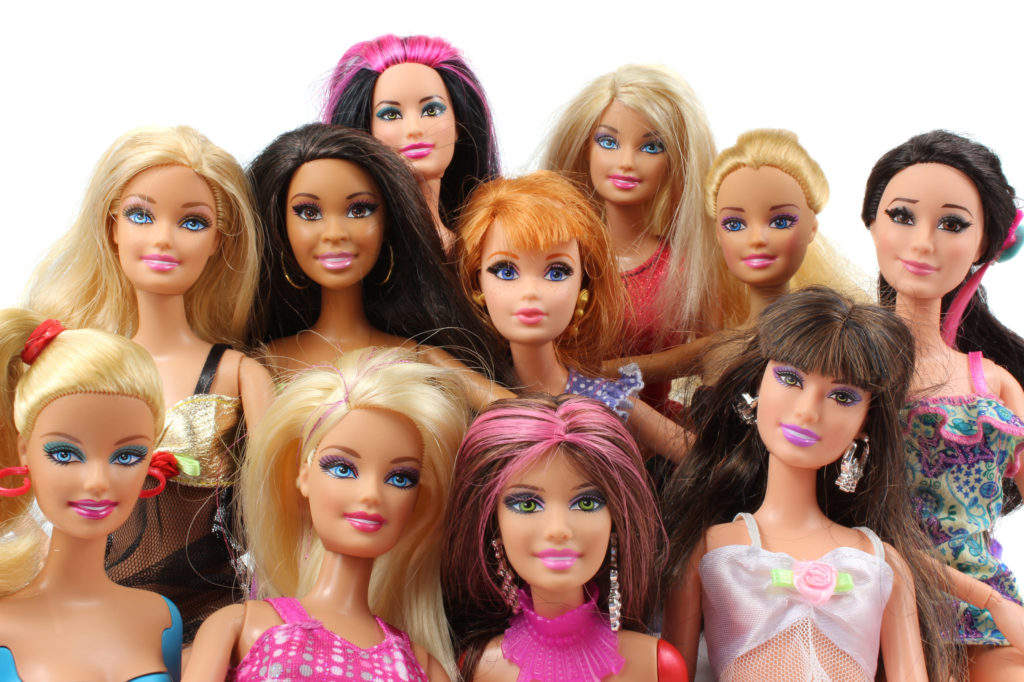 You'd have to be living under a rock if you haven't heard of Barbie. Launched in 1959, Barbie has had several Malibu dream houses, over 130 jobs and really only one steady boyfriend. (Ken and Barbie have supposedly never married.) And yes, there was a spa Barbie, the sadly discontinued Spa to Fab Barbie.[1]
Launched as a teenage fashion model, she had a full name, Barbie Millicent Roberts, a happy family and became wildly popular. However, because she had an impossibly perfect figure, the doll was criticized for projecting an unhealthy body image – and for not reflecting different cultures and body types.  But the days of blond-only Barbie are behind us and today girls can choose a doll that looks like them. And like any successful young woman, she has her choice of careers: no glass ceilings! The Astronaut and Doctor versions are just some examples of the different jobs illustrated within the line.
A Barbie is Born

Ruth Handler came up with the idea for the doll after she watched her own daughter choose paper dolls over baby dolls. Ruth realized that children wanted to play grown up and needed a doll to reflect their imaginations. While traveling in Germany, she stumbled upon the not-so-child friendly Bild Lilli doll, designed after a popular adult comic strip. Handler brought the dolls to her husband, the co-founder of Mattel, and tried to convince him to see the same potential she did. Ruth eventually prevailed and Mattel sold over 350,000 Barbie's in the first year alone.
She Grows Up

Over the years, Barbie has evolved to reflect changes in our society. Christie, the first black Barbie doll, was unveiled in 1969. (The Civil Rights Act was enacted in 1964.)  And by 1985, Barbie was an executive on her way up, complete with a briefcase.
The doll's attraction is that she allows young girls to imagine they can do anything in the world. If you can imagine it as a job, Barbie has done it, from dog walker to President. She gives girls the opportunity to try on a series of careers and see which one fits for them. But that doesn't mean that Mattel hasn't had some missteps with Barbie over the years.
She Comes of Age

The documentary Tiny Shoulders[2] follows the Mattel team as they develop, plan, and orchestrate the release of different sized Barbie's — curvy, petite, tall and original. Since the original doll's measurements are impossible to replicate in a human body, manufacturing more realistic Barbies has been debated for decades. In addition, the doll has been criticized for maintaining a level of beauty standards that are impossible to achieve.
She is on the Brain

We think Mattel's decision to make this massive change means public opinion on body positivity is changing.  And that's a good thing. We are now not only more accepting of different body types, we are also demanding these bodies are represented in our toys, our media and our leaders.
Barbie is often a young girl's first chance to see the kind of woman she will be when she grows up. Moreover, Barbie's body positive transformation is also a chance to see where we're going as a generation. We are embracing our differences and celebrating our similarities. But don't worry: Barbie's keeping the dream house.
Sign up to receive insider tips, luxury destinations and more.
Celebrate a promotion with a Spafinder Gift Card!
[1] Amazon.com, "Barbie Spa to Fab Barbie Doll"
[2] https://www.youtube.com/watch?v=4mnC4LVGkr4