Light Therapy: LED Beds and More
---
Spa treatments tested by NASA and Navy Seals?  High-tech spa services can sound less than relaxing, but with science advancing at the speed of light, why shouldn't spas take advantage of the benefits?  It turns out that light is exactly that our bodies need when it comes to healing, and spas on the cutting edge, like New York City's Joanna Vargas Salon and Skincare Sanctuary and  Jeunesse Spa, are beginning to incorporate light technologies like LED and Infrared treatments into their traditional spa menus.
What are LED and Infrared Light, how does it benefit our bodies, and what does it have to do with spa? Light therapy is a powerful technology that has been used by NASA and Navy Seals for the healing of wounds and for muscle regeneration following injuries, but it's now been introduced to spa menus as a service that works to eliminate signs of aging in skin, and penetrates the epidermis to heal cells.  Working similarly to the way that photosynthesis works in plants, light therapies like Infrared and LED convert light into ATP or Adenosine triphosphate, which transports energy within the body's cells.  The light jumpstarts this cellular activity and produces ATP which is then carried to cells and tissue to begin rejuvenation.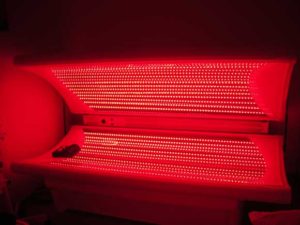 LED beds like the one at Joanna Vargas Salon incorporate red and infrared lights with a low level of power output that is safe for skin and promise a non-invasive way to eliminate cellulite and stretch marks and deliver an even, smooth skin tone.  LED light is also used to treat acne and can have added benefits similar to light therapies that treat mood disorders like seasonal depression.
Infrared saunas like the Sunlighten Sauna at Jeunesse Spa combines the infrared technology with the heat that spa clients enjoy from traditional saunas.  Stimulating the circulatory system, increasing the heart rate and causing blood vessels to dilate, the light and heat work to oxygenate cells to speed the healing process. Sunlighten Infrared saunas work differently from traditional saunas.  While they do not get as hot as traditional saunas, infrared saunas are heated by invisible light, which vibrates on a similar frequency to water. The light warms the body from the inside out, pushing toxins out of the organs as the body sweats, with ten times the detoxifying effects of regular saunas, according to Sunlighten representative Samantha Rader. The infrared light works to increase the heart rate, providing users with a passive workout leading to weight loss, thus ideal for those who may not exercise because of medical conditions. Infrared light works on three levels: Near-infrared light works to provide muscle and pain relief, while mid-infrared light assists the body to burn fat and lose weight. Far-infrared light has detoxifying qualities.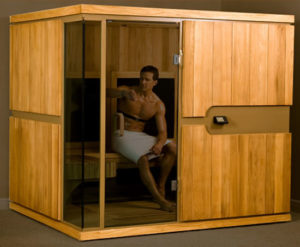 Sunlighten not only equips spas with these innovative saunas, but sells at-home saunas, which can be easily installed, assembled and used in the comfort of your own home. They also use minimal amounts of energy. Learn more here.
Providing a non-invasive alternative to anti-aging treatments that can also heal acne, boost your mood, relax you, and be combined with other fabulous spa treatments for a luxurious and high-tech experience, light therapy treatments are the perfect combination of science and spa.