Massage Crawl: Miami
---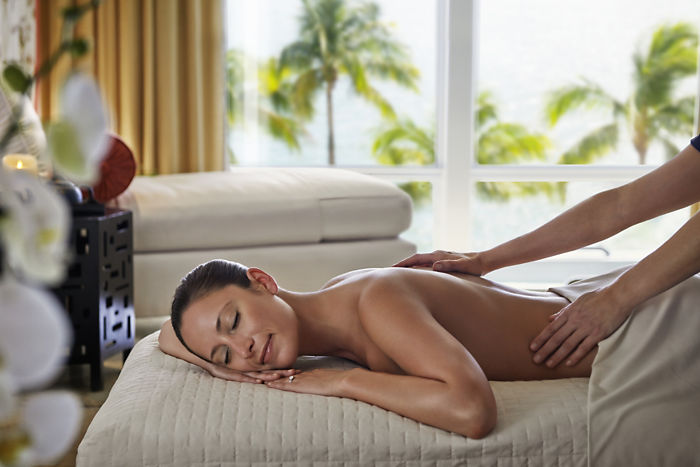 The temperatures. The nightlife scene. Things are always hot in Miami, and the city's spa collection is no exception. We've rounded up five cool locations to heat up your relaxation routine.
We know this is a massage crawl, but we can't help but first mention this spa's signature Lapis Ritual Water Elements—think water jet bath, mineral pool, rain tunnel, and experience showers—that you can enjoy before or after your treatment. If you're an exercise fan, schedule massage services like the Weekend Warrior's Rehab, Deep Muscle Therapy, or Sports Rehab Massage; if seeking total relaxation, opt for the Royal Massage, inspired by Kobido, an ancient Japanese style of massage.
No knead to worry about a limited massage selection at Bodies Kneaded™ Massage Spa South Beach Miami—modalities range from deep tissue and sports to reflexology and the Dead Sea Mud massage. Ample medical massage treatments designed to relieve ailments including migraines, chronic back pain, carpal tunnel syndrome, and sciatica are also on offer.
For the ultimate spa splurge, head to The Spa at Mandarin Oriental, Miami, and try the Thai Massage— acupressure blends with stretching and rocking to improve flexibility and alleviate joint and muscle pain—which can be performed in one of the six VIP suites overlooking Biscayne Bay. Sauna, steam rooms, and experience showers await in the separate men's and women's facilities at this award-winning spa.
You'll be running (certainly not crawling!) to The Spa at Carillon Miami, where you'll find distinct treatments like the Sound Massage Therapy, which combines music, vibration, aromatherapy, and massage techniques to reduce stress and tension. (Added bonus: Many of the massage services can be experienced as a couple so bring mom or your significant other along.) And make sure to reserve time for the spa's European-style thermal experience, made up of incredible elements—crystal steam room, ice igloo, and rooftop HydroSpa, anyone?
You'll discover a complete menu of massage services at the holistic BodySense. Options range from the indulgent Magic Honey Body Massage and the Chocolate Decadence Massage to the signature Zen Fusion Massage.
Find more locations for massage in Miami.
Sign up to receive insider tips, luxury destinations and more.
Purchase a Spafinder Gift Card–perfect for every occasion!