Plan Your Wellness Getaway in Greater Palm Springs
---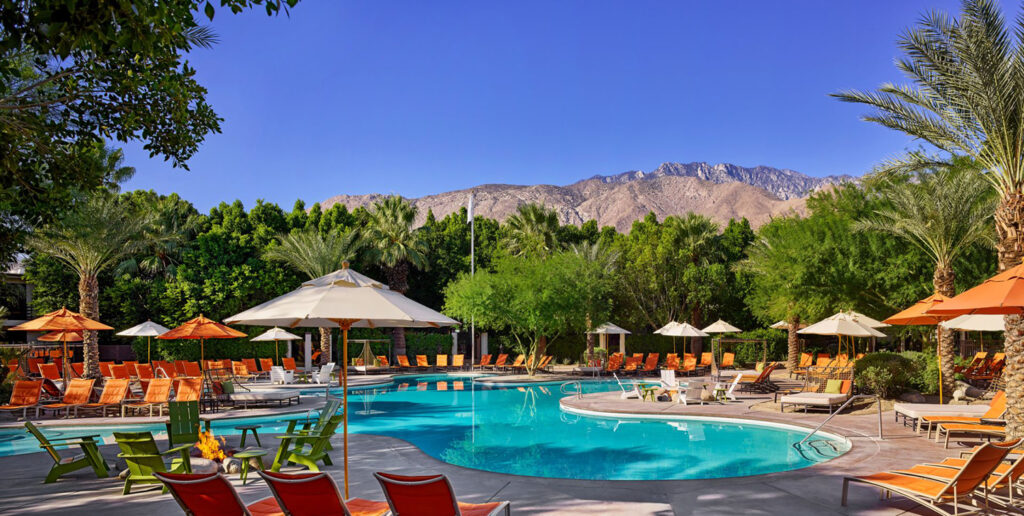 f You'll enjoy a variety of experiences from luxurious spa treatments (think poolside massage) to breathtaking hikes in the spectacular Santa Rosa and San Jacinto mountains. Plus, activities are designed to promote your mental and physical wellbeing and provide new definitions of tranquility and pampering. Natural hot springs, sparkling pools and gorgeous spas — it's time to pack your bags!
What is Greater Palm Springs, You Ask?
Palm Springs is shorthand for a famous resort oasis surrounded by four stunning mountain ranges, less than two miles from Los Angeles. Greater Palm Springs (GPS) includes nine cities — Palm Springs, Desert Hot Springs, Cathedral City, Rancho Mirage, Palm Desert, Indian Wells, La Quinta, Indio and Coachella. Each offers unique experiences and resorts — all created with your wellbeing in mind. You'll find countless things to do, from outdoor activities in nonstop sunshine to scrumptious dining venues to (you guessed it!) award-winning spas.
Countless Things to Do
Thanks to its perfect weather, Greater Palm Springs is a year-round playground for every taste.
Here you'll find a vast range of art and culture offerings, thrilling outdoor adventures, sparkling pools and magical spas, cool places to sip and chill, and restaurants designed with foodies in mind.
There are also 110 local golf courses, tennis courts where legends have played and world-class hiking trails. And you'll want to schedule a trip to The Living Desert zoo and garden, visit museums and boutique shops in Palm Springs, and check out world-class film, music, and art festivals. (See the GPS annual events calendar.)
Find Your Bliss at a Greater Palm Springs Spa
We're Spafinder so we have to say more about the fantastic, fabulous, incredible spas in Greater Palm Springs! Hollywood celebs discovered the area's healing hot springs in the 1930s: Frank Sinatra, Lucille Ball, Elvis Presley and Cary Grant to name a few. Today, you might run into Brad Pit, Halle Barry, Leonard DiCaprio, Anne Hathaway or Angela Jolene at a star-studded event — or enjoying a designer cocktail at a chic restaurant.
Today, Greater Palm Springs spas are equally famous for desert-inspired spa experiences using natural citrus, date, and clay ingredients not found elsewhere. It's hard to choose but these are a few of our favorite spa resorts — and there are so many more!
Even Hollywood stars get hungry so it's not surprising that many of the best restaurants in the Western U.S. are located in Greater Palm Springs. So Cal foodies love the Palm Springs area, especially the vast number that offer outdoor seating. Whether you enjoy a local favorite or try a newbie, we think you'll enjoy four of our favorites in Palm Springs, And then there are all the restaurants in Desert Hot Springs, Cathedral City, Rancho Mirage, Palm Desert, Indian Wells, La Quinta, Indio and Coachella to explore!
• Workshop Kitchen + Bar, 800 N Palm Canyon Drive
Workshop is a favorite hot spot that gets more popular every year, thanks to farmers market-inspired choices like apple-and-yam soup.
• The Tropicale Palm Springs, 330 E Amado Road
The Tropicale is modeled after a Havana supper club. It's chock full of old Cuba vibe and has a famous happy hour. Don't be intimidated by the huge menu, which features ahi poke bowls, skirt steak asada and buttermilk fried chicken.
• The Heyday, 400 E Tahquitz Canyon Way
Hungry for a smash burger and great fries? This street fair, turned pop up, turned restaurant inside the Hilton Hotel, is popular with locals and visitors alike.
• The Farm, 6 La Plaza
We love The Farm for brunch. The jams, excellent coffee, crepes, omelets, and French toast are served in a patio surrounded by bougainvillea. Plus, The Farm offers a French-inspired dinner menu (Friday through Tuesday).
The Ultimate Hiking Experiences
Trust us. Hiking in Greater Palm Springs is the ultimate fitness experience. It's the best way to explore the natural beauty of this desert oasis. Moreover, there is a wide variety of trails that crisscross all types of terrain, from sandy spaces graced with cacti and succulents, to deep canyons surrounded by spectacular rock formations, to oases near trickling streams. And if you are an adventurer, you can hike in the upper elevations of the Santa Rosa and San Jacinto mountains.
If you're hiking in the summer months, you'll want to hit the trails in the early morning and then spend the rest of your day in a sparkling pool or relaxing spa. Along the way, you'll see a variety of wildlife and more than 200 species of birds. We at Spafinder know that outdoor activities are an essential part of your wellness journey, and GPS is the perfect place to start a new fitness routine. Explore 10 hiking trails recommended by Visit Greater Palm Springs.