The Best Pumpkin Spa Treatments
---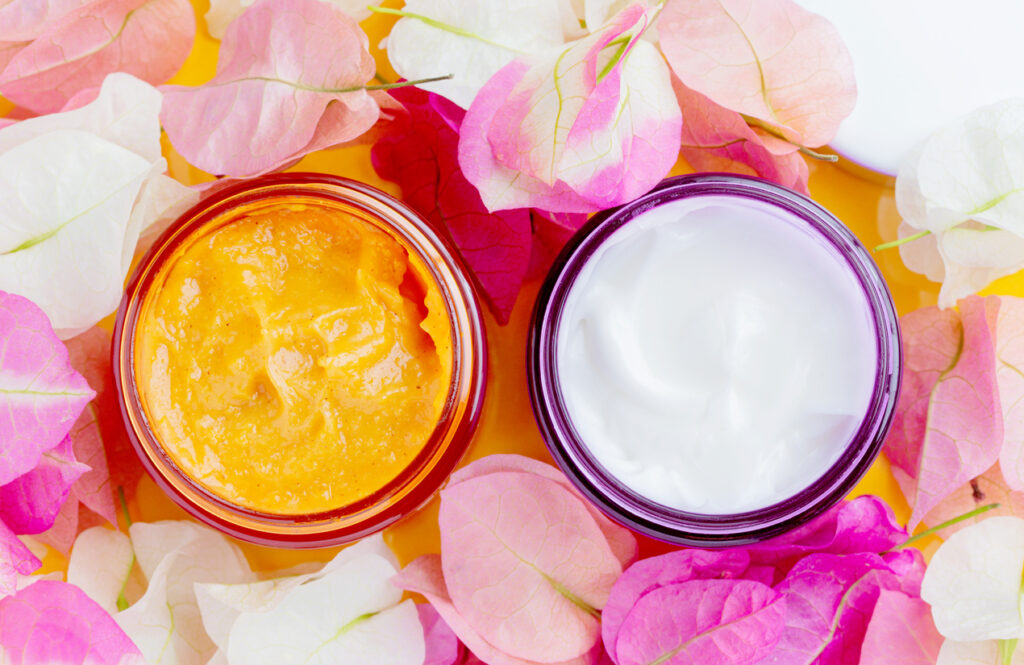 Pumpkins are everywhere during the holiday season. They pop up on your front porch, your best pies, and even your favorite place: the spa! Nourish your body in more ways than one with this nutrient-rich squash, sipping a pumpkin spice latte as your esthetician provides a pumpkin facial for glowing and gourd-geous skin. See what we did there? We've already told you about the best pumpkin recipes for autumn, and now it's time for a bit of self-care with your favorite orange squash. Infuse your skin and nails with vitamins with the following pumpkin spa treatments.
Pumpkin Facial
Much like the pumpkin spice latte, a pumpkin facial is a seasonal treat that you don't want to miss in fall 2021. Your esthetician will simply apply a special pumpkin spread to your skin, letting it soak in as the squash helps to exfoliate, brighten, and rejuvenate. This pumpkin facial is an excellent defense against the winter dullness that often comes with dropping temperatures, and the health benefits of pumpkin speak for themselves.
This squash is packed with nutrients like beta-carotene, potassium, vitamins C & E, fiber, zinc, and carotenoids. And these benefits aren't just for pumpkin foods. The enzymes help to deeply exfoliate your skin and remove impurities like dead skin and blackheads, leaving the skin feeling smooth, soft, and ever-so-striking. We think it's the best way to prepare your skin for a Halloween party!
Learn why pumpkin facials are good enough to eat in this article from the Spafinder archives.
Pumpkin Pedicure
If you'd like to turn your biweekly pedicure into a scary good time, don't forget your stash of pumpkin skincare products! Your technician can treat your feet with a pumpkin foot scrub that eliminates dead skin and leaves your feet ready for stilettos on Halloween, before finishing with a pumpkin lotion for a seasonal smell and soft, smooth skin on your legs and feet. If you're really in the spirit, you can also use orange and black polish for jack-o-lantern nail art. This pumpkin pedicure can be done both at the nail salon and at home, and those who scream for Halloween can even try a pumpkin manicure to match.
Find Halloween-themed nail art at a salon near you.
Pumpkin Aromatherapy Massage
You know that friend who collects pumpkin candles like they're going out of style? Most of us have one, and they deserve a pumpkin aromatherapy massage that invigorates the skin and senses. Many spas offer seasonal add-ons in which they use a pumpkin spice oil while delivering a classic Swedish massage. We say it's the best way to celebrate the pumpkin spice lover in your life. Another tip? Many shops even sell the pumpkin spice massage oil for use at home, which makes the best Friendsgiving or Christmas gift!
Discover the therapeutic benefits of aromatherapy in this post from our archives.
Pumpkin Peel
We can't stress enough that pumpkin has an incredible ability to exfoliate, leaving behind the bad stuff while unveiling the glowing and gorgeous layer of skin underneath. This is why you should try a pumpkin peel, which is a slightly more intense version of the facial that leaves your skin feeling fresh and flawless. Since pumpkin is a natural ingredient, this treatment is less harsh than other chemical peels you may have tried in the past. However, it still delivers all the beauty benefits that help you achieve complexion perfection this fall.
As the name suggests, this treatment deep cleans your skin and "peels" off taking impurities with it. But all the nutrients in pumpkin stay put in your skin, delivering health and beauty benefits like a Halloween dream. Vitamin C helps to eliminate dark spots and firm. Zinc and Copper brighten your skin, and antioxidants protect against free radical damage for a youthful glow. Pumpkin is as close as you can get to the perfect skincare ingredient, and you'll see why with this seasonal peel.
To try one of our favorite pumpkin spa treatments at home, we love this Pumpkin Apple Spice Peel by Epicuren, available in the Spafinder Wellness Shop.